Refrigeration Laboratory
Our Refrigeration Laboratory comprises advanced and flexible test facilities used for carrying out both small and large scale projects and experiments. We offer a wide range of services, e.g. prototyping and functional stress testing of cables in controlled climate conditions under extreme temperatures ranging from -40 °C to 70 °C.
Unique test setups
We offer unique test setups designed specifically for each test and product. Our specialists are highly experienced in designing different setups and installations as well as models which provide the best test conditions for your product. Thus, we are able to create tests which are different from usual standard tests and based on special requirements.
How can Danish Technological Institute help you?
Performance testing of products and components
Testing of control units and control systems
Prototyping
Endurance and functional stress testing of products and components
Consultancy on the use of refrigerants, including natural refrigerants
Product development and optimization
Unique test setups and installations
Natural refrigerants
Our specialists have more than 15 years of experience working with natural refrigerants such as CO2, NH3, prophane and water. Our test facilities comprise e.g. transcritical CO2 plants and cascade plants using NH3 on one side and CO2 on the other as well as a 1 mW ammonia chiller using water as refrigerat for the testing of large valves and plate heat exchangers.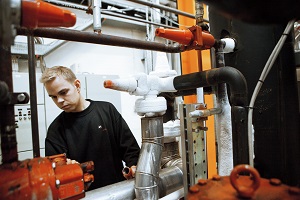 The efficiency and energy consumption of your plant are influenced by the type of refrigerant used in the system. Moreover, to decrease the greenhouse effect and ozone depletion caused by refrigerants, regulations and requirements have been introduced. Examples of such refrigerants are the HFC refrigerants, R134a, R404a and R410a etc., and the HCFC refrigerants, R12, R22, and R502 etc. Synthetic refrigerants such as these refrigerants cause greenhouse effect and ozone depletion.
The alternative is to replace or convert the refrigerant to a natural refrigerant such as R290, R600a, R717, and R744. These refrigerants are environmentally friendly, and they are not ozone depleting or cause greenhouse effect. We offer consultancy on the use of natural refrigerants, e.g. with regard to information about the properties of the individual refrigerants, including their advantages and disadvantages.
Refrigeration and Heat Pump Laboratory
The Refrigeration Laboratory is a part of our state-of-the-art Refrigeration and Heat Pump Laboratory which also comprises three other laboratories:
Our laboratories play a significant role in developing new design and technology, and we cover all phases from development and construction to the final product.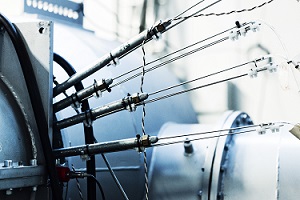 Our professional foundation is among others our expert competencies in refrigeration and heat pump technology and solar energy as well as a wide range of engineering disciplines including fluid dynamics, CFD calculations, heat transfer, turbo machinery, PV systems, energy optimization etc. Moreover, our specialists have in-depth knowledge about EU legislation on ecodesign and energy labelling requirements as well as Energy Star requirements.
We cooperate with e.g. authorities, manufacturers and importers, and we participate in R&D projects aiming at improving technology, designs and products. If you have an idea for a R&D project or want to participate in one, please contact us for further information.
Refrigeration training courses
We carry out a vast number of training courses in the field of refrigeration technology. Our courses explore several aspects of refrigeration technology, from the basics of refrigeration technology to safety when working with natural refrigerants such as CO2 and NH3, and how to operate and maintain different refrigeration systems.
Our training courses are often a combination of theory, demonstrations and hands-on exercises, and our different refrigeration and heat pump plants are used for hands-on exercises. Here, you can see read more about our refrigeration training courses. For information about dates and registration: DTI Refrigeration training courses