PRINCE2® Foundation and Practitioner - 6 days
Combine our PRINCE2 Foundation and Practitioner Course and get a reduced price. Take both PRINCE2 official level exams in one combined session in order to achieve the highest PRINCE2 exam level.
Target group
If you want to take both PRINCE2 official level exams in one combined session in order to achieve the highest PRINCE2 exam level.
Course description
Please see the separate descriptions:
You get a reduced price by booking the two PRINCE2 course levels as a combination
Why PRINCE2 Training Course
We provide you with quality training materials and a unique learning experience. Your course workbook includes everything you need to prepare for and successfully pass the exam. You receive pre-course reading materials that help you understand the basics, even before you come to the three course days.
Approved instructors, who have undergone a stringent quality assessment as part of the approval process, present PRINCE2 training courses.
Training materials are up to date and in line with the most recent version of PRINCE2 - PRINCE2:2009.
Course results
The course gives participants knowledge of the PRINCE2 project management methodology. The student will afterwards be able to organize, plan and manage projects efficiently in accordance with the PRINCE2 methodology. The course ends with the internationally accredited Foundation exam.
Course schedule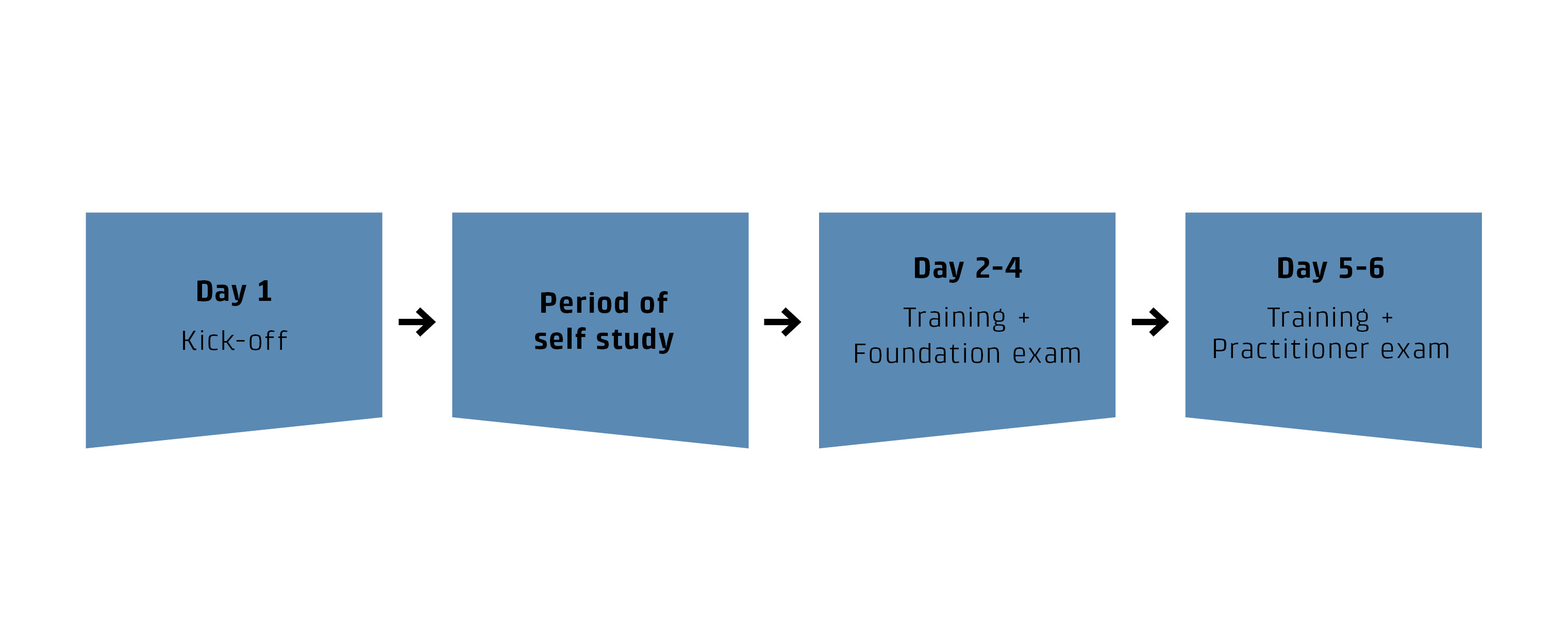 1. Course day (Kick-off): 10:00 - 16:00
Delegate preparation for the Foundation course days: 40 - 50 hours
2. Course day: 10:00 - 17:00
3. Course day: 09:00 - 17:00
4. Course day: 09:00 - 17:15 (Foundation exam from 16:00 - 17:00)
Delegate preparation for the Practitioner exam: 10 - 15 hours
5. Course day: 09:00 - 17:00
6. Course day: 12:00 - 15:30 Practitioner exam
If you would like to wait for your Foundation exam result on day 4 you can get it approx. at 18:00.
Assurance af an accredited exam
We offer this exam as an accredited training organization (ATO) approved by Exin. On behalf of Axelos, Exin is responsible for the approval of training providers, including course material, administrative processes, and delivering accredited PRINCE2 exams.
PRINCE2® is a Registered Trade Mark of AXELOS Limited.
Trainer
Trainers have at least 10 years of practical training, consultancy and project management experience and are consistently getting top grades from our participants. All our trainers have long experience of teaching in PRINCE2.
Alternative PRINCE2 courses in English
This intensive combination of courses is also available in Danish
The PRINCE2® Accredited Training Organization logo is a trade mark of AXELOS Limited, used under permission of AXELOS Limited. All rights reserved.
Do you have any course related questions, please contact
Stine Krogh Biehe
Konsulent, Cand.Merc.