It is little, cute and cuddly, loves being petted and responds to touch and speech by moving and making sounds. It even has a beneficial effect on people with dementia. Paro is the name of the creature, which is neither dog, cat nor rabbit. Paro is a seal - a robotic seal from Japan!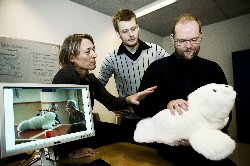 It is a long-established and scientifically documented fact that pets positively affect people's mental and physical health. Since, however, few of today's care homes have living animals, many older people lack this possibility. This is where Paro enters the scene. The seal will not bite or scratch anyone, and its survival does not depend on regular meals, airings, vaccinations and veterinary visits.
The Danish Technological Institute is realising several Paro projects. The centre for Robot Technology is heading a national study aimed at charting Paro's social and therapeutic effect on care home residents.
Studies in Japan, the USA and Europe have already shown Paro's beneficial effects on people with dementia. The Danish study aims to professionalise the use of welfare robots like Paro by certifying professional caretakers in their use of the robotic seal. The objective is to determine the extent to which new technology can support care home residents' independence, communication and needs for stimulation, activities etc. One hypothesis is that the robotic seal will give care staff more time for social contacts with residents so Paro will enhance the well-being of both parties.
The Institute compiles and coordinates experience with Japanese partners, the aim being to foster international cooperation of technological developments in the welfare sector. Further, conferences on the project are being organised to discuss future options for and the prospects of introducing new technology in the nursing and care sectors.
Welfare robots are expected to play major roles in tomorrow's nursing and care sector. That is why robot vacuum cleaners, robot floor washers and an automated toilet were tested in 2008 at, for instance, the Margrethe care home in Roskilde. Robots make a positive difference in the everyday life of residents and staff but also of relatives, but new technology must be implemented carefully and with respect for work procedures, health and safety, etc. These findings appear from the preliminary results of the Margrethe care home project, which culminated in December 2008 in a sold-out conference. The Danish Technological Institute staff from the centre for Human Resources Development and the centre for Robot Technology teamed up to conduct the Paro project.