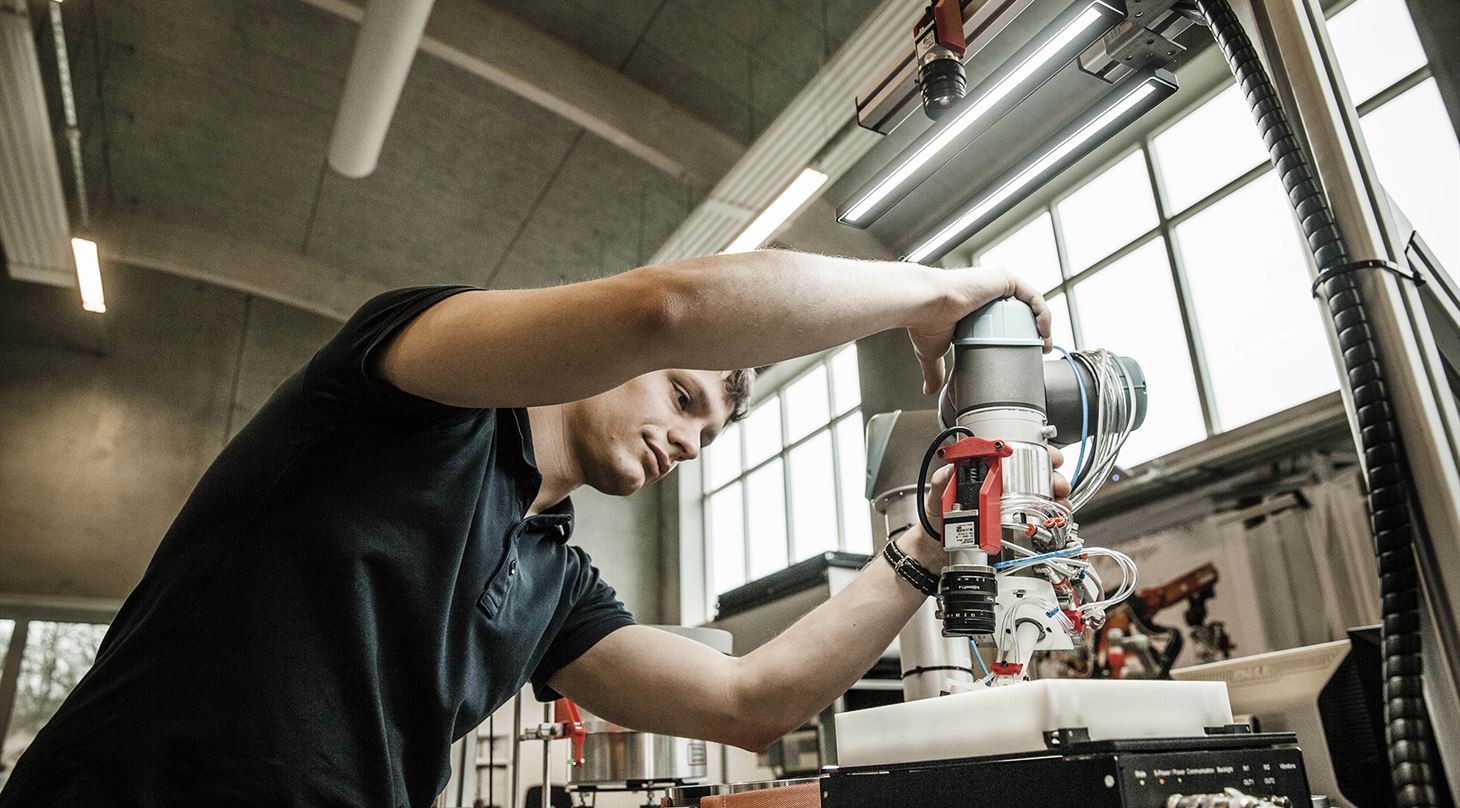 Cobots to strengthen Danish competitiveness
Collaborative robots, also called cobots, have great potential in creating new exciting job functions and increasing productivity in Danish companies. A new project shall ensure that Denmark exploits this potential.

According to the International Federation of Robotics, the market for collaborative robot technology - that is, robots that work closely with humans - is forecast to attain an annual growth rate of over 50 per cent, and Danish robot manufacturers are internationally renowned in this area.

At the same time, collaborative robots are very interesting for the large group of Danish manufacturing companies whose products are characterized by relatively small volume and high variation. The collaborative robots allow for a more agile and flexible production process, says Søren Peter Johansen from DIRA – the Danish Robot Network.

- Virtually all of the collaborative robots that have been sold in Denmark are part of traditional production lines, and in fact there are very few examples of the robots actually working closely with humans. That's why the potential is even greater, he says.

For small and medium-sized manufacturing companies, it can be difficult to see whether an investment in collaborative robots can pay back in reasonable time.

- Creating business cases for processes involving both humans and robots is generally difficult, and existing tools perform poorly in making accurate ROI calculations for investments in cobots and agile production systems, explains Anne-Lise Høg Lejre, director of the Danish Technological Institute (DTI), and continues.

- DTI has therefore mobilized leading national and international knowledge partners to develop new tools to help companies make more solid business cases and action plans before investing.

Not just a matter of technology
In order to realize the full benefits of cobots, it is important not to be blinded by the purely technological opportunities and challenges. There are a number of other things that you should also take a look at if you want to use the full potential of the technology.

- In the project we have a holistic view of barriers, i.e. we also look at challenges related to management, organization, qualification, skills and ethics that Danish companies can potentially encounter when they want to exploit opportunities in collaborative robotics, explains senior project manager Peter Lemcke Frederiksen from DTI.

Internationally innovative
The project is dubbed the Cobot Knowledge Lab, and Industriens Fond sees potential beyond the borders of Denmark.

- The interdisciplinary nature of the project -- including its holistic view of the interaction between humans, robots, business and organization as well as the project's broad social foundation -- is unique and will bring knowledge that will also be innovative in an international perspective, says Thomas Hofman-Bang, CEO Director of Industriens Fond.

- The project's tools and activities can lead to more companies implementing cobots, which in the long term will lead to increased productivity in the manufacturing industry and boost Denmark's international competitiveness, he adds.

About Cobot Knowledge Lab
The Industriens Fond has donated almost DKK 6 million to the Cobot Knowledge Lab. The consortium brings together unique competences within technology, business, management, organization, "human factors" and ethics that can support Denmark's leading position in the development and use of cobots.

The consortium behind the project will develop an intensive course based on knowledge gained throughout the project targeting managers and employees of Danish manufacturing companies who are considering implementing cobots.

Project partners will also ensure that the in-depth knowledge generated regarding end-user challenges will be disseminated to Danish robot manufacturers via extensive networking activities.
Consortium partners
Technological Institute, including the Danish Robot Association, Odense Robotics, University of Aarhus, University of Southern Denmark and Fraunhofer IPA.
Advisory board
So far, representatives from DI, LO, 3F and Dansk Metal. More will come this spring.