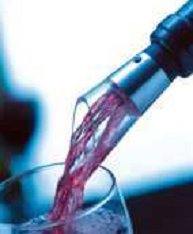 The inventor Torben Flanbaum, a retired plumber, presented his idea to the Danish Invention Centre during an inventor's course held by the centre in spring 1999.
A couple of weeks prior to the course he had watched a television programme about wine and the correct serving and decanting of wine. Traditional decanting shows the problem that quite often you will decant more wine than will be consumed. If the wine has been decanted it will not keep for very long and cannot be kept for the next day.
The night after the TV programme the inventor dreamt about what later became his invention. The principle of the invention is that a conventional wine pourer is furnished with a Ventury channel and an air nozzle allowing the wine to mix up with air during the pouring. The very next morning he went to his workshop and made a prototype of his invention. It proved to work, and with the new combined wine decanter and pourer it became possible to both pour and decant a single glass of wine. The advantage of the invention is that the wine tastes better because it is decanted during the pouring, and the remaining wine in the bottle will keep well.
The concept was presented to Menu A/S, a Danish SME which was well known to the Danish Invention Centre because of previous business relations concerning licensing. The company bought a patent license and quickly designed and developed the invention to the production stage. Marketing started already in late 1999. This product has ever since been the most selling of the company's product range.
More than 85% of the sales is export.
The product is displayed at Menu's website - search for 'Vignon'.
The patent, WO0056620, can be seen on http://l2.espacenet.com/espacenet.