Electrical conductivity in materials - Application
Electrical conductivity in materials are important in a number of contexts:
When polymers and composites are used as electrical conductors and must therefore possess a low electrical resistance close to that of metals. DTI are experienced in conducting electrical conductivity measurements and researchers at DTI have developed a composite with a conductivity of 0.02 Ohm cm.
Metals and products for use with very high currents.This can also be electric connections between similar or different metals.
Dissipation of static electricity in order to avoid ElectroStatic Discharge (ESD), which is the most common use of electrically conductive plastics and composites. ESD may cause damage to sensitive electronics or ignition of flammable products. Two different sets of standards are associated with these two subareas.
Low electrical conductivity due to comfort or production process, eg. handling of plastic film or powders.
Electrical conductivity of metals is of interest in tranport of power and energy. We can also measure conductivity of metals and alloys using the four point method and a high current.
Within each of the above areas, a number of standards are used for testing.

General electrical conductivity
Resistance or conductance of insulating materials (ASTM D257-14) and moderately conductive materials (ASTM D 4496-04), volume conductivity (IEC 60093)

Handling of electronics
In connection with manufacture of electronics, the requirements outlined in the following standards should be followed; IEC 61340-5-1 regarding the protection of electronic devices from electrostatic phenomena and as well as associated standards such as IEC 61340-4-5 on footwear and flooring.

Risk of fire and explosion
The area of danger of fire and explosion caused by static electricity is covered by the ATEX Directive.

Clothing
Within protective clothing, the standard EN 1149-5 outlines the requirements, and tests can be performed in accordance with EN1149-1 (surface resistance) or EN 1149-3 method 2 (induction charging). When measuring textiles, we can draw on the expertise of DTI's textiles department.

Combination with other services
Properties of brand new products as well as existing products that have been exposed to various weather conditions are important and need to be determined. At DTI, such testing is performed using accelerated ageing in a salt spray chamber or a so-called WeatherOMeter.

Other possibilities
As a standard, DTI can perform tests in a laboratory with constant climatic conditions of 23 degrees Celcius and 50 % RH or in a climatic test cabinet or a glove box, where conditions can be controlled quite easily at eg. 25 % RH or 12 % RH, which are the test conditions required to meet several standards. As a general rule, an increased amount of humidity will increase conductivity, which is why the relative humidity has significant influence on the outcome. It is also possible to adjust the temperature in the climatic test cabinet.

Electrical resistance properties may also depend on frequency. DTI possesses a state-of-the-art dielectric spectroscope capable of measuring such a dependence.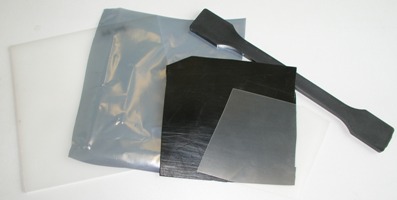 Samples of polymers and composite materials with different levels of resistivity.
Samples are not required to be flat. we also measure on metal objects.