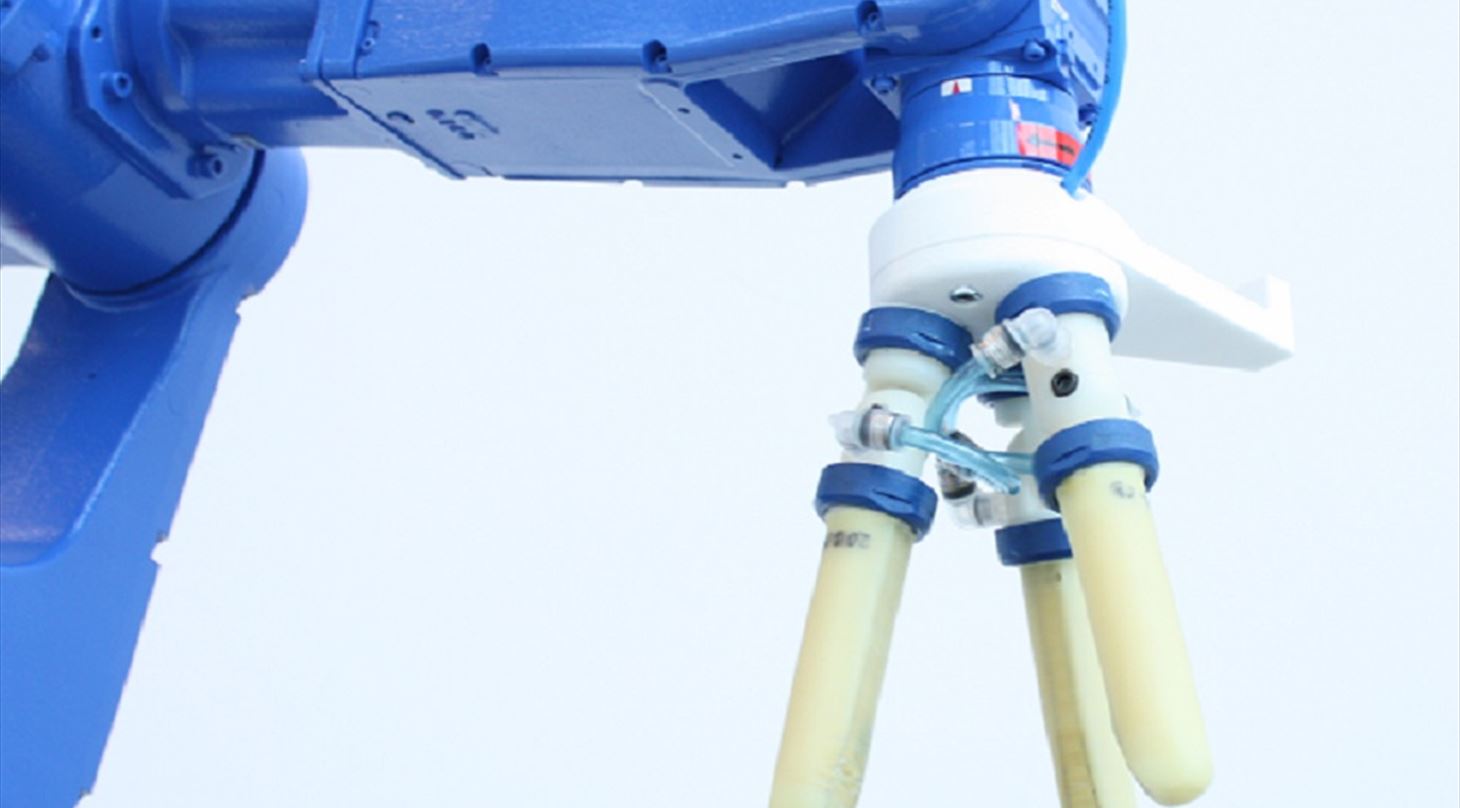 Hybrid Gripper
Automation solutions are traditionally not known for their flexibility. Now the Danish Technological Institute introduces the incredibly flexible Hybrid Gripper. The Hybrid Gripper is a robotic tool consisting of three elements: three flexible fingers, a hydraulic pump and adjustable finger joints. The gripper imitates the thumb, index- and middle fingers of a human hand, and the use is equally as flexible. The Hybrid Gripper can easily be adjusted to a flexible and dynamic production of small batch sizes.

Top reasons for choosing the Hybrid Gripper
The Hybrid Gripper opens up new possibilities in handling tasks and production in small- and medium-sized companies. The Hybrid Gripper is the ideal solution when production must be flexible due to small batch sizes, frequent adaptation to new objects and requirements for low investment.

A conventional robotic gripper is usually priced at either DKK 30,000 or DKK 300,000 and is therefore either very simple or extremely complex and inflexible. Our Hybrid Gripper covers the needs of the intermediate segment as it is at the same time state-of-the-art and flexible

Robot Technology offers the Hybrid Gripper as pilot production
We help you develop, adjust and run in the robot to ensure that you get the best possible solution for your production without the financial risks that are normally associated with a large-scale production adjustment.

How can the Danish Technological Institute help you?
Robot Technology offers flexible automation solution and robot components in mechanics, electronics and construction. We analyse your need and offer advice on our automation solutions and we teach in the use of these. We offer our flexible, mobile robot cells as pilot production and small-scale industrial production.
The Hybrid Gripper is dimensioned according to your requirements; it handles objects as small as a few millimetres to large components with payloads of 150 kilos.
The Hybrid Gripper handles 100-500 units per hour depending on production speed. Once the configuration has been determined, set-up and start of the robot normally take 1-3 days.