Project – User Friendly Packaging
User-Driven Guideline for the Industry
Project start January 2008. Completion Juni 2012.
The project is completed.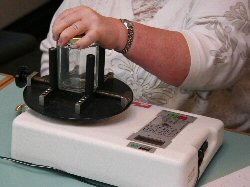 Many consumers have difficulties opening retail packaging. According to surveys, up to 40% of the population, particularly elderly or disabled people experience these difficulties. In 2007, Gigtforeningen delivered 52,000 signatures to the Ministry of Food, Agriculture and Fisheries as evidence of the problems product packaging present for rheumatic patients in their daily lives.
Furthermore, retail packaging is changing. Previously, companies were focused on packaging which could protect the product during distribution, but it is now increasingly about giving the consumer a specific experience. Sales and export success depend, to a certain degree, on being able to develop the right packaging. Since Denmark has many food producers for supermarkets, knowledge about consumer needs is crucial.
With this in mind, the partners behind the project will analyse consumer needs and demands in order to develop new kinds of packaging.
The project has three phases:
Analysis of consumers' cultural behaviour, perception and physical strength in relation to ordinary packaging.
Preparation of guidelines to unite consumers' needs with the technical specifications the packaging must fulfil, while ensuring that it can be tailored to the experience the producer wishes to give the consumer.
Testing the guidelines on 5-10 concrete cases, where new types of packaging are being developed, before the final guidelines are prepared.
The project is using anthropological methods to identify consumer needs as the basis for developing new packaging concepts and guidelines.
Participants
Danish Enterprise and Construction Authority
The Danish Technological Institute
The Danish Packaging Industry
Plastindustrien i Danmark
Aarhus School of Architecture
People & Product
Danish Food Processing Industry
Tulip Food Company
Association of Danish Cosmetics, Toiletries, Soap and Detergent Industries
Gigtforeningen