eHealth and Assisted Living
Translating in-depth user insight into products and service concepts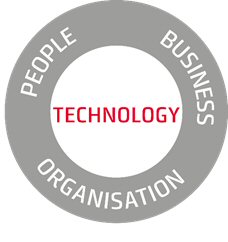 Who we are
The Danish Technological works to create new technology and innovative solutions benefitting private and public enterprises and society.
Our interdisciplinary approach to healthcare innovation enables successful exploitation of new technologies. R&D projects range from industrial development projects, national and international joint research and innovation activities to deployment projects, dissemination, capacity building and technology transfer.
DTI Business & Society specializes in accelerating the deployment of new technologies that improve the quality of life and care processes for people living with disability and long-term conditions while reducing the costs of care.
We work with health care providers, industry, government, academia, active users and the voluntary sector to enable them to accelerate the deployment and time to market of new technologies for independent living.
We believe that creating value from new technologies should be done through innovative processes focusing on three main areas: people, organisation and business development.
We do this by
Producing in-depth understanding of people in their everyday environment – their aspirations, needs and preferences with respect to health, care and technology
Harnessing advances in science and technology to create the next generation of technologies for independent living
Co-developing and evaluating technologies from ideas to products and services with patients, carers, user groups and clinical professionals to ensure that solutions are acceptable, provide real benefit and are cost-effective
Leveraging resources and building strong public private partnerships to address health and care challenges
Building capacity to implement new technologies within health and social care organisations and private markets to the benefits of end users
Synthesizing and disseminating new knowledge and new practices;
Our team of R&D specialists is highly experienced in technology management, user experience research, occupational health, social science, design engineering, safety, and risk management in emerging health technologies.

Project examples

Why to choose us?
Track record of working with and connecting users, healthcare providers, industry, academia and the voluntary sector to design, develop and deliver innovative solutions to address everyday healthcare challenges
In-depth insights into human behaviour and user needs and their translation into products and service concepts
Strong experience in change management, capacity building (workforce training, technology implementation, organizational development)
Experience in business model development for value creation
Strong experience in user-driven innovation methodologies and innovation and project management for both product and service development
Expertise in ergonomics, work health safety and risk management
Easy access to care professionals, medical specialists, and patients
Multidisciplinary team and close cooperation with technical experts covering ICTs, robotics, new materials, RFID, transport and logistics
Strong experience in dissemination and publishing
How can the DTI assist you?
Analyse client and user needs in the market and transform such needs into design and product features
Identify opportunities for practical application of technologies
Engage and involve sector stakeholders as part of technological solutions
Forge collaborative partnerships with stakeholders for the design and development of better technologies / to accelerate breakthrough technology and innovation.