Accredited testing of reinforcement at a competitive price
Article by Jens Ole Frederiksen, Danish Technological Institute, Concrete
Published in: Danish Concrete, no. 4, 2002 The Concrete Centre can now, in collaboration with the Centre for Material Testing, offer a complete range of accredited testing of reinforcement at a competitive price.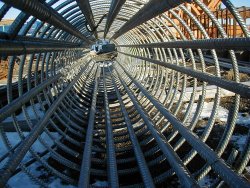 The Concrete Centre at Danish Technological Institute is accredited for testing the anchoring factor of reinforcement in accordance with DS 2082.
The Concrete Centre has for many years been accredited for a large number of different test methods concerning both concrete and most of the constituent materials of which concrete is made up.
Accreditation now covers the testing of:
Fresh and hardened concrete
Aggregates
Cement, microsilicon and fly ash
Admixturers
Reinforcement