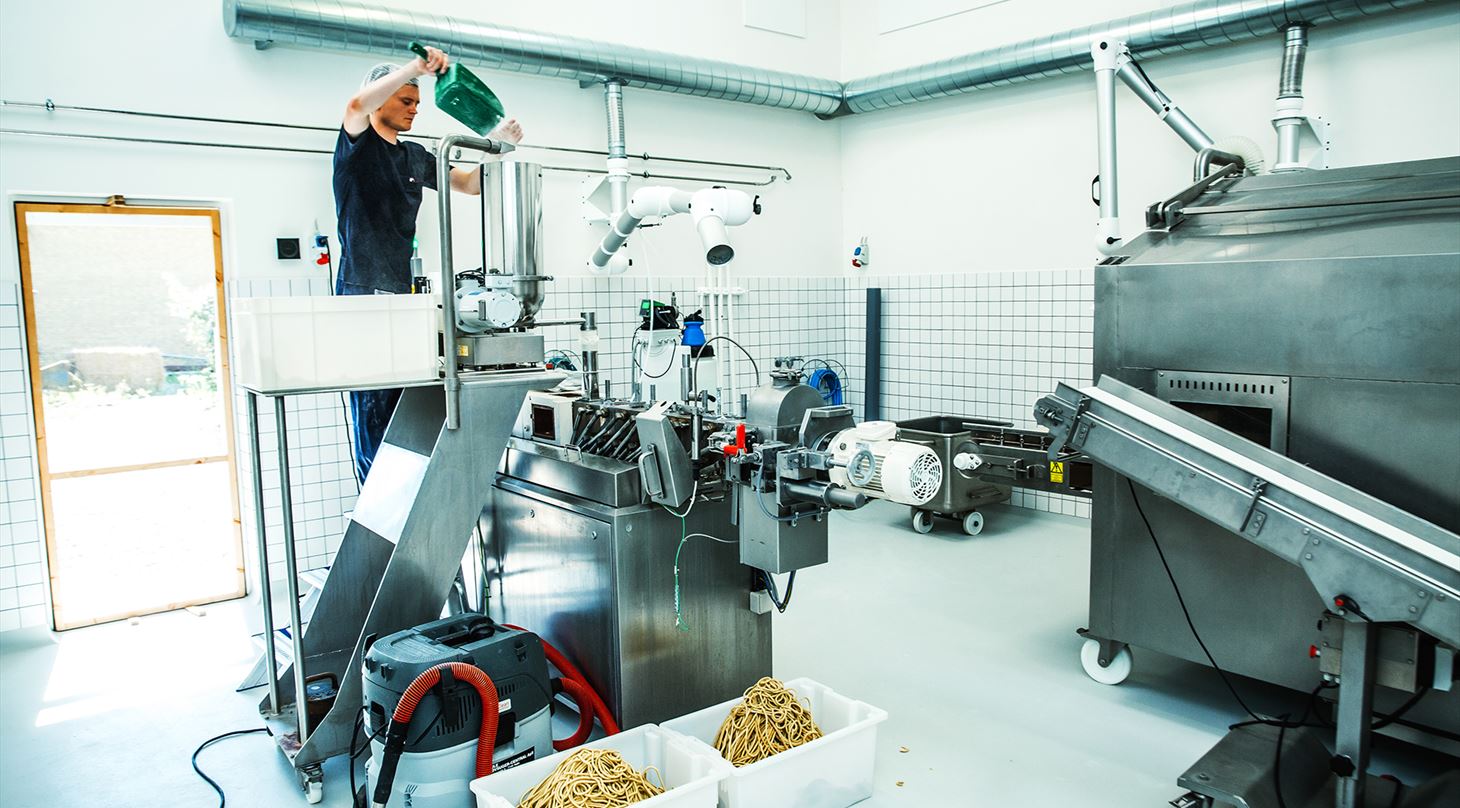 Pilot production of food, feed and biomass
At Danish Technological Institute in Sdr. Stenderup we offer a 1.300 m2 test facility for testing and production in pilot scale. This gives you the opportunity to try out new formulas, ingredients and additives for fish feed and food.
In our pilot production you can carry out tests in a controlled atmosphere and gain reliable data. This gives you a unique opportunity to have confirmed whether your product is ready for market. Our customers are welcome to be present during test runs. You can deliver a test plan or elaborate one in corporation with us.
We provide equipment and expert knowledge
Our expert knowledge and equipment is available to you during the entire production process: from proposal to decision of formular, purchase of ingredients, grinding, mixing and subsequently pelletezing and extrusion.
You get the possibility of testing different process parameters. For instance, you can choose to make little adjustments in the amount of ingredients or you can test the impact of different types of binding material on the pellet quality. Tests can clarify to you how for instance thermal stress and moisture effect decay of added enzymes, pigment or vitamins. You can order amounts from 10 kg and up to several tons.

How can Danish Technological Institute help you?
Pre-treatment
Grinding (10 kg - 5000 kg/hour)
Addition of additives to feed
Pelletizing of feed and biomass (few grams to 6000 kg/hour)
Exstrusion of food and fish feed (10 kg - 3000 kg/hour)
Coating of food and fish feed (15 - 600 kg/batch)
Drying of biomass (10 kg - 3000 kg/hour)
Customised operator courses
Analysis