Innovative products of the future
New material and process technologies, increased international division of labour and more intense competition mean that the market and market opportunities are changing at an ever-increasing rate, and that there will be more and more demand for tailor-made solutions. The average lifetime of a product is falling across all industries and sectors. The rapid integration of a number of low-wage economies (China, India, Brazil, Russia) is leading to tougher price competition and increasingly also to greater competition on the knowledge content in products and services.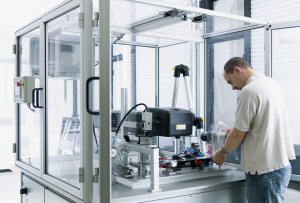 Against this background, innovation has become a key concept to ensure continued growth in the Danish and European business sectors.
A company's ability to utilise high-tech solutions especially is critical for their competitiveness in the globalised knowledge economy.

This applies for example to the application of the latest nano/bio-technologies which are well on the way to achieving industrial maturity in new products and services.
This intensified competition and the need for constant innovation in a company's range of products and services has meant that companies must carry through technological developments much more rapidly than was necessary only a couple of years ago.
The pressure to develop technologies faster is in turn leading to a need for a number of consultancy and other services from the Danish Technological Institute which require a considerable amount of R&D.
The prioritised result target agreement activities 2007-2009 are thus aimed at putting the Danish Technological Institute in a position – using the latest know-how, state-of-the-art equipment and best possible technological infrastructure - to support the Danish business community effectively in innovative product development, from idea generation and maturation to developing finished products.