Project start November 2012. Project completion October 2014.
The purpose of the project is to develop a coherent concept for a cleaning efficient hospital bed. The concept is based on developments and clinical tests of prototype components with the use of new hygienic design principles, materials and new technology.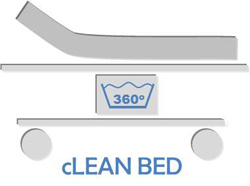 Microbial threats and the demand for efficiency in the healthcare sector create a need for innovation along the value chain from service providers to equipment producers.
Hospitals face major infection hygiene challenges in the battle against bacterial resistance to antibiotics and hospital acquired infections, that infect up to 10 % of all patients. New use automation, chemical and thermal disinfection provide opportunities but also poses new threats to equipment lifespan, hospital logistics and EHS.
The main aim of cLEAN BED is therefore to develop a new concept where the design of hospital beds are aligned with future cleaning systems that meet three criteria:
Improved infection hygiene
Compliance with new standards
Efficient cleaning and logistics
In order to meet the hygienic and service demands of tomorrows hospitals and improve competitiveness along the value chain, the project works with a multiple approach to join;
Insights and documentation on microbiology and economical efficiency
Innovations in hygienic design, materials, components and cleaning systems
Participants
KR Hospitalsudstyr
Hvidovre Hospital
Regionshospitalet Randers
LINAK
KEN Hygiene Systems
ZIBO
Sanitized
Fornyelsesfonden
Presentation