Project - Energy production from marine biomass (Ulva lactuca)
Project start April 2008. Completion: October 2011.
The Project is completed.
Download the report here:
The interest for utilization of algae for energy purposes has increased in the latest years and several major energy companies have invested heavily in this topic.
Algae are a very diverse group of organisms, varying from unicellular microalgae (plankton) to macroalgae (seaweed) of up to several meters, but all able to perform photosynthesis.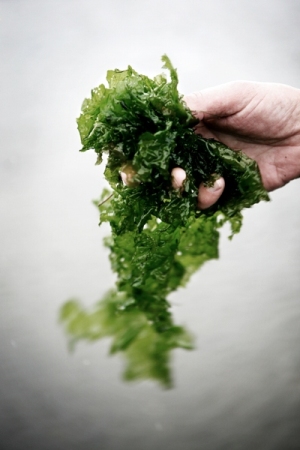 Using macroalgae for energy production has numerous advantages:
The biomass yield from macroalgae per hectare is many times higher than for traditional energy crops (e.g. willow)
The content of carbohydrates can be very high which makes the biomass potential very suitable for bioethanol and biogas production
Macroalgae can be cultivated in both salt and brackish water and hence no freshwater is needed for the production
The production does not require farm land like other energy crops
Project objective
As the first project in Denmark we aim at cultivating and using macroalgae for energy production.
Specific goals for the project:
Estimation of the growth potential for sea lettuce in land-based basins
Design of growth basins and harvest technologies for sea weed cultivation
Analyses of the compounds in the algae biomass
Assessment of whether sea lettuce is suitable for combustion, gasification and production of bioethanol and biogas.
Participants
Danish Technological Institute
National Environmental Research Institute
DTU Risø National Laboratory for Sustainable Energy
DONG Energy
The project is financed by Energinet.dk