Project - Intelligent Robots for Handling of Flexible Objects
The project that runs across the Danish-German border is sponsered by the INTERREG 4A programme Syddanmark-Schleswig-K.E.R.N and The European Union's "The European Regional Development Fund".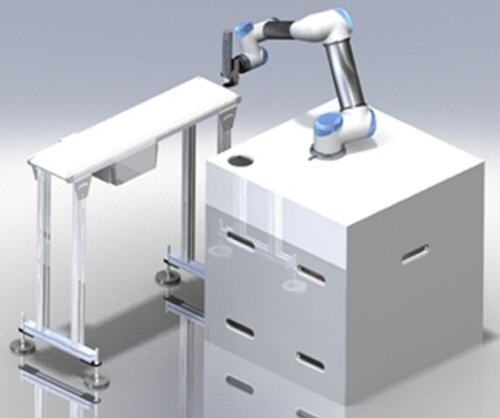 Handling and packing of natural objects from agriculture and food industry is still mainly a manual process. This because no robot currently available is able to handle the degree of flexibility found in these products.
In Southern Denmark and Schleswig-Holstein, there is a rather large food industry that could become endangered if production costs rise. Here, it would be advantageous to upgrade production with intelligent robotic assembly, which at the same time will upgrade the qualifications and required skills of the workers.
The recent development of new technologies for dynamic 3D sensing (sense of touch) and computer vision techniques (robot eyes) together with advances in robot gripping and handling technology makes it possible to accomplish this task for the first time.
The main goals of the project are:
to develop and promote high-technology competence in the field of intelligent robotics and computer vision for the handling of natural goods and deformable objects
to strengthen the companies in the region by giving access to this technology
to keep production facilities with increased human resource value in the region