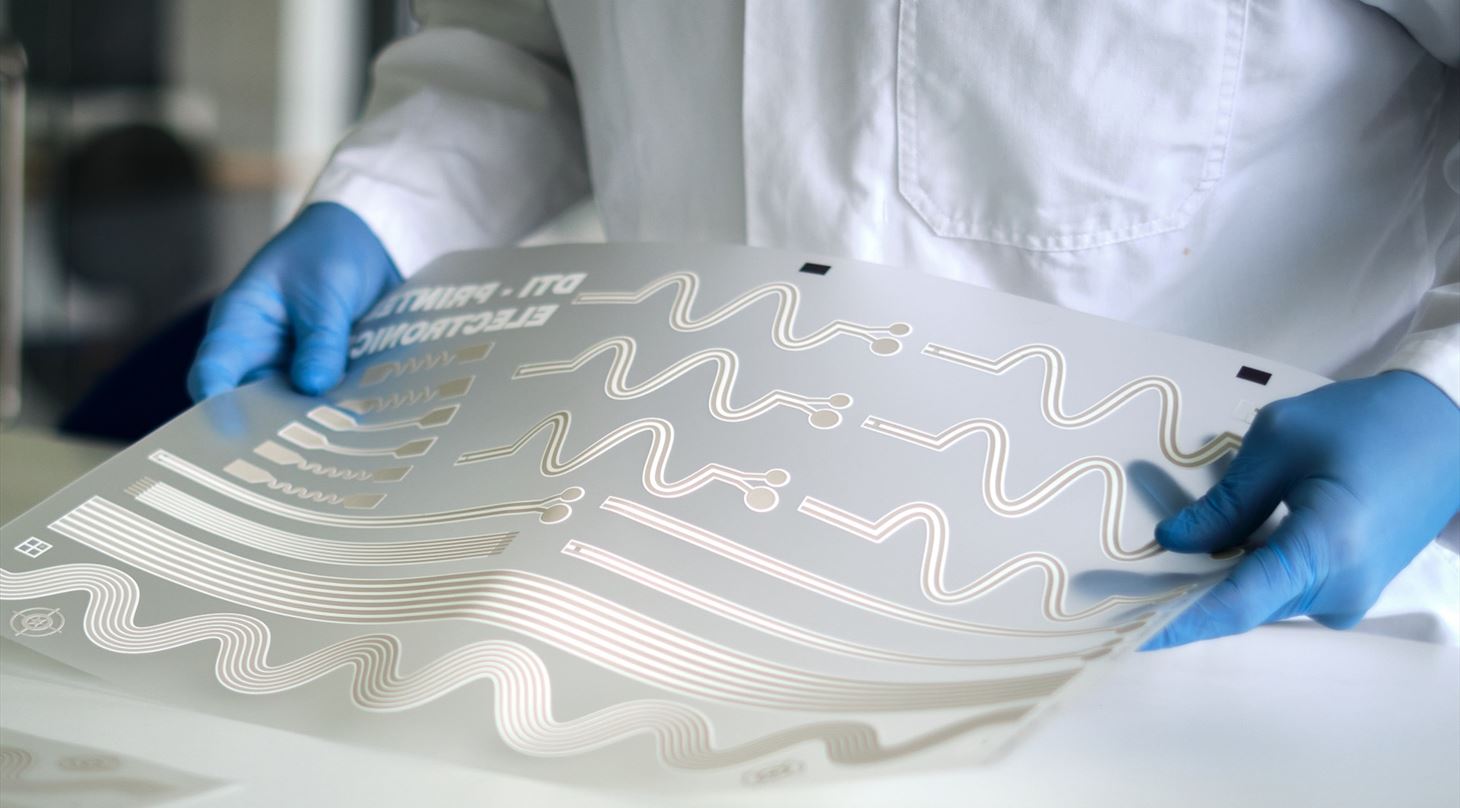 Advanced Digital Printing of Electronics - Innovation Projects
If a technological solution for a problem does not exist yet, we also are involved in projects to develop state-of-the-art technology. Some of the projects we have been a part of are described below and you can see results from these projects in the videos. We have expertise in procurement of project funding through Innovation Fund Denmark, Horizon Europe and other funding sources.
LEE-BED – Lightweight Embedded Electronics Test Bed
LEE-BED lowers the barrier for developing or integrating products with flexible electronic components. We help bring products to market with business consulting and technical services provided by leaders across Europe. With LEE-BED you don't need to be an expert in printing or electronics to bring your ideas to life.
BioMac - Biobased Nanomaterials and Polymer Nanocomposites for the European Circular Bioeconomy
BioMac will make it easier to use nano structured biobased materials (NBM) in products. One of the keys for a successful implementation of the European Circular Economy is the increasing reliance on bio-based products derived from biomass. NBMs are the answer to many challenges faced by our society, with applications in the fields of packaging, automotive, printed electronics, agriculture, and construction.
Transparent Electronics
Printed electronics in textiles
SocKET - Societal engagement with Key Enabling Technologies (KET)
SocKET will facilitate co-creation between industry representatives, researchers, policy makers, end-users, civil society representatives and citizens, and will develop tools for societal engagement in innovative technologies. Co-creation is a form of collaborative innovation: Ideas are shared and improved together. In short, co-creation is the joint development of new value. SocKETs aim to strengthen relations and dialogue between society, research and industry, in order to improve responsiveness to public values and concerns in research and innovation.
Diagonal – Development and scaled Implementation of sAfe by design tools and Guidelines for multicOmponent aNd hArn nanomateriaLs
DIAGONAL will bring SbD knowledge and tools to a development stage, which can be implemented in the MCNM's and HARN's related industries, relying on experimental (in-vitro) and modelling (in-silico) research, to study specific hazard and exposure properties that MCNM's & HARN's exhibit along their life cycle, with emphasis in the interactions between NM constituents, with other particles and the environment, as well as their release rate and fate. While hazard and exposure determination will allow gaining understanding on the MCNM's & HARN's behavior and evolution, multi-scale modelling will answer the questions "what are they?" and "where do they go?", through novel predictors for properties estimation, resulting from additive and/or synergistic interactions between components, as well as system-dependent properties. Ultimately, the obtained results will serve as basis to provide adapted or novel risk management guidelines, ready to use SbD tools and strategies to increase nanomaterial's safety, including Sustainable-by-Design considerations, and recommendations for risk governance. DTI will provide high aspect ratio nanomaterials for testing as well as tests SbD protocols developed within Diagonal.
Sustain-a-Print - Sustainable materials and process for green printed electronics
Sustain-a-Print embraces the EU's Circular Economy Action Plan to further advance the circularity potential of electronics and electronic equipment prompted by the dire forecasts for increased resource extraction and waste generation and their detrimental effects on climate and biodiversity. The main goal of Sustain-a-Print (SaP) is to open new life-cycle routes and to design and implement sustainability into each step of the life-cycle. This includes choice of materials, their usage, their origin, their processing, assembly, and end-of-life.
Contact us for more information
If you would like to know more about printed electronics or have an idea for how printed electronics can add value to your products or ideas, please contact Zachary J. Davis at +45 7220 2507 or e-mail: zjd@teknologisk.dk.