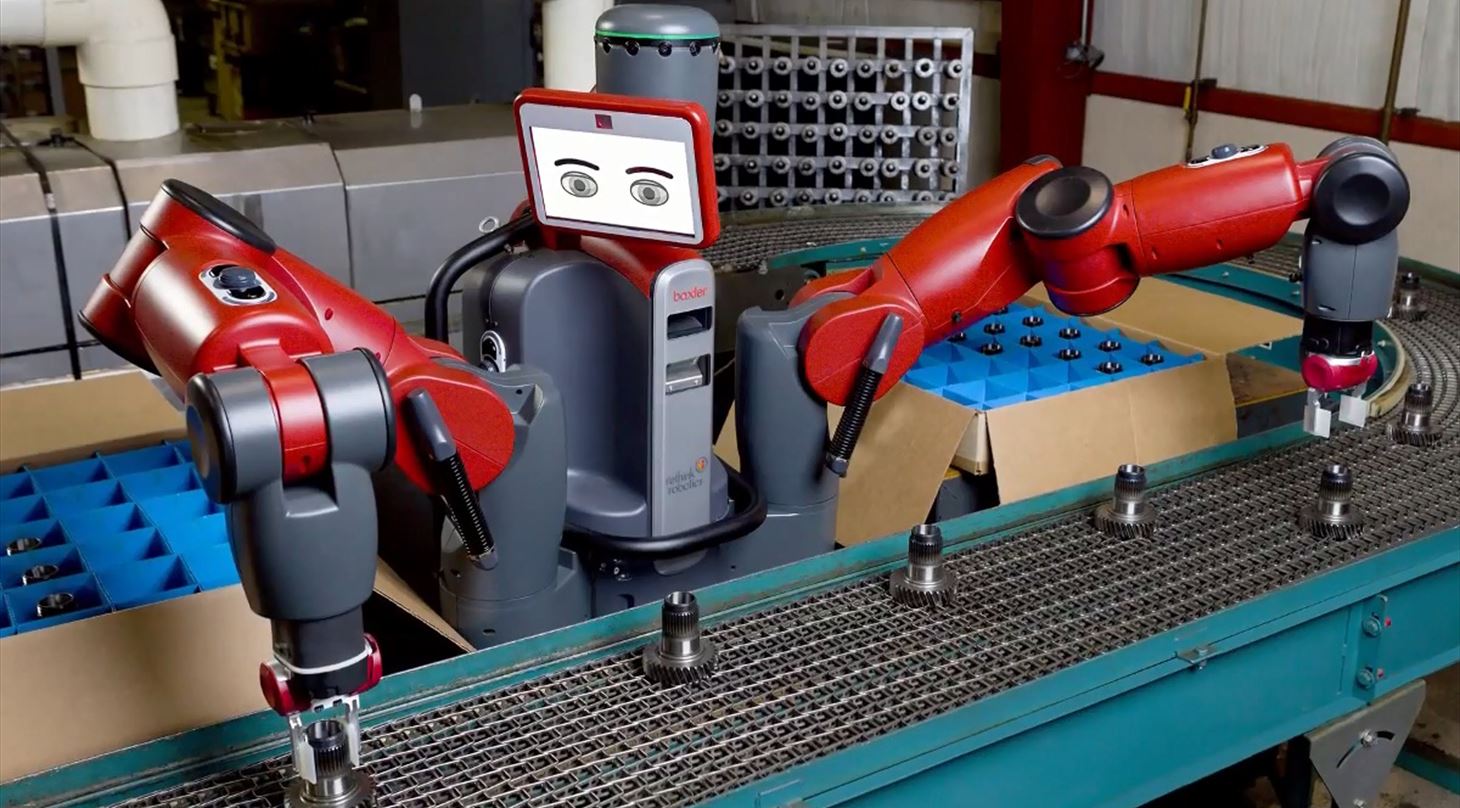 Baxters new update
When Baxter was finally revealed in October 2012 it was met with great anticipation. Rodney Brooks and Rethink Robotics had built a hype surrounding the robot that was quite outstanding. Now Baxter has received an update the question is if it is finally able to meet the expectations.
Baxter definitely didn't meet the expectations with the first version. On paper everything looked fine: a dual-arm robot easy to instruct by the people on the work floor, excluding the need for expensive reprogramming every time the robot was inserted into new processes. And the price: $22.000. Yes, it was clear that the functionality in conjunction with the price tag could mean a serious game changer was about to enter the global scene of robotics.
But mechanically Baxter was a bit of a disappointment. It was not very accurate and in reality there was only a few tasks it would be able to solve that also had a positive cost/benefit calculation – regardless of the low price tag. A lot of engineers also suspected the gearing within the robot to be of such a low quality that the robot would wear out faster with a lot of other expenses to follow.
So the basic problem of Baxter is not the software so why even spend time writing about a new software update, as that will never be able to solve the fundamental challenges?
Baxter 2.0
September 23 2013: Rethink Robotics announced the software-update and this time they themselves called it a 'potential game changer'. Before this point it was the expectations within the community that had labeled Baxter with this predicate.
And there are new things to come with the update. Previously Baxter could only do pick and place operation on a vertical axis, but with the new software it can work in any axis. You will also be able to better manage and define the trajectory of the arms movement - the so-called waypoints .
This make Rethink Robotics believe that Baxter can now be considered to work realistically in painting stations and do inspection tasks. In addition the software will increase the overall performance of the robot including speed, security and accuracy.
It is, however, probably still not enough to up weigh the mechanical constraints and limitations and low tolerance. What is interesting though is the distribution method of the software update. It was expected the Rethink Robotics would immediately release the update in a way that companies that own Baxter could apply the update themselves without specialists in the loop – thereby challenging the existing ecosystem within industrial robotics.
They didn't, and that may be in recognition of that skilled integrators are still needed to implement and support Baxter, even if it is marketed as an off-the-shelve product.
Even if we seem a bit harsh in our critique here we must also respect the many positive end user stories that surface from American manufacturing companies using Baxter successfully. However being in a much larger American market – larger than Denmark anyway - allows for a healthy business, even if it is a niche robot. That would not be possible in Denmark, as it still solves too little compared with alternatives.
Crossing the Atlantic
The software update was released right after Rethink Robotics also announced that Baxter will enter the European market. First the research version will be available. In Europe the distribution is handled by Active Robots and Generation Robots.
So there is no real industrial application on its way in Denmark or Europe with Baxter for the time being. We still consider it very much an American product. That may not be a surprise as we in Denmark have Universal Robots that are much better mechanically with more or less the same functionality and price, although only have one arm.
But as soon as Rethink Robotics announces a new mechanical model, you should pay some attention to the industrial robots 'over there'. Baxter 2.0 will not change the game.