Easier maintenance of surfaces
Lamps and cooker ventilation hoods which clean off dirt and micro-organisms themselves are no longer science fiction – on the contrary they are soon to become a reality. In the summer of 2007, the Danish Technological Institute, together with eight other partners, received EUR 3.6 million to develop and promote the use of self-cleaning surfaces in Danish high-end manufacturing products.
Breaking down fatty substances, simpler washing procedures and longer product lifetimes – these are the focus areas for the work being carried out by the new innovation consortium 'Clean Catalytic Surfaces'.
The consortium represents four very different industrial segments including the hospital and care sector, air and water cleaning, surfaces for design products and the development of new types of road marking and painting materials. The idea is to use light-sensitive, nanocatalytic materials to create environmentally-friendly and efficient cleaning technology which will result in longer product lifetimes and reduced maintenance of the products. Experience from world-class catalytic research is being combined with the latest know-how in the field of photo-catalysers.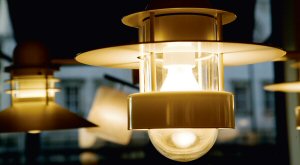 - This combination allows us to develop coatings with value-added properties, says section head Jens Christiansen from the centre for Plastics Technology at the Danish Technological Institute,
adding that one of the materials being used as photo-catalysers is the well-known titanium dioxide.
- Moreover, the research is exploiting some of the latest PVD technology, which is being further developed with the acquisition of Europe's most advanced sputtering facility, specially designed to be able to handle oxides such as titanium dioxide, says Lars Pleth Nielsen from the centre for Tribology at the Danish Technological Institute.
One of the consortium's main goals is to help Danish manufacturing companies develop products with self-cleaning properties, including road markings which retain their colour longer and industrial ventilation hoods which almost never need cleaning. One of the companies taking part is Danish high-end lighting producer Louis Poulsen Lighting A/S.
- We can see huge potential in the technology which will mean both reduced service costs for our customers and significant energy savings, says Henrik Lenskjold from Louis Poulsen Lighting A/S.
The work is being subsidised by the Ministry of Science, Technology and Innovation.
In the consortium along with the Danish Technological Institute and Louis Poulsen Lighting A/S are the Technical University of Denmark, Aalborg University and five other Danish companies – all with their unique competences in their own particular field of business. These companies are Accoat A/S, Jimco A/S, KEN A/S, LKF Vejmar-kering A/S and Teknos A/S.