Enhancing the qualifications of Danish defence's new HR business partner
Before the crisis hit Denmark's labour market, many employers faced challenges in attracting, retaining and developing qualified labour. The situation created a need for new types of educational and training programmes to enhance staff qualifications. The Danish Technological Institute responded to this need by customising solutions aimed at giving participants with differing experience and competencies relevant benefits based on the individual participant's knowledge, experience and job challenges.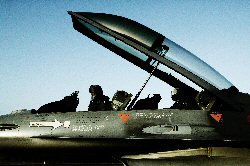 In March 2008, the Danish Technological Institute completed a tailored training programme for HR Business Partners of Danish Defence's Personnel Service – called KA 1, coordination section. This section assists managers and superiors in Danish Defence by offering human resource advice and coaching. All 15 participants did well in the four-day programme and are now better prepared to meet the challenges inherent in the role of KA 1 strategic coaches.
Subsequently, the next class of HR Business Partners followed the training programme. This class had a different theoretical background than the first, so the contents of the programme varied slightly. A key principle of the Danish Technological Institute's business strategy is to calibrate courses and training programmes precisely to the customer's needs.
Lieutenant-colonel Finn Bech Andersen, then head of the section, contacted the Danish Technological Institute to order a tailored training programme.
- The Danish Technological Institute is known for its high professional quality and for showing commitment to its products. So we were never in doubt about where to turn for our training programme. And we were very pleased with our choice, one reason being that the Danish Technological Institute assigned two highly committed and competent lecturers, explains Finn Bech Andersen.
In his opinion, the programme gave participants a common understanding of the concept of strategic HR and how to operationalise it.