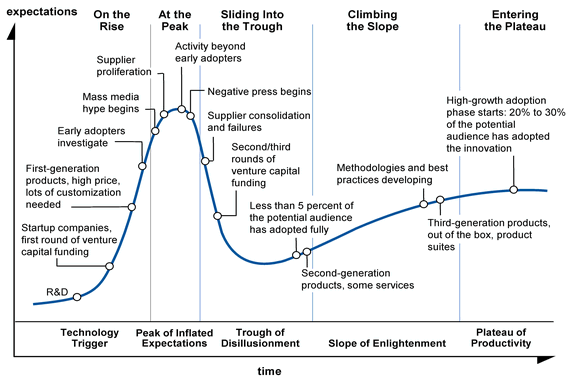 The hype of robots
What would you choose if you had to invest in robot technology? The range of options is large. As an investor, the area of robot technology may seem confusing when one is to decide where to invest in the future.
Gartner Inc., a world-known company within research and analysis of IT may help you one step towards the right investment choice. Each year they develop a so-called "HypeCycle" which is an analysis of new technologies "Emerging Technologies". The analysis provides a down-to-earth explanation of where 'a technology' is placed in the market sphere.
The analysis is each year used by investors worldwide. "HypeCycle" is used as a tool to analyse when a technology is mature for investment taking the technology´s future value and risk into consideration.
If you are an early investor i.e. investing while the technology is still an abstract concept, you need to be aware of the challenges that may arise. Early investments in new technologies involve high risks but also potential high profits, if they succeed.
A tangible tool
A "HypeCycle" is not a very academic model. The model is primarily based on demand analysis and tendencies along media coverage and attention. The model is used to illustrate and describe the interest or "hype", when a new technology is introduced and the following decrease in same which normally follows a "hype". It takes is point of departure in five different phases which a market typically adapts to.
The need arises and research and development begin. In this matter, forecasts concerning when the technology will reach the "shelters" will typically take place as well as speculations on how a business model will come to look like.
Peak of Inflated Expectations
Depending on added resources and the market strategy a "hype" will arise based on the expectations to the technology. These expectations will most often be impossible to reach as this phase still includes several unanswered questions to the technology, the need and the business model.
Trough of Disillusionment
When failing to meet the expectations to a technology, insecurity and doubt will emerge.In this connection negative publicity will be faced. If investors abandon a technology at this phase, some companies will risk bankruptcy.
Now the right product, the right business model and the right need is found and can be addressed. An actual impression of the technology and its possibilities is emerging. In addition, advantages and practical usage are discovered. The technology is increasingly accepted by a wider and more pragmatic market
When the technology reaches this last phase its advantages are obvious and accepted. Publicity will be concerned with productivity i.e. the needs the technology fulfils rather than the specific technology.
Gartner´s idea of a robot technology´s "HypeCycle"
In the past years robots or 'Mobile Robots' have been present at Gartner´s "HypeCycle". The term 'mobile robots' used by Gartner is rather unclear defined and very widely covering the area of robot technology - though not self-propelled cars.
'Mobile robots'' technologies have not developed remarkable during the past five years and they are estimated to be more than ten years away from entering the market.
However, some would say that robot vacuum cleaners and transportation robots for hospitals, e.g. like Aethon´s TUG, is closer to entering the market than ten years. After all, these are well-proven technologies despite some limitations and conditions, which are still being developed. Therefore, one needs to use the generalised "HypeCycle" with caution.
What can a "HypeCycle" actually be used for?
Actually, one "HypeCycle" should be made for each of the different robot technologies. A term such as 'Mobile robots' is simply too extensive and rigid.
One example is the the robot vacuum cleaner which should be placed in the phase 'Though of Disillusionment' as interest and publicity are concerned with several external parameters rather than the technical, though it still faces some challenges in larger general roll-outs.
Inteco Robotics has developed a robot for construction and demolition that can function in areas dangerous for people. If this robot succeeds in covering the need it will quickly move from 'Technology Trigger' to 'Plateau of Productivity'. Nevertheless, the business model and profitability must still be addressed.
Telepresence has developed mobile robots with camera and sound that can be controlled over distance via Internet connection. These robots could for instance be used by nurses to oversee medicine ingest in homes. Double Robots has made a nice, generic and not at least price-effective product that can be controlled by iPads. Their robot runs on two wheels like a Segway and the system is managing continuous balance, making sure that it does not fall over.
Several mobile robots have wheels or caterpillar tracks which creates some natural limitations such as stairs. If the market is indeed ten years away, it is not only a question about the technology but also if the market is ready to move in a different direction in order to meet and overcome the challenges a given technology may have.
Therefore, one should use the "HypeCycle" analysis in connection with Geoffrey A. More´s thoughts about the "Chasm" in a go-to market strategy and a product´s lifecycle, however, that is a totally different story!
What can a "HypeCycle" then be used for? Despite the fact that it directs focus to robots in investment matters, nobody really doubts that the future includes robots in a large extend. The question is rather who will be for robots what Microsoft has been for computer software, what Apple has been for smart-phones and what Samsung has been for flat screens etc. This question will be answered when a technology is merged with the right investor at the right time. Nevertheless, the increased focus on robots, future "HypeCycles" may look considerable different than the past year´s "HypeCycles".
The coming publication of Gartner´s HypeCycle 2013 is therefore expected with excitement and we will off course follow-up on the robots.