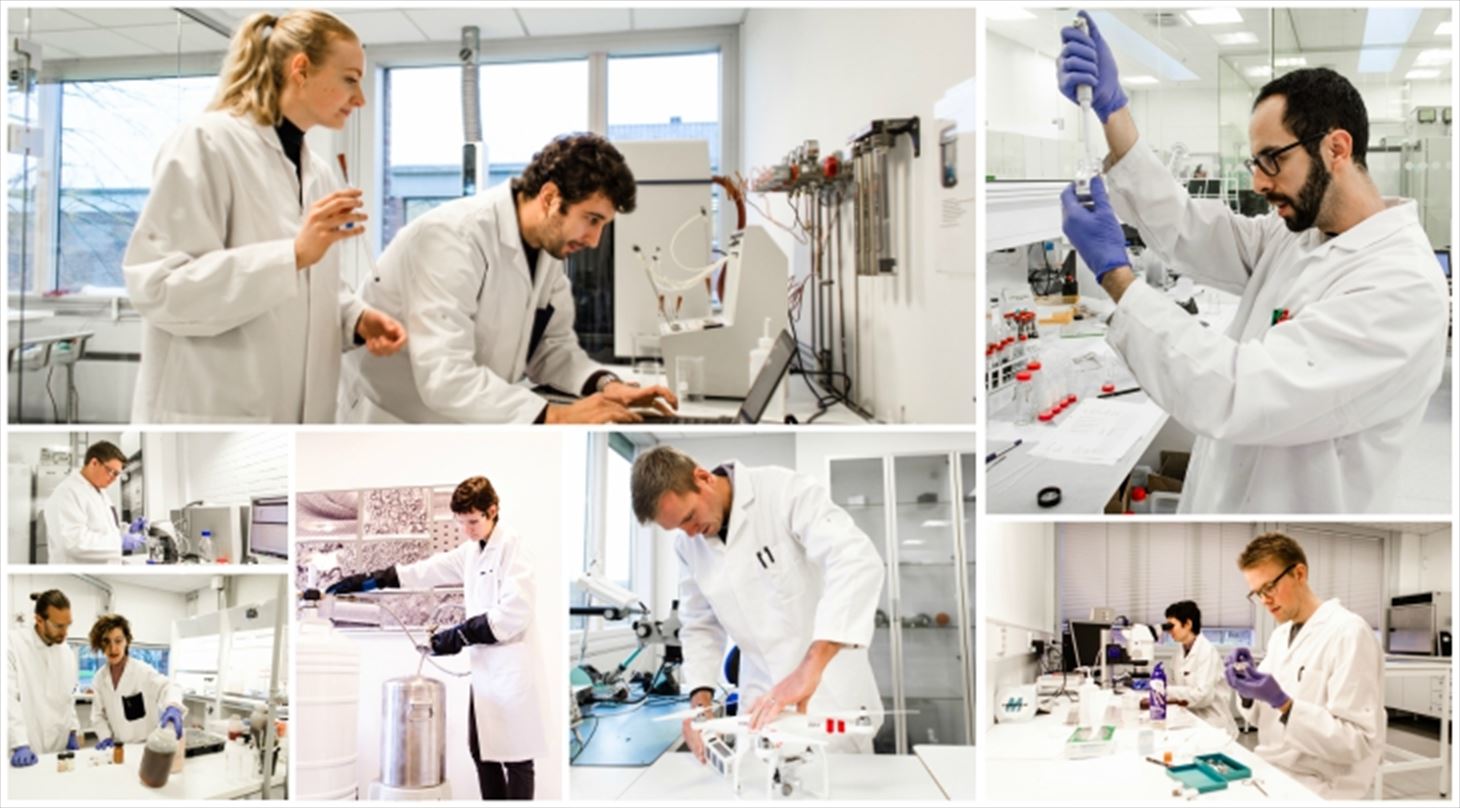 A productive year at Nano Production and Micro Analysis
2016 was a busy year at Nano Production and Micro Analysis. We have made great progress within conductive nano inks, increased flight time of drones, developed fuel cells for hearing aids and optimized particle filters for diesel exhaust. And that's just the beginning!
Another year has come to an end and it's been an exciting and successful one at Nano Production and Micro Analysis. 2016 has especially been characterized by drones, printed electronics, diesel vehicles and hearing aids. Every day we work on creating future-proof solutions for businesses and we have come a long way already.
1200 samples examined in a year
In 2016 we solved around 500 tasks within micro analysis, laser micromachining and nanocoating. 1200 samples have passed through our microscopes, and we have once again achieved the highest score possible within customer satisfaction.
Nano-inks ready for sale
For two years we have worked on developing conductive nano-inks for printed electronics. We are now ready to sell high quality nano copper and silver products for the printed electronics industry. Furthermore, we offer services within ink testing, smart product prototyping and pilot production, using digital ink-jet technology.
In 2016 we also acquired new funding through the Horizon 2020 NECOMADA project. In this project we will develop copper, silver and graphene based nanomaterials for conductive inks along with pastes for IoT component production lines.
Drones will stay airborne for 24 hours in the future
In April we demonstrated that small drones (less than 2.5 kg) can successfully fly on hydrogen fuel cells. Mid 2016 the Innovation foundation project BuDrone was initiated. The project is a collaboration between DTI, drone manufacturer SkyWatch and German eZelleron.
Together we will leverage micro Solid Oxide Fuel Cell technology for drone applications. The final goal of this project is to enable small drones to fly for 24 hours using a butane based fuel cell.
Up-scaled fuel cell test facility
In our continuous effort to maintain world leading laboratory infrastructure, our micro fuel cell test facility has been expanded. It now enables 400 fuel cells to be tested in parallel. During 2016 more than 700,000 hours of operation have been logged.
Catalyst for fuel cells and exhaust
In 2016 we have worked within two major catalyst areas; fuel cell catalysts and exhaust catalysts for vehicles, utilizing our supercritical reactors.
Our catalysts demonstrate superior performance in diesel truck engines compared to our commercial collaborators' current products. This is both in terms of lowering the light-off temperatures and the amount of expensive platinum group metals. The supercritical production method also demonstrates the ability to make extremely high surface area metal oxides, e.g. alumina and ceria zirconia.
Together with our collaborators within fuel cell catalysts we have developed new platinum alloys including platinum-cobalt and platinum-nickel. These show state-of-the-art activities for oxygen reduction, which is used at the cathode of the fuel cells.
First big commercial assignment within catalyst development
2016 also featured our first big commercial assignment within catalyst development. We developed a complex catalyst structure within just three months in collaboration with a commercial partner. The three months resulted in a giant leap in catalytic properties, and a great foundation for continuing the work and collaboration in 2017.
Cooperate with us
You can always use our commercial services if you have a job that requires our expertise. Give us a call on +45 7220 3300 or send an e-mail to lhc@dti.dk
If you have an idea for a new product or process or a new way to optimize these you can work with us on a developing project.
Developing projects can be funded through Innovation Fund Denmark or Horizon2020 projects.
We believe that the best solutions are created together with other companies. Therefore, we are happy to help you apply for funding for your developing project.