Algae - Renewable energy of the future
Algae for bioenergy offer a massive potential. The algae can be grown in ponds and give far greater yield than other crops used for bioenergy. Surplus nutrients from agriculture and CO2 from combined heat and power generation (CHP) plants might be used as fertilizer and a carbon source in algae cultivation.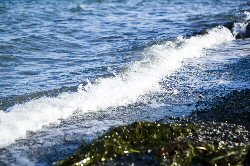 Denmark has only made sporadic attempts to use macroalgae in biogas reactors, a situation that a new Danish research project is set to rectify.
Danish Technological Institute heads the four-year project that is to result in optimum and profitable energy utilisation of all parts of the microalga sea lettuce (Ulva lactuca). Research is conducted in cooperation with the National Environmental
Research Institute, Riso DTU National Laboratory for Sustainable Energy and DONG Energy A/S. The contributing partners will develop expertise in cultivating, harvesting, conditioning and utilising the energy potential of the blue biomass. During the project, the researchers will investigate various possibilities of generating energy from the algae, producing bioethanol, converting the algae in biogas reactors and incinerating whole algae or using residual products from the production of bioethanol and biogas.
In 2008, the parties established a small-scale plant for cultivating algae at the Danish Shellfish Centre in Mors. In the long run, the parties must design a fully automated plant where the algae can be cultivated in basins using return heat and possible CO2 from a CHP plant. Adding heat and CO2 can increase the growing rate of the algae and thus the dry matter yield. At the same time, CO2 that would otherwise be emitted to the atmosphere and adversely affect the climate is used.