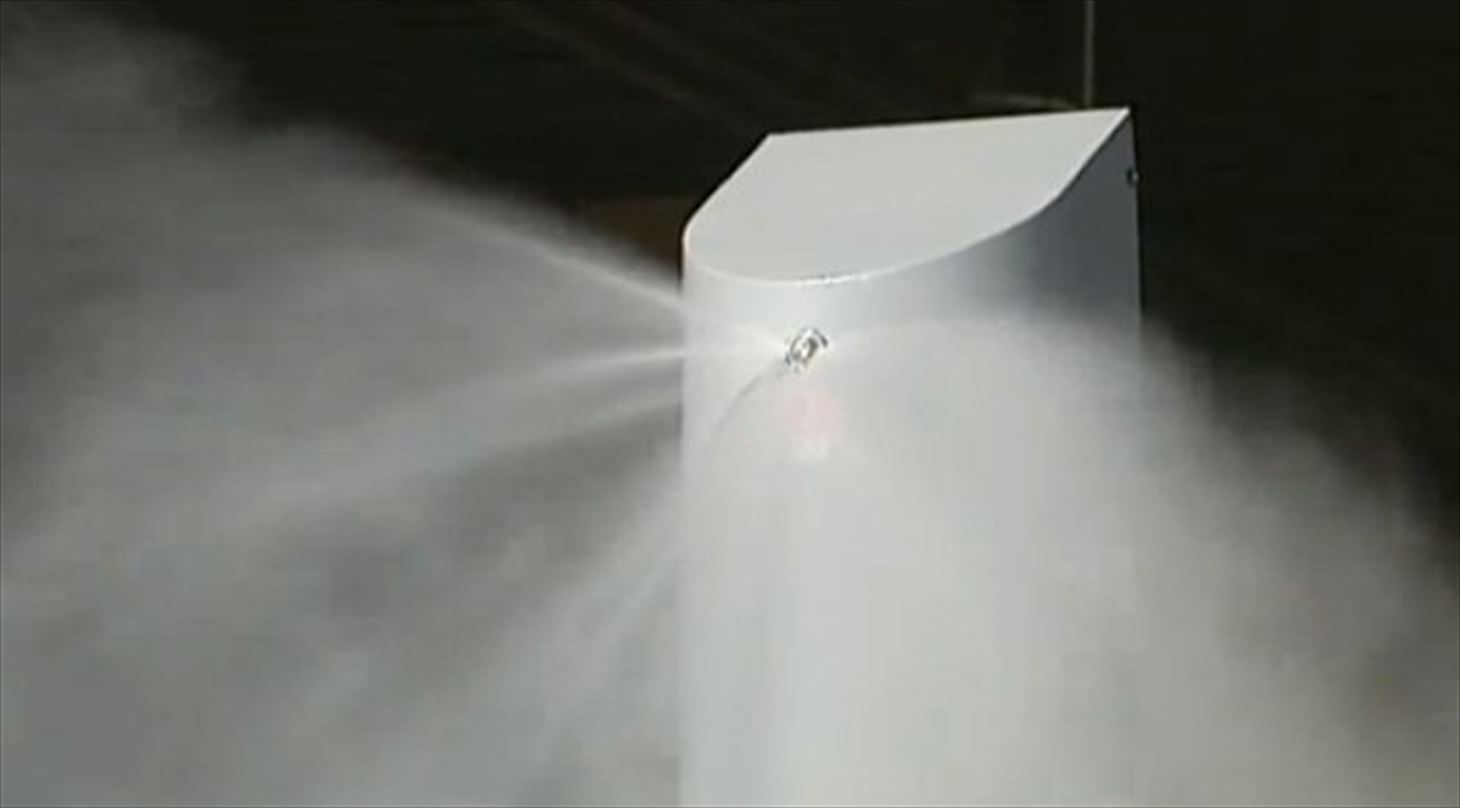 C-Imple in fire prevention and the Q1 mobile sprinkler
The numbers of deadly fires and casualties from fires have been stable for the last 20 years in Denmark. But with a systematic effort to prevent fires and implementation of new technology, it is now possible to bring down these numbers.
According to statistics from the Danish Emergency Management Agency (DEMA), the risk of casualties from deadly fires increases with age. In addition to the risk of human losses and consequences, a fire also carries huge, expansive, material damages. Smoking is still the most frequent cause of fires and most deadly fires happen in private residences.
Many technologies, aids and systems for fire prevention and damage reduction exist. It can be difficult to find the right match between the fire-threatened citizen and a product for fire prevention.
DTI Robot Technology offers a one-day certification seminar, focusing on fire prevention in general and assessment and implementation of the Q1 mobile sprinkler system in particular. The purpose is to prevent fires among elderly and handicapped persons with a non-alert relation to fire, who are not able to put out the fire, evacuate themselves or call for assistance.
On these pages, you can read more about who the certification seminar is aimed at as well as its content, background and price.
Scenarios
A nursing home, a commune or a home care unit, which has experienced at deadly fire, knows how devastating it is for the people involved. Following a deathly fire, the scenario is often one in which the care personnel ask themselves - or discuss with each other - whether the accident could have been prevented. Could anything have been done to reduce the damage or maybe even avoid the fire completely?
The scenario can also be about municipality professionals, nursing home leaders or others wanting to secure a fire-threatened citizen as good as possible. But where do you get a comprehensive and qualified overview of what can be done and which methods, technologies, aids and systems are available?
A third scenario could be about new building projects or reconstruction entrepreneurs considering alternative fire protection precautions than the common alarm systems, which are expansive and activate later than a Q1 mobile sprinkler system.
No matter the scenario, the one-day "Certified Implementation seminar in fire prevention and the Q1 sprinkler" provides both knowledge and hands-on experience on concrete aids, systems and technologies which reduce/extinguis a fire. After having completed this seminar, you and your colleagues will be able to convert knowledge and experience into specific recommendations, decisions and actions.
Experience
A concrete scenario occurred in July 2012 with a fire in the dementia centre Aalholmhjemmet in Copenhagen. The cause of the fire was a teddy bear, which caught fire from an active cooking plate. The mobile sprinkler was instantly activated and a quick reaction from the staff prevented a terrible accident from happening.
As the first municipality in the country, Copenhagen has started to systematically implement mobile sprinklers in private homes and assisted living facilities. The purpose is to secure the exposed citizen - smokers and people with dementia, among others - from fires.
Through the last couple of years, DTI Robot Technology has had a focus on fire prevention and collaborated with municipality fire departments and the company Gearteam in the effort to develop fire prevention initiatives. On this basis, we now possess knowledge about fire prevention in general and the Q1 mobile sprinkler technology in particular.
At DTI Robot Technology, we have experienced how an assessment of fire prevention initiatives and technologies can provide a number of benefits and gains by strengthening the professional work with securing fire-threatened citizens: Safety and peace of mind for the citizen, the relatives or close ones or the nursing staff. Not to mention the economic gains of fending off casualties, having fewer injured and reduced material damages with quick firefighting.
The certification seminar is held at DTI Robot Technology in Odense. The seminar contains a presentation from a chief fire inspector about various fire prevention initiatives and products, characteristics and descriptions of the target group for the fire prevention initiatives, technical introduction to the Q1 mobile sprinkler system, case studies etc.
Moreover, the seminar includes a tour of our CareLab facilities with different welfare technologies exhibited, which are about to enter the healthcare area.
Value
It is difficult to put an exact price on how much is saved by avoiding or reducing a fire. Primarily because the value of saving human lives and increasing safety goes beyond money.
Additionally, no collective estimate about how much deadly fires cost the municipalities exists, but chief fire inspector Jan Sørensen, Copenhagen Municipality said in February 2012: "We have seen examples of nursing homes that have been close in up to five months, where the residents have been moved due to water damage from the sprinkler system in many apartments, even though the fire was only in one apartment."
In the light of the expenses of fires/extensive water damages, the nursing homes or the municipality administration have a lot to gain by investing DKK 3,500 per person to participate in the certification seminar.
The one-day seminar provides the participants with the basic knowledge about fire prevention in general and insight into and overview over existing products and technologies with the field.
The seminar is aimed at key people in the municipalities, who have to function as resource persons with competences to assess and implement fire prevention initiatives and technologies to create the best match between technology and user.
The certification seminars are held as required. Contact Lone Gaedt for further information.
Innovation
The mobile, reusable Q1 sprinkler system is the technology which the seminar is centered around. Q1 is a new innovation with these unique features, among others:
Reduces (puts out) the fire at an early stage
Minimal material damages following a fire
Contains a programmable control system, which can be connected to an internal communication system, alarm system or similar
Fast to install
Moveable
Minimal maintenance (low maintenance costs)