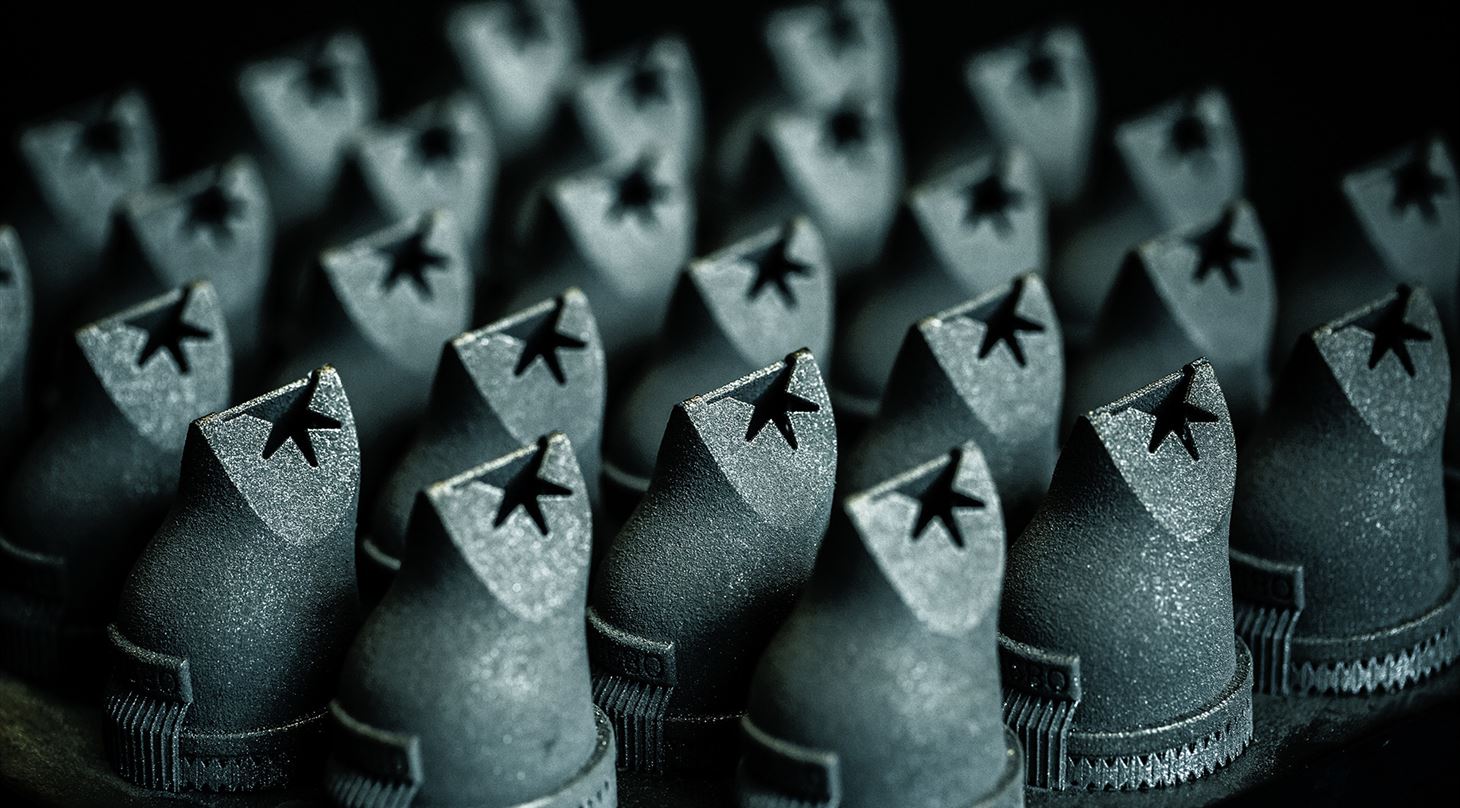 Cases with 3D printing
We supply a wide variety of clients with 3D printing in both metal and plastic, and we continuously gather examples of the development of 3D printed parts that can serve as inspiration for others who have started - or would like to start - working with 3D printing.
For some companies, printing a component or a part is perfectly obvious, and for others - and this is in most cases - it requires an innovation and development process to identify where, how and why it makes sense to 3D print one or more parts.
At the Danish Technological Institute, our customer assignments cover a broad spectrum - from developing parts through pilot production to producing large batches of 3D-printed items, which form part of the company's production chain.
Below you can read more about some of our customer cases.
Podovo had to develop a manifold to help respirators to control patients breathing in the intensive care unit. They contacted the Danish Technologiscal Institute to utilize the design freedom and flexibility of metal 3D printing.
When Dynello had to develop and produce a pocket hook for their belt reels, they chose 3D printing, which was both a faster, cheaper and more flexible solution than traditional manufacturing methods - the hooks are printed at the Danish Technological Institute.
The production of nozzles for cake production had long presented challenges for Haas-Meincke, but in collaboration with the Danish Technological Institute they now produce nozzles and several other products with 3D printing. This gives them great freedom of design and at the same time food approval has been obtained on the nozzles.
After the first COVID-19 wave, ExamVision experienced a huge demand for loupes when canceled treatments were resumed - now with requirements for face visors - but with 3D printing, they were able to meet the urgent need.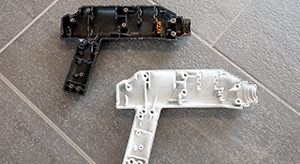 DMRI and Danish Crown - Boar pistol
DMRI - Danish Meat Research Institute had to re-produce a tool for Danish Crown, but neither drawings nor injection molding tools existed anymore. Therefore, the solution was to do 'reverse engineering' using CT scanning and 3D printing.
In collaboration with the Danish Technological Institute, Manigrip developed an aid tool for arthritis patients. Thanks to 3D printing, the entire development process lasted less than half a year, and along the way Manigrip has had access to all competences under one roof.
Frese is a leading manufacturer of innovative flow control and component solutions for the HVAC market. In developing a special valve, metal 3D printing provided some completely new opportunities for designing and testing the prototype before production.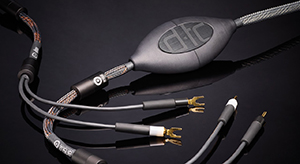 Ansuz Acoustics - Cable housing
Ansuz Acoustics is a Danish company that develops and manufactures cables and accessories for high-end music systems, and with tremendous freedom of design and short development time on new products, 3D printing has proven to be the perfect solution for the housing where the cables are assembled.
When Marel had to develop a new support element for industrial cutting of meat, there was a need for innovation. Consequently, 3D printing in metal was considered at an early stage, resulting in fewer bacteria and greater food safety.
The company 4TECH has designed a tool changer that allows collaborative robots to switch between multiple tools. The Danish Technological Institute has helped optimize and print the tool changer, which is designed specifically for production with 3D printing.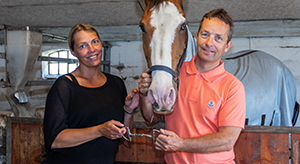 Adjustbit - Adjustable horse bite
As an equine dentist, Glenn Espensen has often faced the challenge of having to guide customers towards the right horse bite. That's why the idea for Adjustbit was born - the world's first adjustable and modular horse bite. 3D metal printing at the Danish Technological Institute made it possible to realize the idea.Read more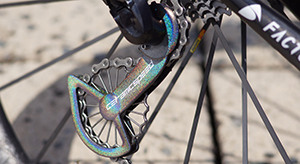 CeramicSpeed - Pulley wheels
For many years, CeramicSpeed in Holstebro has collaborated with the Danish Technological Institute on the development of 3D-printed titanium pulley wheels. Now, CeramicSpeed is launching a new model of a 17-spoke 3D-printed pulley wheel.
Marel was developing a salmon gripper, and they decided to test the 3D printing technology. Today, they produce titanium salmon grippers with 3D printing at the Danish Technological Institute. It gives them great freedom of design and a short response time.
NRT X-RAY develops and manufactures medical X-ray equipment for hospitals. By producing 3D printed nylon covers for their equipment, they can quickly test new designs and create customized products for their customers.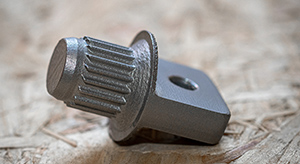 CCM Electronic Engineering - Shafts
CCM Electronic Engineering develops systems for final testing of electronics and machine products. For one of these test systems, CCM needed a shaft with some specific contours and great robustness, and 3D printing in metal turned out to be the right solution.
At Marel's request, the Danish Technological Institute developed metal detectable nylon for 3D printing as well as a dipping process whereby 3D-printed nylon is easier to clean - in fact, it's 118 times better measured on residual bacteria and on par with stainless steel.
Since 2008, the world's largest producer of phono cartridges, the Danish company Ortofon A/S, has been using Additive Manufacturing (AM) for production of its new cartridges.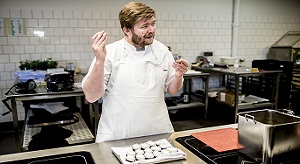 Bocuse d'Or - Kenneth Toft-Hansen
The Danish master chef Kenneth Toft-Hansen won the gold medal in the gastronomy competition Bocuse d'Or - and he uses Additive Manufacturing to shape his unique gastronomic creations.
In collaboration with two students from Aarhus University, the Danish Technological Institute has used 3D printing to reduce the weight of a cutting tap with more than 70% for Thürmer Tools.
Robot grippers must be as light and flexible as possible to achieve the best performance. The Danish Technological Institute has produced 3D-printed titanium grippers for the Danish company RoboTool.
Thanks to Additive Manufacturing, midwife Malene Hegenberger succeeded in accelerating the development of her new invention - Hegenberger Speculum. In collaboration with the Danish Technological Institute, 35 different versions of the product were completed in two months.
The leading Danish contractor group Aarsleff reduces energy, water and time consumption on sewer pipe repairs by using 3D-printed aluminium cylinders that are produced at the Danish Technological Institute.
With the use of Additive Manufacturing technology, the international hydraulic company Hydrauvision, was able to reduce pressure loss by as much as 25 %​ compared to the traditional solution.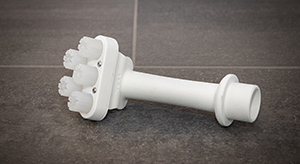 Danish Meat Research Institute
It was quite a task for the 3D printing experts at the Danish Technological Institute to get five suction channels and five opposite channels for scalding steam built into a flimsy handle. But they succeeded, and now the new five-finger steam suction is ready to be applied to Danish slaughterhouses.