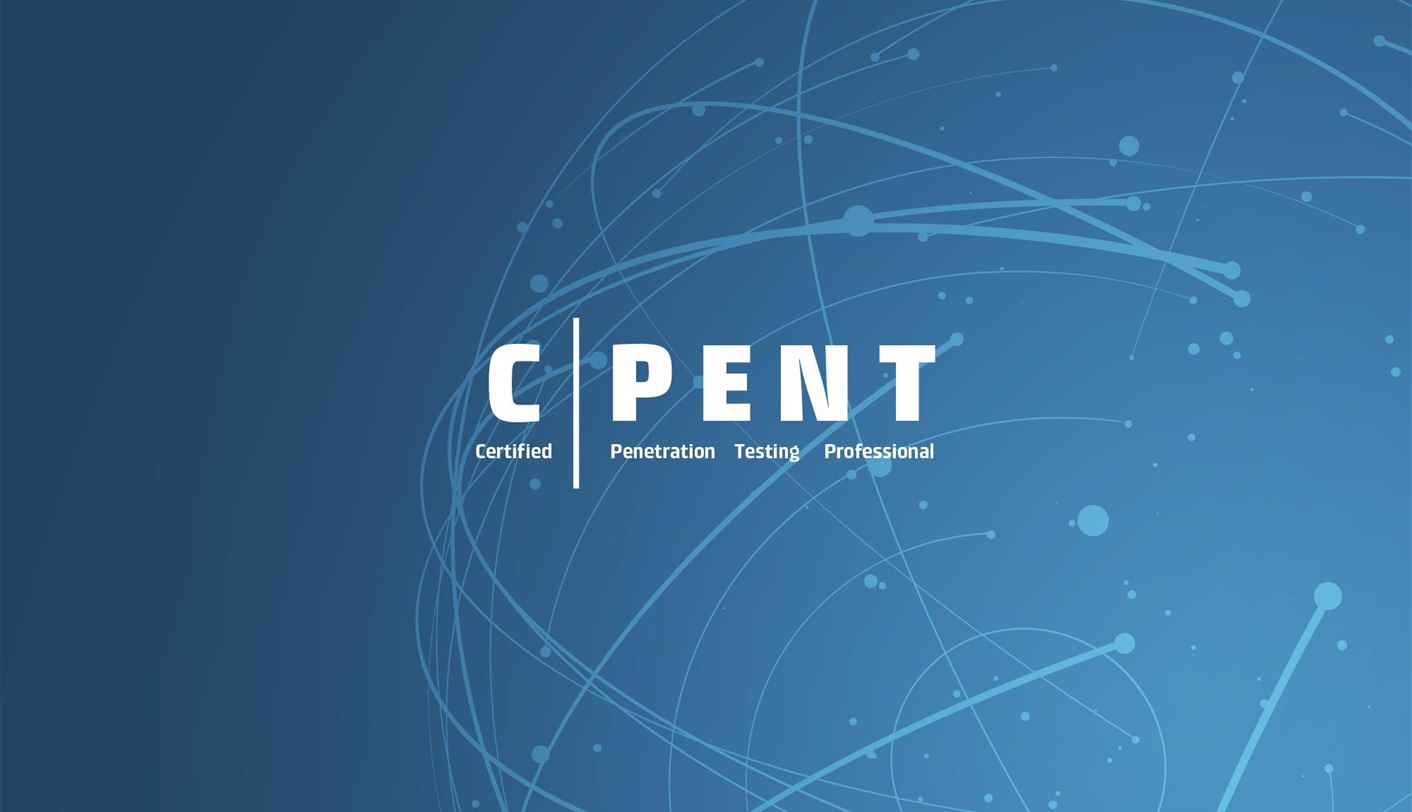 Certified Penetration Testing Professional [CPENT]
På kurset Certified Penetration Tester (CPENT) lærer du, hvordan du udfører en effektiv penetration test i en virksomheds netværksmiljø, der skal angribes, udnyttes, fratages og forsvares. Hvis du kun har arbejdet i flade netværk, vil CPENT's lære dig at tage dine færdigheder til det næste niveau ved at lære dig, hvordan pen test IoT systems, OT systems. hvordan du skriver egne exploits, bygger dine egne værktøjer, foretage avancerede udnyttelser af binære filer, få adgang til skjulte netværk og tilpasse scripts for at trænge ind i de inderste segmenter af netværket. Undervisningen foregår på engelsk.
CPENT Cyber Range - Enter if you dare!
The heart of the CPENT program is all about helping you master your pen testing skills by putting them to use on our live cyber ranges. The CPENT ranges were designed to be dynamic in order to give you a real-world training program, so just as targets and technology continue to change in live networks, both the CPENT practice and exam ranges will mimic this reality as our team of engineers continue to add targets and defenses throughout the CPENT course's lifetime.
The CPENT range consists of entire network segments that replicate an enterprise network — this is not a computer game simulation; this is an accurate representation of an enterprise network that will present the latest challenges to the pen tester. The benefit of hands on learning in a live cyber range is that candidates will encounter multiple layers of network segmentation, and the CPENT course will teach candidates how to navigate these layers, so that once access is gained in one segment, a candidate will know the latest pivoting techniques required to reach the next. However, that won't be enough on its own as the targets and segments are progressive in nature, so once you get into one machine and or segment, the next one will challenge you even more!
Deltagerprofil
Ethical Hackers, Penetration Testers, Network server administrators, Firewall Administrators, Security Testers, System Administrators and Risk Assessment professionals
Indhold
Module 01: Introduction to Penetration Testing
Module 02: Penetration Testing Scoping and Engagement
Module 03: Open Source Intelligence (OSINT)
Module 04: Social Engineering Penetration Testing
Module 05: Network Penetration Testing – External
Module 06: Network Penetration Testing – Internal
Module 07: Network Penetration Testing - Perimeter Devices
Module 08: Web Application Penetration Testing
Module 09: Wireless Penetration Testing
Module 10: IoT Penetration Testing
Module 11: OT/SCADA Penetration Testing
Module 12: Cloud Penetration Testing
Module 13: Binary Analysis and Exploitation
Module 14: Report Writing and Post Testing Actions
Appendix A: Penetration Testing Essential Concepts
Appendix B: Fuzzing
Appendix C: Mastering Metasploit Framework
Appendix D: PowerShell Scripting
Appendix E: Bash Environment and Scripting
Appendix F: Python Environment and Scripting
Appendix G: Perl Environment and Scripting
Appendix H: Ruby Environment and Scripting
Appendix I: Active Directory Pen Testing
Appendix J: Database Penetration Testing Methodology
Appendix K: Mobile Device Penetration Testing Methodology
CPEN Fordele
100% mapped with the NICE framework.
100% methodology-based penetration testing program.
Blends both manual and automated penetration testing approaches.
Designed with the most common penetration testing practices offered by the best service providers.
Maps to all major Job Portals. Role Title: Penetration Tester and Security Analyst.
Provides strong reporting writing guidance.
Gives a real-world experience through an Advanced Penetration Testing Range.
Provides candidates with standard Pen test for use in the field
Materiale
Kursusmaterialet leveres på engelsk.
Certificering, Exam voucher is included
CPENT is a fully online, remotely proctored practical exam that challenges candidates through a grueling 24-hour performance-based, hands-on exam. The exam is broken into 2 practical exams of 12-hours each that will test your perseverance and focus by forcing you to outdo yourself with each new challenge. Candidates have the option to choose either 2 12-hour exams or one 24-hour exam.
Candidates who score more than 70% will earn the CPENT certification. Candidates who score more than 90% attain the prestigious LPT (Master) credential!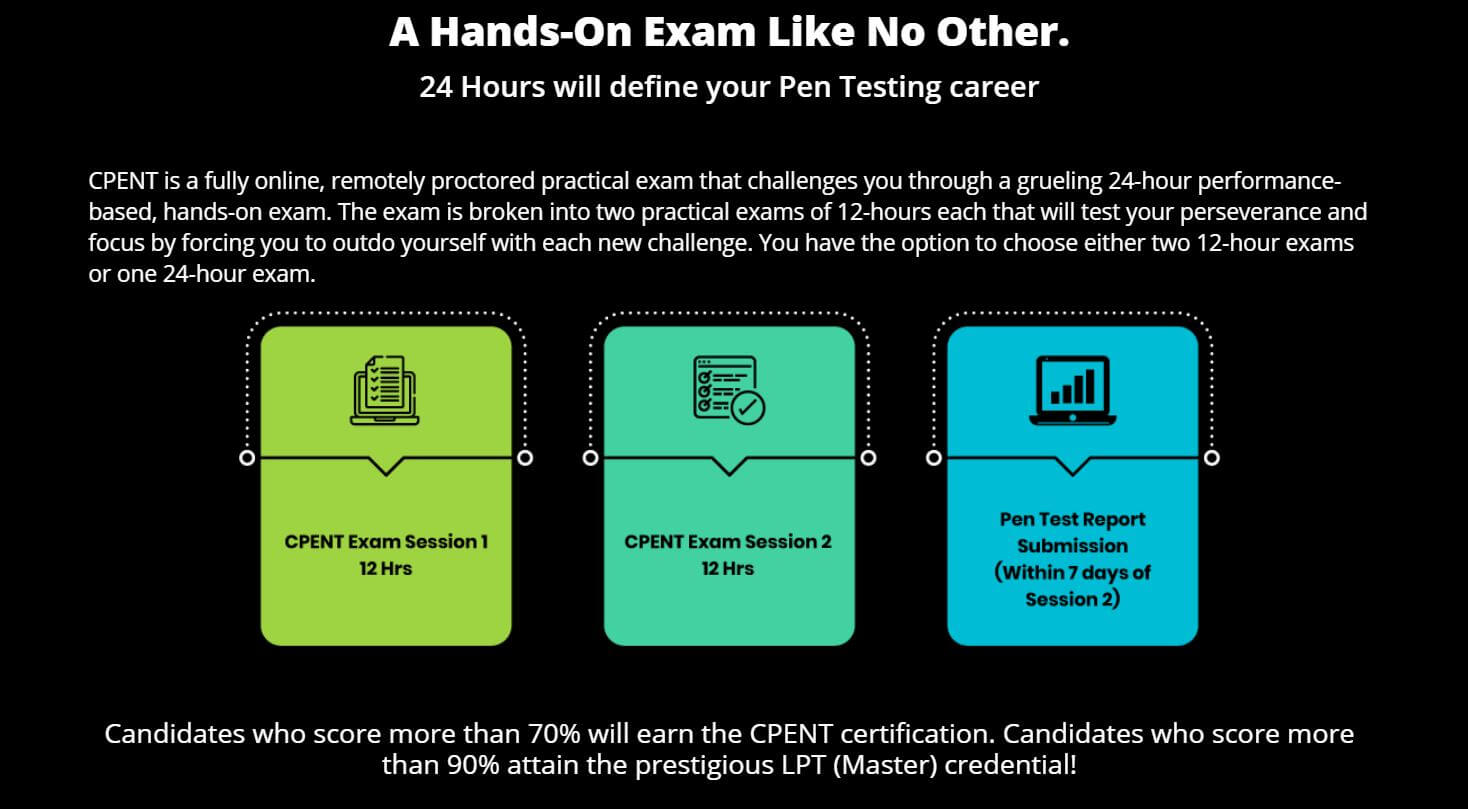 2 Certs, One Exam! CPENT & LPT Master
You have the potential to earn two certifications with one exam. If you score above a 90% on the CPENT live range exam, not only will you earn the CPENT certification, but you will also earn the Licensed Penetration Tester (LPT) Master Credential!
To be a LPT (Master) means that you can find chinks in the armor of defense-in-depth network security models with the help of network pivoting, making exploit codes work in your favor, or by writing Bash, Python, Perl, and Ruby scripts. The live range CPENT exam demands that you think on your feet, be creative in your approach, and not rely on the conventional techniques.
Outsmarting and out maneuvering the adversary is what sets you apart from the crowd. The CPENT's hands-on exam offers a challenge like no other by simulating a complex network in real time. This experience will test your perseverance and focus by forcing you to outdo yourself with each new challenge.
LPT (Master) certified professional can:
-Demonstrate a repeatable and measurable approach to penetration testing
-Perform advanced techniques and attacks to identify SQL injection, Cross site scripting (XSS), LFI, RFI vulnerabilities in web applications
-Submit a professional and industry accepted report that achieves management and technical buy-in
-Get access to proprietary EC-Council penetration testing methodologies
-Write exploit codes to gain access to a vulnerable system or application
-Exploit vulnerabilities in Operating systems such as Windows, Linux
-Perform privilege escalation to gain root access to a system
-Demonstrate 'Out-of-the-box' and 'lateral' thinking
-Ensure the integrity and value of the penetration testing certification, in a fully online, remotely proctored certification exam
Bemærkning
The CPENT program is the next step after the Certified Ethical Hacker (CEH) certification on the journey to the Licensed Penetration Tester (LPT) Master. There is a lot of chatter out in "the ether" that refers to CEH as a Pen Test program. That information is not correct. The CEH course was designed to teach the tools and methods deployed by cyber criminals. The CPENT and its now-retired predecessor courses, the EC-Council Certified Security Analyst (ECSA) and the Advanced Penetration Tester (APT), are pen test courses that were designed to take the concepts taught in CEH and apply them to time-proven pen test methodologies.
Kommentar
Vores training partner på EC Councils kurser er Arrow ECS Danmark.
Do you have any questions please contact
Malene Kjærsgaard
Konsulent