GUM Workbench specification
GUM Workbench. The tool for expression of uncertainty in measurement.
Background
Why does Danish Technological Institute distribute GUM Workbench Software? We have a strong interest in the decisions, control and inspection which in a broad sense are based on measurements. As a natural consequence, Danish Technological Intitute has for ten years developed and supported expertise on uncertainty in measurement.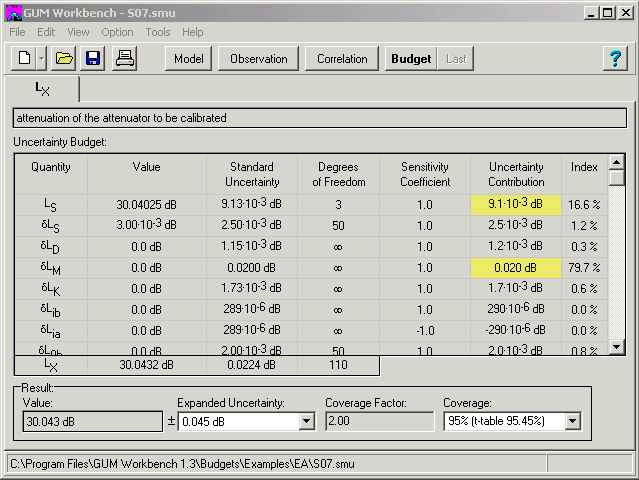 Decisions are the more likely to prove right when they are based on measurements of sufficient quality. And measurement uncertainty should be regarded as key to understanding the quality of measurement results.
We have been confronted - as any accredited calibration or test laboratory - with requirements of ISO 17025 and our accreditation authorities to report measurement uncertainties according to the specific standardised calculation procedure called the GUM method.
Danish Technological Institute now presents GUM Workbench – the user friendly and timesaving shortcut to the calculation of measurement uncertainty.
This remarkable software
Was built according to specifications in international standards.
Has an easy-to-use interface.
Provides full documentation for assessors and auditors.
Links calibrations to everyday industrial or lab measurements.
Quality is linked to economical considerations in the planning of metrological solutions. Thus understanding the economics of metrology requires a sound understanding and a correct treatment of measurement uncertainty.
Experienced metrologists and engineers working professionally with measurements acquire much skill and know-how in their fields of metrology. Enough information is available on equipment, influence parameters, traceability and calibration. But some enter uncharted territory when it comes to setting up valid measurement analyses according to international standards.
To meet these requirements a structured statistical and mathematical treatment of the available knowledge in respect of the measurment proces is required.
We noticed over and over again: When developing uncertainty budgets without software support, metrologists – including ourselves – spent too much time struggling with the mathematics of the GUM method. While we did not have proper software support at that time, too little ressource was left available to really take advantage of the GUM method and let it become the powerful tool it truly is.
Using GUM Workbench allows you to concentrate on the real metrological challenges. Statistical and mathematical matters are handled elegantly by our software.
In addition to this, users of Gum Workbench will gain acces to the library of uncertainty solutions and templates published by Danish Technolocical Institute. Users may freely modify and learn from these solutions.

If you do not already have this icon on your personal computer desktop, please consider the below benefits and do not hesitate to contact us for further information.
Specifications and features.
Analysis and calculations are carried out according to procedures and formula given in below publications:
"GUM:1995" BIPM/IEC/IFCC/ISO/IUPAC/IUPAP/OIML "Guide to the expression of uncertainty in measurement". Identical to EN 13005:1999.
European co-operation for Accreditation: Expression of the Uncertainty of Measurements in Calibration, document EA-4/02, December 1999.
ISO/DTR 14253-2: "Geometrical Product Specifications (GPS) – Inspection by measurement of workpieces and measurement equipment – Part 2: Guide to the estimation of unceirtainty of measurement, in calibration of measuring equipment and in product verification" (PUMA–method).
NIST Technical Note 1297 Guidelines for Evaluating and Expressing the Uncertainty of NIST measurement Results. NIST=National Institute for Standards and Technology.
Full implementation of type A and type B uncertainties. Probability distributions supported include
Normal,
t-,
U-,
recangular,
triangular- as well as
trapezoidal distribution.
Statistics are handled on-line using typed-in or imported measurement data. Type A uncertainties may alternatively be transferred to GUM Workbench using a pooled variance estimate.
Sensitivity coefficients are calculated automatically using numerical partial differentiation. An optional linearity check may be performed by the software warning the user of any unlinearities which might exceed the limits of the GUM method.
Full support for combining the individual number of degrees of freedom for different input quantities using Welch-Satterthwaite's formula.
Works with standard uncertainties and expanded uncertainty.
Coverage probability and coverage factors according to the EA 04/02 document from European Accreditation.
Correlation is handled in full coordination with sensitivity coefficiens. Users of GUM Workbench may now forget any necessary simplifications previously used in setting up uncertainty budgets. Treatments of correlation in simplified terms of geometrical and aritmetical summing are obsolete.
Reports produced with GUM Workbench include the full uncertainty budget. Users may control the extent of report.
Report may be printed to paper or transferred via clipboard or datafiles. Two different text formats are supported (Text only and RTF format).
Reports may be formated directly as HTML pages thus facilitating publication on intranets / internet.
Facilities for structured information allows documentation of changes and amendments to be recorded in freely editable fields. Each subcomponent of an uncertainty budget has editable fields allowing the user to keep comments right where they belong so that conditions and assumptions are documented along with the budget. In this way users of GUM Workbench may integrate information required for measurement uncertainty budgeting with the day-to-day realities of laboratory and metrology room.
Linking of uncertainty budgets to describe a full hierarcical metrology system. If basic data change, e.g. when aquiring new measuring equipment, only one change needs to be made describing the uncertainty components associated with the changed equipment. Updating of all uncertainty budgets which depend on that equipment follow automatically by GUM Workbench.
Supports international exchange of knowledge in the field of metrology: GUM Workbench is delivered with setup files allowing operation of the user interface in English, German, Spanish and Danish (our current selection of languages). Report and export formats may be set to any of these languages as well.
GUM Workbench runs under Windows Vista, Windows XP and XP Home Edition, Millenium Edition, 2000, NT, Windows 98, Windows 95 and has many additional features and possibilities in addition to the above.
Update information: The new features of version 2.4 and 1.3
If you are a registred owner of a license or licenses for GUM Workbench version 1.2, may we draw your attention to either of two below attractive new offerings:
Update to version 2.4 Professional for Euro 1.250,00
The professional version offers these added features over version 1.2:
Optimized to run in most recent Windows environments including Vista, 2000 and XP
Import manager - an essential tool
Import data for an input quantity directly from specified cells in a Microsoft Excel spreadsheet.
Use powerful macrofunctions
Use Uncertainty budget templates.
The use of graphics in report
Unique and professional capability to calculate uncertainties for multi-result systems of modelequations. The modelling gives you access to calculate in the same model a set of mathematical expressions, defining multiple output quantitites. Each output quantity may depend on its particular subset of the pool of input quanitities defined for the model. This removes a lot of restrictions in the model equation field. Professionals find many uses of this and begin to explore their uncertainty considerations with a better view to the overall parameters. GUM Workbench Professional is the only software tool to offer this advanced capability. Now we may finally say that we have implemented the full GUM method in an attractive software package.
Several optimisations efforts have been undertaken, which you may really feel when you run large models.
A maximum of stability (even though we do not expect you experienced any instabilities using your version 1.2 software).
A new and improved file format and the use of long file names using full Windows functionality

We trust that you will be delighted with this update to make your efforts in uncertainty calulation even more rewarding and to finish in shorter time with more ease and full acces to the solution of multiple result problems.
Even when you do not see an immediate need to have access to multiple output quantity model, maybe you should consider upgrading to the 2.3 Professional version . If you have ever found yourself in a situation where you wanted to experiment with several alternative model equation candidates for a given output quanitity based on the same set of data describing the input quantities, you will want to work with version 2.3 in the future.
As an alternative, you may choose to upgrade only 'part of the way'
Update to version 1.3 Standard for Euro 250,00.
The standard 1.3 version is essentially an updated and optimized version of the software you have already licensed.
Remarkably, for the very friendly update price, it offers all of the above benefits, except that it is a single result estimator only, like version 1.2 is. Standard version 1.3 will handle only one output quantity at a time.
Additionally, please note, that you will need to update your license if you plan to construct uncertainty models to be used with the GUM Workbench 1.3 Educational version. If you are interested in the ability to supply models for training courses, you should enquire about the availability of Educational GUM Workbench software. Please let us know, which option you prefer.
Price information for new licenses:
Singleuser version 1.3 Standard: Euro 1.250,00
Singleuser version 2.4 Professional: Euro 2.500,00
Please contact us for further information. Upon request we will mail a demo or educational CD free of charge to interested companies or persons.