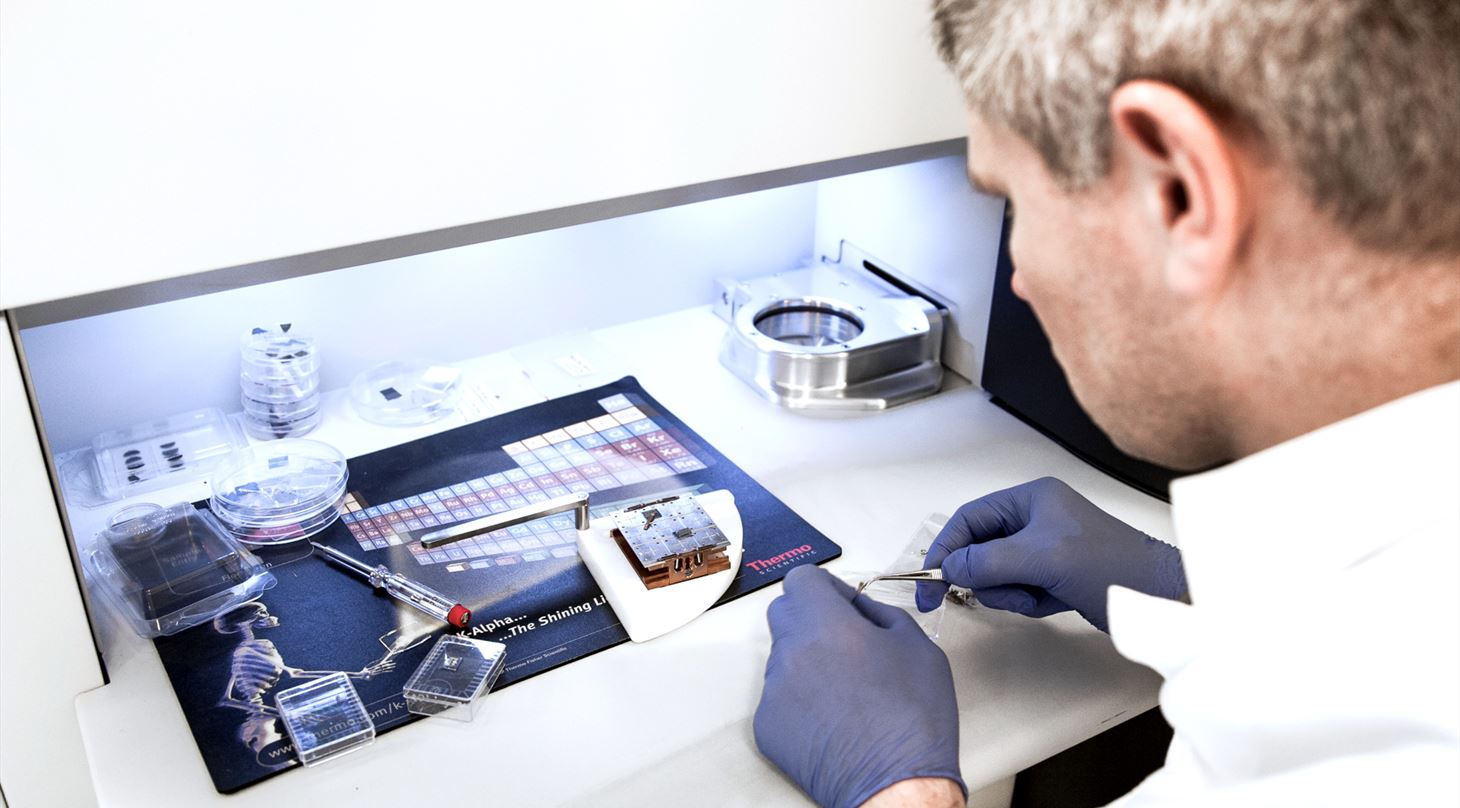 Identification of foreign material - Surface contaminations
DANAK ACCREDITATION
The Danish Technological Institute is accredited by the national accreditation body in Denmark (DANAK) to investigate and identify unknown material by SEM-EDX and FT-IR. Our analysis services have a quality that is typically approved by the FDA in auditing of production companies.
SURFACE CONTAMINATIONS
Contaminations and thin coatings on surfaces can give problems with poor adhesion and other material properties. In some cases, a polluting contamination can be too thin to be seen with the eyes, but it's presence can disturb or destroy the surface functionality of a material or product.
HOW CAN WE ASSIST YOU?
We have many years experience in identifying contaminations and coatings on surfaces, irregardless of how think or thick they might be. We can identify both organic and inorganic material, and can provide a wide array of analysis depending on what is needed for the specific task. In addition to SEM-EDX and FT-IR analysis, tools that can come in handy in identifying surface contaminations include XPS, TOF-SIMS, contact angle measurements and various methods for layer thickness determination.
Example - identification of unknown material collected on a fiber cloth
The image below shows an unknown material collected on a fiber cloth by the customer. The sample has been analyzed in one of our scanning electron microscopes (SEM-EDX) to gain information on both the visual structure and the elemental content. X-ray spectroscopy identified the element Fluor as an important constituent of thesurface contamination, and subsequent analysis by IR spectroscopy identified the contamination as the fluoropolymer PTFE.
OUR INSTRUMENTS FOR ANALYSIS AND IDENTIFICATION OF MATERIAL
Three scanning electron microscopes (SEM-EDX, FIB-SEM) from Zeiss. All SEM microscopes are equipped with facilities for X-ray analysis (X-ray spectroscopy) from Oxford Instruments.
Infrared spectroscopy (FT-IR)
X-ray photoelectron spectroscopy (XPS)
X-ray microtomography for 3D materials analysis (µCT / microCT)
X-ray powder diffraction for analysis of crystalline materials (PXRD)
Time-of-flight secondary ion mass spectrometry (TOF-SIMS)
Gas chromatography combined with mass spectrometry (GC-MS)
Refractive index measurement (GRIM3)
SHORT DELIVERY TIME
We can offer short delivery times for identification of foreign materials and contaminants. We can often deliver results the same day we receive your sample.
If you are in need to analyze a material, please reach out to Kenneth Haugshøj through the contact form or keh@dti.dk, +45 7220 3304.