Joint research in reactor for hydrogen production
The company B. Rustfrit Stål Horsens A/S has joined forces with the Danish Technological Institute to develop a compact reactor capable of producing hydrogen from ammonia with very little energy loss. The hydrogen is used as fuel in fuel cells.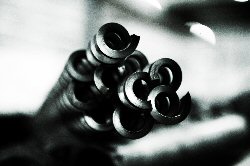 The cooperation combines B. Rustfrit Stal Horsens A/S' knowhow of sophisticated production technology with the Danish Technological Institute's expertise in hydrogen technology and catalysis.
Currently, ammonia is bought in its liquid state. However, in future it will also be available in a solid state, as the advanced technology company Amminex A/S is currently developing this product. Solid-state ammonia is so safe that it has already been approved as fuel for air transport.