Microsoft Cloud for Sustainability [IC-002T00]
You´ll gain a foundational understanding of Microsoft Cloud for Sustainability and its core components. You'll be guided through hands-on exercises as you work, extend, and access data in the sustainability applications deployed through Microsoft Cloud for Sustainability using Dynamics 365, Power Platform, Microsoft 365, and Azure in your own environment. You'll dive into various modules to explore the Microsoft Cloud for Sustainability applications, including unify data intelligence, build a sustainable IT infrastructure, reduce the environmental impact of operations, create sustainable value chains.
Target Audience
This course is designed for individuals willing to learn about Microsoft Cloud for Sustainability. It is targeting and will be most beneficial to the following two roles: cloud specialist and sustainability industry technologist.
Prerequisites
The learners attending this class should have a basic knowledge of Microsoft Power Platform PL-900 and Microsoft Azure AZ-900.
It is recommended you have completed "Getting started with Microsoft Cloud for sustainability"
At the end of the course, you will be able to
Understand the sustainability concepts and how the business thinks of tracking and reporting emissions.
Describe Microsoft Cloud for Sustainability customer scenarios.
Configure the features of Microsoft Sustainability Manager.
Content
Modul 5 Configure emission calculations
- Set up emissions calculations
- Explain how to calculate mobile combustion (EPA)
- Connect activities by using profiles
- Set up libraries and factor mapping
Modul 6 Configure
- Describe analytical reports
- Conduct in-depth analysis using the Insights screen
-
Explore the sustainability dashboard
-
Generate Quantitative Preparation reports
Modul 7 Configure goals and scorecards
- Define scorecards in terms of Sustainability Manager
-
Define goals in terms of Sustainability Manager
-
Explore setup for monitoring progress
-
Explore how to monitor progress
During this course you will be presented with activities to help you better learn Microsoft Cloud for Sustainability
Discussions
Knowledge checks
Trivia questions
Key takeaways
Practice labs

Instructor Andy Malone
Andy comes from Scotland and has more than 23 years of experience in teaching and consultancy. He is a highly recognized Microsoft Certified Trainer (MCT) but has also been awarded Microsoft MVP (Most Valuable Professional) for the 14th year in a row. Andy specializes in Microsoft Cloud, Identity, Authentication, and Information Security, delivering high-quality training with a twinkle in his eye.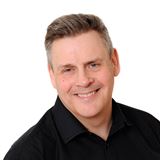 Do you have any course related questions, please contact
Charlotte Heimann
Seniorspecialist