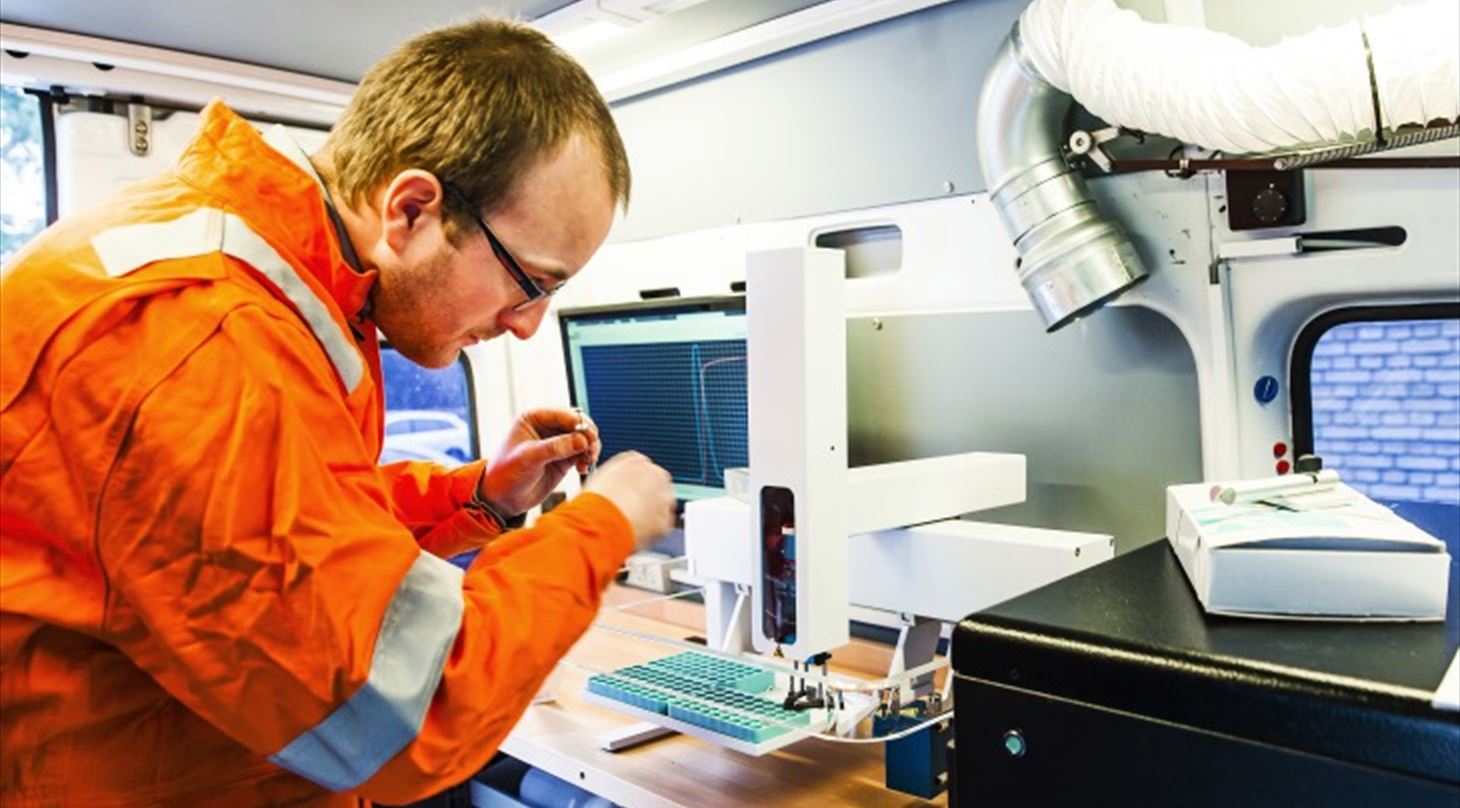 Re-engineering tracers - Ecological chemical tracer allows unlimited concentrations and immediate fracture volume estimation
Tracers are essential when operators seek to track fluid behavior in reservoirs. DTI's deuterium based tracer technology allows an immediate acquisition of data on fractures in water flooded reservoirs and an elaboration of a tailored conformance treatment recipe.
It is crucial to the success of oil and gas recovery operations that the reservoirs are mapped as accurate as possible. This means that data on location and volume of the targeted fractures is highly valuable.
To solve this problem, DTI's deuterium oxide tracer allows the determination of reservoir heterogeneities and the scaling of the unknown communication patterns between injectors and producers.
A matter of finding an appropriate chemical composition
The North Sea oil & gas sector is an area where the environmental impact of operations is always evaluated. For this reason, environmental authorities have regulations in place to ensure the best environmental practices. A fact that influences the industry since it must apply for discharge permits every time chemical compounds are to be injected into reservoirs. That is the case with Fluorobenzoic and Chlorobenzoic acids which are traditionally used because of their low detection limit and the stability of their molecules.
To approach an obvious need for a tracer that is not challenged by any restriction, neither in concentrations nor chemical composition, DTI has worked on a chemical which overcomes all regulations.
The chemical composition of DTI´s deuterium oxide tracer grants operators the freedom to use a generous amount of the tracer without being harmful to the environment. It is safe to handle and because of its chemical structure it does not dissolve in the oil or the water phases. The deuterium based technology also allows operators to conduct a simple on-site analysis and avoid expensive and fragile detection equipment. Especially, the on-site analysis becomes very practical when operators wish to integrate the tracer job prior to a conformance treatment.
This supports the fact that the new tracer technology contributes to the oil & gas sector as operators can reduce the time spent on on-site analysis and the administrative work aimed at obtaining permits from authorities.
Tracer operations completed on Halfdan Oil Field
Six deuterium oxide tracer operations have been completed on Halfdan Oil Field in the North Sea offshore Danish sector. By combining the deuterium oxide tracer with a MIMS (Membrane Inlet Mass Spectrometer) analysis equipment, the six operations have been proven successful. In other words, the deuterium oxide tracer has already underlined its position as a cost efficient and reliable solution.
As Luke Vagg (Team leader at Maersk Oil) states about the tracer operations and DTI, "Our collaboration has made it clear that the employees from DTI put an extraordinary effort into delivering results of the highest standards."
You can read more about tracer services here.