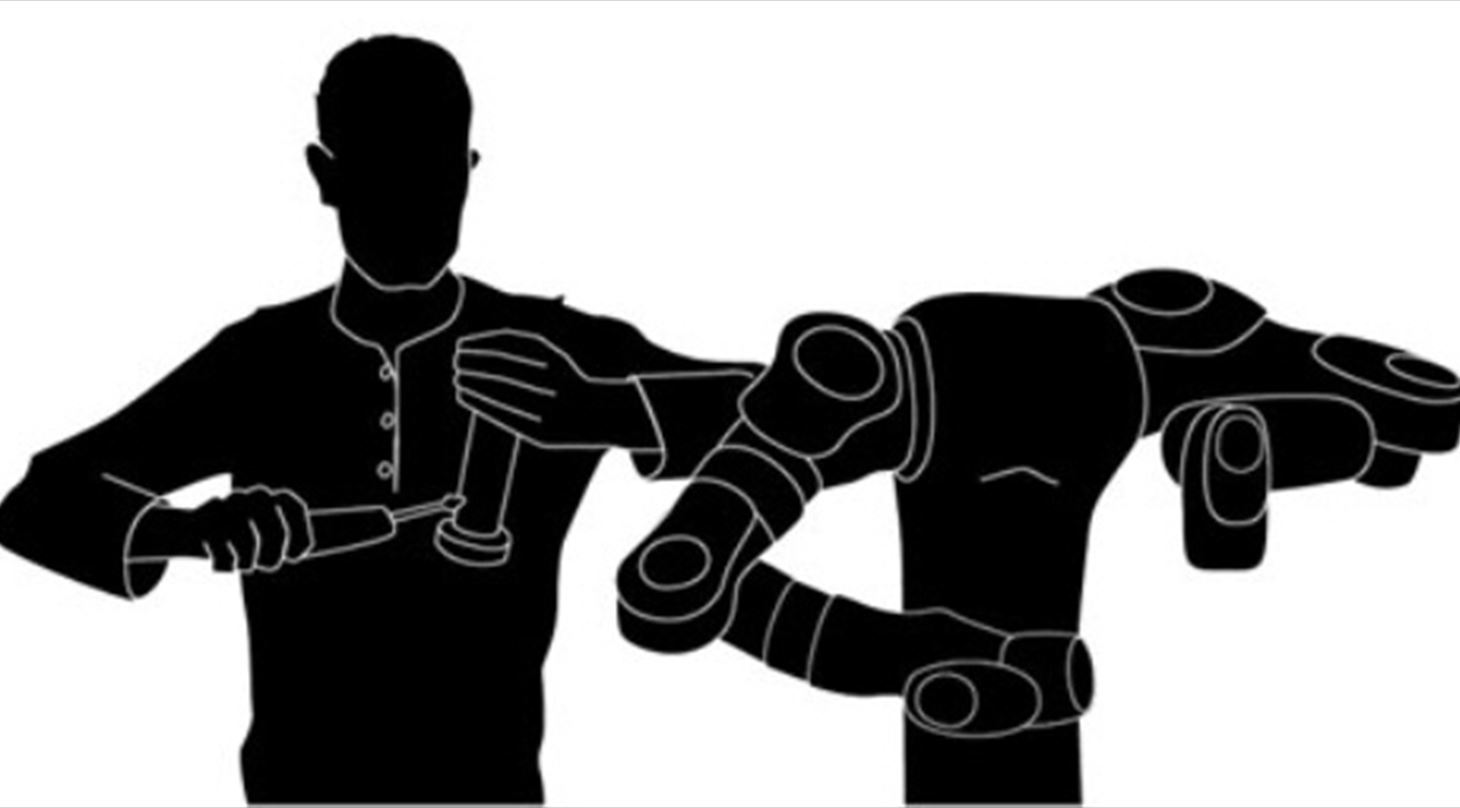 Robot CoWorker for Assembly
The concept of the Robot CoWorker is the next big evolutionary step in future industrial robots.

To maintain production and manufacturing jobs in the Western World, creation of agile robots that can be easily reconfigured for new tasks and trained by existing personnel at a competitive price is needed.
Although it is a very rational thought that a Robot CoWorker would replace the human worker, making jobs redundant, this is not the entire story. If western production is to be maintained, we need to expand the production, making more products at the same cost. A Robot CoWorker needs human interaction, supervision and inputs. A Robot CoWorker is like a tool for each human worker, to get more done in the same amount of time, and it co-relates and is symbiotic.
A lot of Western businesses are outsourcing production to Far East production companies. We have not maintained salary regulations to stay competitive in this sector. This gives us few choices: Move production, negotiate new salary packages, or implement technology to lower the production cost per unit.
In the 60s, we had the space race. Today, it is a robot-race: Who will be first to introduce a cheap robot that will expand the output of the existing production lines significantly, without adding ongoing costs to the whole?
Danish Technological Institute is at the forefront of this development and we are part of two large European initiatives in this area: PRACE and SMErobotics.
Scenarios
A Robot CoWorker is basically a miniature industrial robot. It is small, so it can be moved around and placed in different scenarios, solving various tasks. The key part here is how the robot should be programmed and configured.
As the name reminds us, the robot is a co-worker: It is the human worker who trains and configures the robot using touchscreens, sensors and vision technology.
The Robot CoWorker should be able to solve around 80 % of all current production tasks to be viable for investment. These tasks include basic assembly, part movement, packaging and montage.
Experience
A Robot CoWorker should be assessed and experienced as a tool, albeit a rather complex one. No one should feel threatened by a hammer, a powerdrill or other similar tools.
This should also be true with the Robot CoWorker: It is a tool, and it can not perform entirely on its own. It needs training and instructions for any given purpose or task to be solved. Also this training can not be given by robot-constructors or developers or even the academic environment, as we lose the agility in the concept in this approach.
We need human workers to train the robots!
This creates a demand to look very much into human-robot interaction and user experience aswell as common interaction technologies available today on the consumer market. Programming and configuring a robot should be and feel easy.
If LEGO can create a Mindstorms toy-robot children can program and configure, it should also be possible in production-scenarios. Although this seems plausible, there are a lot more variables that should be taken in concern moving the robot-concept from toy to tool. Gripping strength, flexible objects and embedding the robot in a safe environment for both the production-process and the human workers needs attention.
And how the robot presents and communicates its own doubts about the task it is learning, and how the human worker can redefine the learning scenario is quite complex, when the job has'nt been specified properly.
Danish Technological Institute have a broad knowledge of various media-technologies that could be the interface for Robot CoWorkers:
Microsoft Kinect - for gesture-based training of robotic arms
Microsoft Surface - object recognition and path-generation
Mobile devices
Sensors
Value
Investing in a Robot CoWorker should bring a significant value. An investment should not be with the aim to rationalize a production line, but rather to expand it. However, we do expect a short-term drop in jobs, as Robot CoWorkers are being implemented. But after a few years, we expect to see the jobs being made available again, as the production has increased further and expanded a market demand for the products.
Our aim is to make a Robot CoWorker, which should be able to solve around 80% of all manufacturing tasks today, for no more than $100,000. This will make the investment realistic, if the growth in production has been proven.
Innovation
A Robot CoWorker is highly innovative piece of equipment, and it is subject to a lot of debate in the robotics community. We find ourselves talking about cognitive learning databases, flexible gripper technology and pragmatic user interfaces.
All these areas have been researched for ages, but now we start to combine these into Robot CoWorkers. These cross-relations in competence and technology is highly motivating, and we find a lot of new fields and possibilities all the time, which could, in time, be the key to see the Robot CoWorker concept being developed further, turning it into a Robot-at-home concept for mass production.

DTI, 2012.