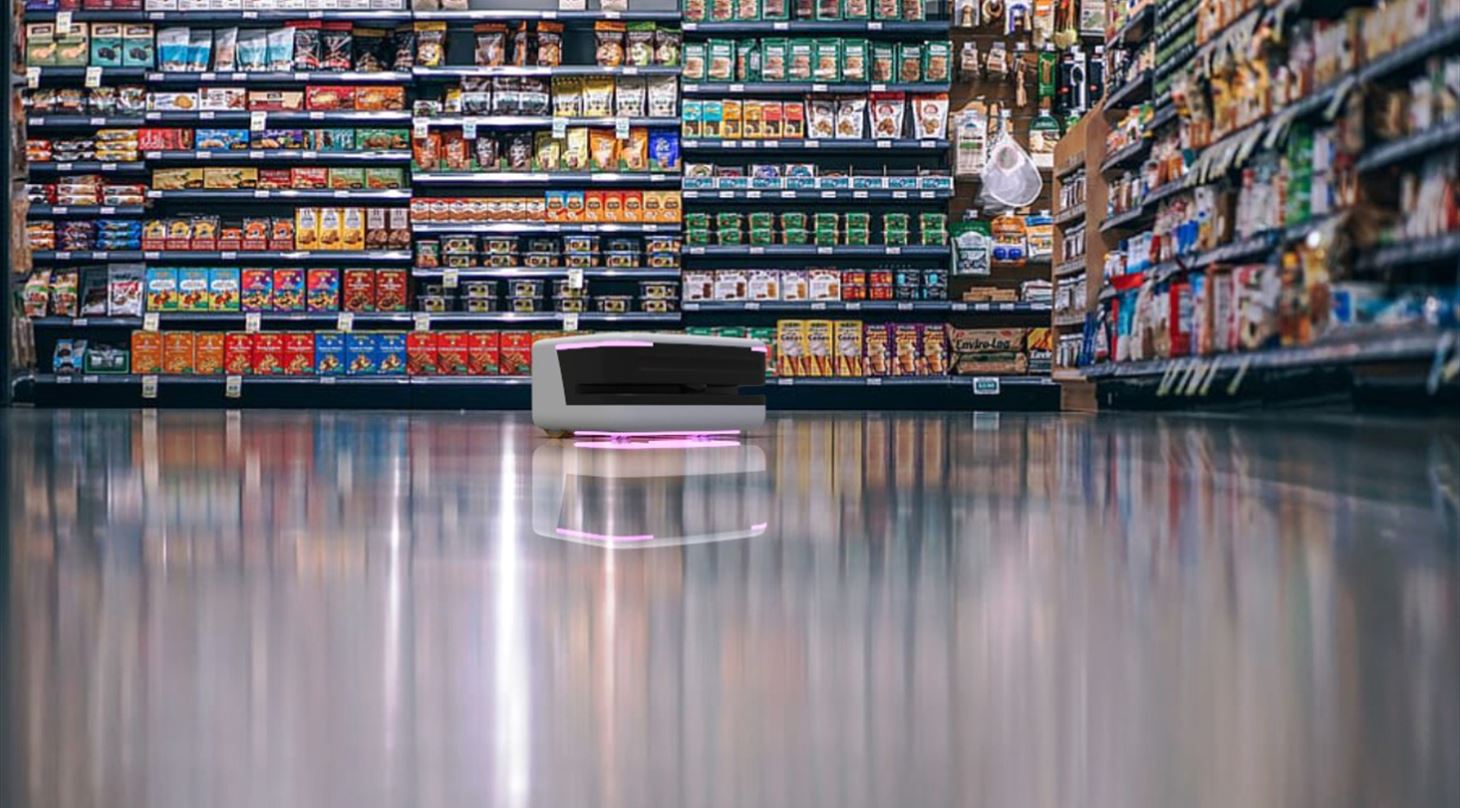 Safe supermarket robots will bring goods from warehouse to shelf
Every year, employees in supermarkets spend millions of hours pushing goods from the warehouse to the shelves. An Odense-based start-up company has set out to make that process a little smarter and easier with a mobile robot.
- Some of my friends who worked in a supermarket had to transport goods from the warehouse to the shelves in the supermarket several times a day. It was cumbersome, hard and slow work, says Irishwoman Clionadh Martin, CEO and founder of the start-up company Coalescent Mobile Robotics.
- This work can be made much easier with a robot, which is perfect for that. So, with my friends' experiences and my own research in mind, I started Coalescent Mobile Robotics.
Clionadh Martin is in the process of manufacturing a mobile robot that will help automate supermarkets around the world. With the robot, the goods can get onto the shelves faster, the process itself can be streamlined and the supermarket employees can have a better working environment.
This concern with the work environment and safety have made the start-up company the recipient of a COVR Award.
- Coalescent Mobile Robotics is a great example of an obvious COVR Award recipient. They will benefit greatly from clear safety guidelines for their robot, says Aske Bach Lassen, who is project manager on the COVR project at the Danish Technological Institute (DTI).
There were as many as 90 European applications for a COVR Award, all of which have their own ideas for projects related to safe, collaborative robot technology. 18 have just been selected. Coalescent Mobile Robotics, which since April 2020 has been part of Odense Robotics StartUp Hub at DTI Odense is one of the successful applicants.
Over the next while, the winning companies will have to launch their ideas that will help increase the safety of the people who will be working with robots.
- The Danish companies that have been awarded a COVR Award - including Coalescent Mobile Robotics - will now be invited to DTI (COVID permitting) to meet some experts in robot safety. They will be mentored and guided in how safety can be improved and validated for their respective applications, says Aske Bach Lassen.
It makes a big difference
Irishwoman Clionadh Martin has been working with mobile robots for eight years and has no doubt that the guidance from DTI's experts in connection with the COVR Award will mean a lot to her robot technology start-up business.
- Safety is a challenge everywhere if you ask me. But especially in supermarkets, where the robots must work very closely with ordinary people - safety becomes extremely important, says Clionadh Martin.
- Our robot is so new on the market that it must be tested in many scenarios. And COVR and DTI give us a perfect opportunity for doing that testing.
In addition to Coalescent Mobile Robotics, four other Danish companies have also been awarded a COVR Award. These are FarmDroid, Enabled Robotics, Blue Ocean Robotics and Spin Robotics.
HERE ARE THE FOUR OTHER DANISH WINNER PROJECTS
Blue Ocean Robotics works with a telepresence robot in collaboration with Odense University Hospital. The remote-controlled mobile robot allows communication through a screen that reproduces the user's face in life size.
Enabled Robotics will work with UV disinfection with their second COVR Award. The company specializes in systems with robotic arms mounted on mobile platforms, which will now help to disinfect areas.
FarmDroid works in the field of machine safety in relation to autonomous agricultural machines. Among other things, they have developed a self-propelled field robot for sowing and spray-free weed control in organic farms.
Spin Robotics is working on how to quickly validate collaborative screwdriving solutions.
You can read more about the COVR Awards and how to improve your robot's safety on COVR's website, safearoundrobots.com.
UNDERSTAND WHAT THE COVR PROJECT IS ABOUT
COVR is a European collaboration with DTI at the forefront. The collaboration has a special focus on validation of robot safety - how to test / measure / document that your robot solution meets existing requirements.
The aim is to form an overview of the issues in the industry: What challenges are being worked on and where there are gaps in the legislation, based on the experiences of the participating companies.
It should all help to develop simpler and common approval methods so that companies across Europe can more quickly develop, produce, and install safe robotic systems, and not least live up to common safety guidelines.
The COVR consortium is led by DTI, other partners are the Italian National Research Council, Fraunhofer IFF from Germany, the French Alternative Energies and Atomic Energy Commission (CEA) and Roessingh Research and Development from the Netherlands. The project is funded by the EU.