Special alloys and corrosion fatigue
The term corrosion fatigue refers to the interaction between a corrosive environment and repetitive loads – so-called fatigue of the material.
Corrosive environments often deteriorate the fatigue properties of the material making lifespan estimations complex and dependent on environment, material, load and frequency.
​ See what else we can help you with
Especially within off-shore constructions, the components are subjected to a corrosive environment consisting of moist, water and salts and to minimize the risk of fatigue fractures initiated or accelerated by corrosion, non-traditional metals are used.
Frequently used newer types of alloys are listed below with selected strengths and weaknesses and compared to conventional austenitic steel types like 304 and 316.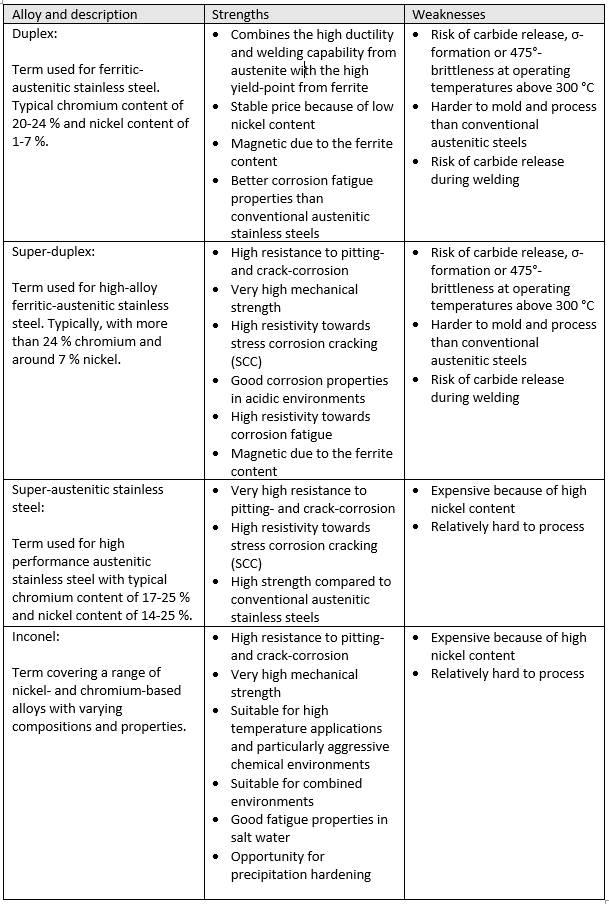 To minimize the risk of corrosion fatigue fractures, one has to:
choose the correct material for the given environment and load
be particularly aware of weldings where indications of corrosion occur easier
choose whether the components should be pacified using a paint system
consider using special techniques such as shot peening to introduce compressive strains at the surface
How can the Danish Technological Institute help you?
Accelerated test and analysis of fatigue properties in corrosive environments
Advice on choice of material and substitution in corrosive environments
Test and advise on surface protection and corrosion
Watch a video