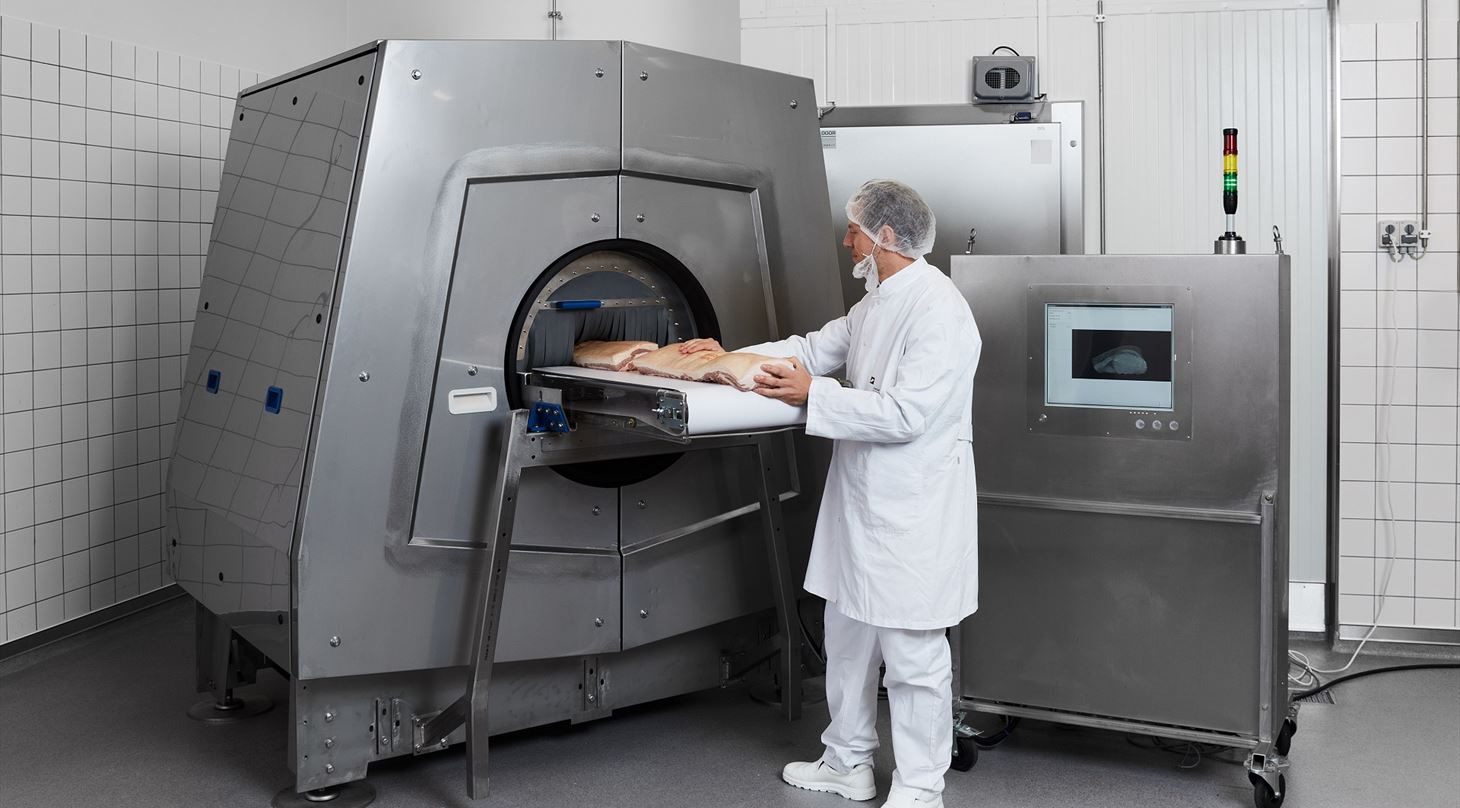 The world's first online CT scanner for food
Press release 20 September 2017
Have a look inside
For the first time, an online CT scanner for food applications is being presented by DMRI at the symposium Future Industrial Meat Production in Denmark. CT scanners are mostly known from hospitals for diagnostic purposes, but these scanners are big, expensive and must be installed in designated special locations to ensure radiation safety. The new online CT scanner is a plug and play solution, where safety and convenience is integrated. Moreover, the CT scanner is designed for the demanding environment of food production facilities and it can be sanitized just like any other production equipment.
The new online CT scanner creates full 3D images of the food item providing information about composition, structure and potential product flaws. Depending on product size, 600 items per hour can be continuously scanned and automatically analyzed 24/7.
DMRI has developed the online CT scanner primarily for the meat industry in order to sort cuts according to quality attributes. In food production one is often challenged by a high biological variation in raw materials and the more that is known about this variation, the better the raw material can be utilized. The end-goal is to fulfil customer expectations by providing the exact right quality, thus giving all of us the right food products at the right price. Food companies that understand and excel in this simply do better business.
Other food products such as fish, cheese, fruit and vegetables are also relevant in the context of this technology. These products can now be quality assessed with an extreme precision and granularity without affecting the product.
But the online CT scanner is not only about improving the quality of food. It is also about taking automation in the food industry to the next level. For instance, in the meat industry, the CT scanner will not only give information about how much fat is present, but also where the fat is deposited. It will provide information on the placement of bones and rind and the geometry of the meat. This kind of information is invaluable for the subsequent control of robots. Robotic control systems will know exactly where and how to cut and they will be able to compensate for the biological variation. Hence, the CT scanner provides the robots with "x-ray vision" – just like Superman.
The Danish meat industry has always been a frontrunner in automation, and online CT scanning is taking automation to the next level. With this fascinating technology, the food industry has truly gone digital.
For further information please contact Holger Dirac, pahd@dti.dk, +45 7220 2978 www.DMRI.com