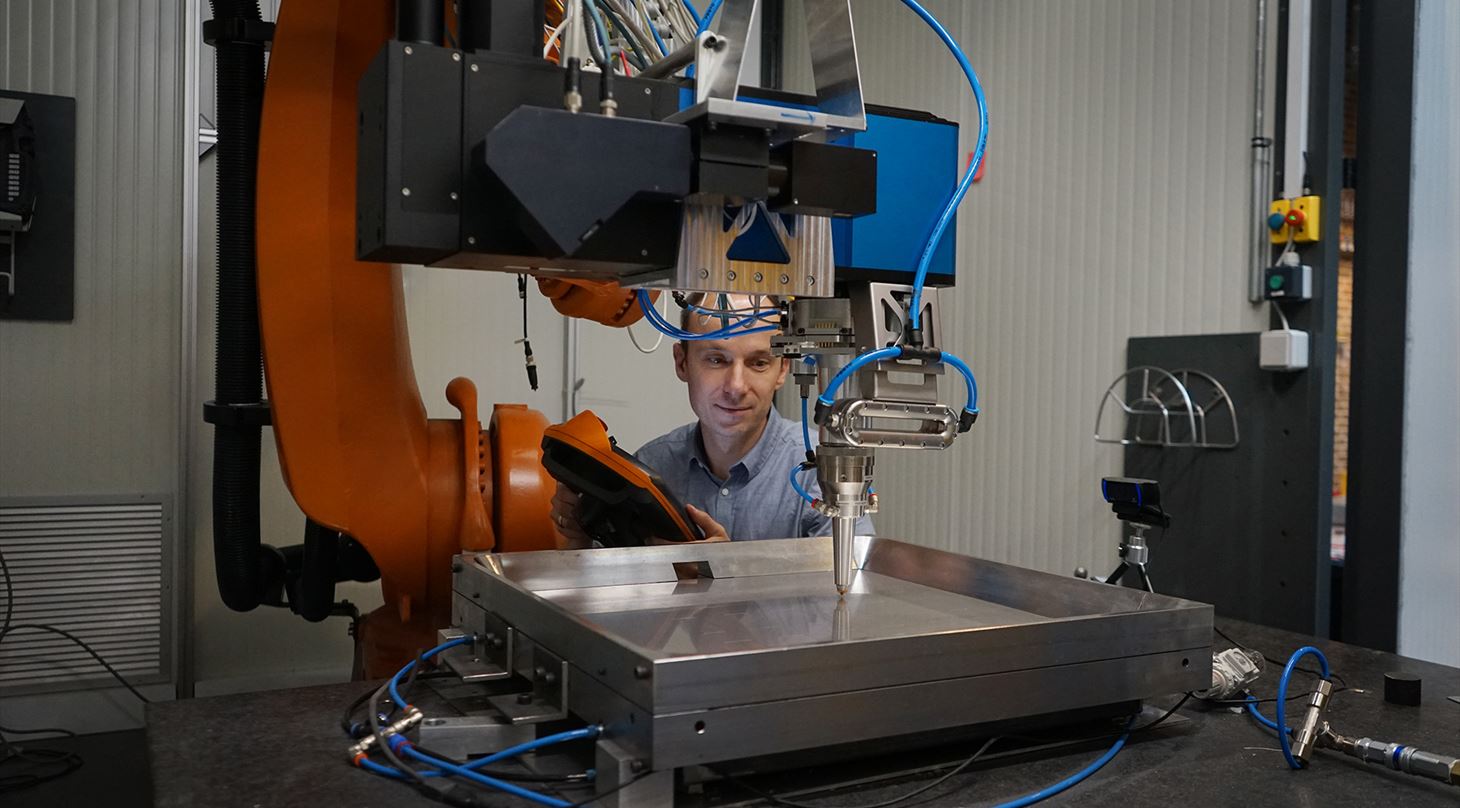 Odense Robotics StartUp Fund accepts first startup
From 15 September 2023, the startup Shape Automation from northern Jutland can be found in the Danish Technological Institute's incubator, where they can benefit from access to capital, unique industry know-how and test facilities at the innovation halls.

- Admission to the Odense Robotics StartUp Fund is a really big step for Shape Automation. It's an exciting opportunity for us, and we're especially looking forward to sitting next to other entrepreneurs and startup experts, says Morten Kristiansen, one of three founders of Shape Automation.
- We now have the opportunity to get sparring on how to get our company off to a good start. We will get help with the commercial aspect of starting a business. It also means a lot that there is financial support.
More startups to be selected
With the first startup admitted to the fund, the work continues to assess the many applicants who apply to become part of the robotics incubation and funding setup the startup fund offers.
- For most startups, getting off to a good start is essential for their development. And that is precisely what the Odense Robotics StartUp Fund can help them with. They become part of a strong professional community, says Dorthe Lund Kaack, one of the founders behind the fund and CEO of C.C.N. Holding A/S.
Startups considering applying to the fund shouldn't hold back.
- With the admission of Shape Automation, the fund is now well and truly underway. We continue to look for more startups that can become part of the robotics environment. We look forward to seeing the next applicants, says Dorthe Lund Kaack.
A good idea and hard work bear fruit
Shape Automation is based on research ideas from 2014, when concepts around combining robots, lasers, and automation were devised in new ways. One of the ideas for the concept came about after successfully bending metal sheets with a laser in a lab in a controlled way.
Further development created an integrated robot and automation solution, where items can be manufactured with laser cutting, bending, and welding. Shape Automation will develop technology to manufacture complex items at one workstation instead of separate workstations as was the case before.
- It's been a long journey involving a series of research projects in order to test and refine the technology and patent the core principles. The concept, which was developed at Aalborg University, has proven to have considerable industrial interest, says Morten Kristiansen.
To bring the technology to the industry, Morten Kristiansen founded Shape Automation in 2021 together with Anders Noel Thomsen and Ewa Kristiansen.
- Throughout the entire process, we have seen an unmet need in the industry for our technology for bending plates is one of the manufacturing processes that the industry lacks. So the focus has been to make the bending industrial and to have models and control systems made so that it can be controlled quickly and precisely. Now we are ready to become part of the startup environment and showcase our technology to more people, says Morten Kristiansen.
Strengthen your startup
The fund offers startups several advantages. The package is designed to support startups in both technical and business development:
Get access to founder-friendly capital in the form of a loan that you pay back when you can.

Strengthen your business strategy so you are ready to meet customers and investors.
Develop your prototype into a viable product in the incubator at the Danish Technological Institute in Odense, where you get office space, work together with other startups, and get access to advanced technical equipment.
Mentoring from leading figures from Denmark's robotics and drone industry as well as technical experts and business coaches.
Expand your network in Denmark's thriving robotics and drone ecosystem, and meet partners, future investors, and other startups.

How to apply?
The fund is continuously open for applications from robot and drone startups from Denmark and abroad. Eligible startups are typically 12-24 months ahead of a "pre-seed" or "seed" investment and demonstrate high growth potential in robotics, automation and drones.
To apply, send a short company description and pitch via the fund's website, which also explains the application criteria and process: www.robotstartupfund.dk