Project - Aeromet - Aerosol metrology for atmospheric science and air quality
Funded by the EMPIR programme and the EU Horizon 2020 research and innovation programme.
Project start June 2017. Completion June 2020.
Measurements of aerosol particles are vital for the European air quality regulations to protect human health, and for research on climate change effects. Currently, parameters such as PM10 and PM2.5 are used in air quality regulation policies, but the uncertainty of the metrics are too high and the traceability is insufficient.
The Aeromet project aims at implementing new standards for calibration and traceability of particle mass (PM), size and number concentration. These parameters are vital in order to characterize airborne particles within the European Union. Also, the chemical particle compositions will be investigated since there is a need for further regulations and understanding of specific aerosol components such as elemental carbon and organic carbon composition (EC/OC).
This project will lay the foundation and strengthens the metrological framework for air quality monitoring in Europe.
Project objectives
Characterization of carbonaceous particles from wood stove smoke and candles with emphasis on elemental carbon and black carbon (DTI responsible for this activity)
Improve comparability of optical and gravimetrical methods for PM10 and PM2.5 measurements (DTI activity)
Development of calibration methods for PM10 and PM2.5 in an independent aerosol mixing chamber
Traceable quantification of regulated aerosol components with very high detection sensitivity
Development of ultrafine particle calibration procedures for mobility particle size spectrometers (MPSS) and condensation particle counters (CPC)
Application of mobile X-ray fluorescence for field aerosol sampling & compositional analysis
Project partners
Danish Technological Institute, Denmark
FORCE Technology, Denmark
DFM (Dansk Fundamental Metrologi), Denmark
PTB (Physikalisch-Technische Bundesanstalt), Germany
BAM (Bundesanstalt für Materialforschung und -prüfung), Germany
CMI (Cesky Metrologicky Institut), Czech Republic
INRIM (Istituto Nazionale di Ricerca Metrologica), Italy
LNE (Laboratoire national de métrologie et d'essais), France
NILU (Norsk Institutt for Luftforskning), Norway
NPL (National Physical Laboratory), United Kingdom
CIEMAT (Centro de investigaciones energeticas, medioambientales y tecnológicas), Spain
IJS (Institut Jozef Stefan), Slovenia
IRSN (Institut de Radioprotection et de Surete Nucleaire), France
LUND (Lunds Universitet), Sweden
MTA-EK (Hungarian Academy of Sciences - Centre for Energy Research), Hungary
NTUA (National Technical University of Athens – NTUA), Greece
PMO (Università degli Studi del Piemonte Orientale), Italy
IFT (Leibniz-Institut für Troposphärenforschung), Germany
UNICAS (Università degli Studi di Cassino e del Lazio Meridionale), Italy
BRUKER (Bruker Nano GmbH), Germany
METAS (Eidgenössisches Institut für Metrologie METAS), Switzerland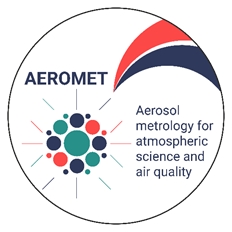 Link to project homepage