Project - National Innovation Network for Transport
Project start 01.01.2009. Expected completion 30.06.2018.
The Danish Technological Institute has taken the initiative to create a National Innovation Network for Transport, whose secretariat is shared between The Danish Technological Institute, FORCE Technology and Transportøkonomisk Forening.
The Innovation Network will view transport in a wider context, facilitating the exchange of experience and building bridges between business and research communities. The Innovation Network will also promote synergy and match-making and generate R&D projects.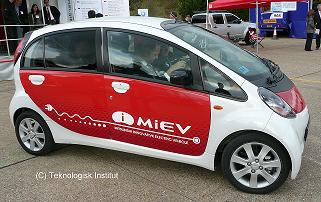 Denmark's competitiveness depends on the transport industry's technological leadership. The transport industry must therefore be able to draw on new and improved (efficient and failsafe) technologies, as well as new and improved knowledge. The Network will enhance the ability to bring together all players in the transport chain across disciplines and domains, promoting synergy, identifying needs for new technologies and creating projects to ensure implementation of the new technology.
Future challenges span a broad field, which includes research, development, demonstration and innovation in the areas of technology, systems and human resources.
The Innovation Network will
Strengthen, secure and motivate match-making between business research and education communities.
Strengthen interaction between stakeholders in the transport industry and related industries, including energy and infrastructure.
Strengthen the transport industry's competitiveness through more innovation.
Strengthen public / private interaction on a strategic level.
Strengthen knowledge and information dissemination through demo-projects, especially to the benefit of small and medium-sized businesses
Strengthen entrepreneurial projects - also as a part of research and innovation.
Ensure Danish participation in the European framework programs and support applications with Danish participation.
Raise funds for projects via other channels/funds/distributions/allocations.
Project Objectives
The Innovation Network will focus on a number of activities over a 4-year period. The following are examples of topical issues; however, it will be possible to adjust the effort on a continuous basis, depending on need and urgency.
Climate and Environmental conditions
Energy optimisation
Security
Match-making, interaction and synergy between sea and land, national/international
Infrastructure, intermodality and energy supply
Development of competence
Logistics and transport optimisation
Participants
Danish Technological Institute – Packaging and Transportation and Renewable Energy and Transport
Transportøkonomisk Forening
Maritime Development Center of Europe
Activities
Electrical transport
Intermodality (sea/land/rail), shorthaul sea shipping and port design
Vehicle and ship technology, including environmentally friendly fuels
ICT in transport and logistics (including e-business)
City logistics of the future
Safety, security and environment in maritime transport (safety, security and environment)
Mobility, congestion and behaviour-regulating management
ITS - Intelligent Transportation System
Integrated Product / Service Systems (PSS)