Project - Torrefaction of biomass
Project start: April 2009. Expected completion: December 2012.
The project is completed.
Download final report here:
Upgrading of fuel properties of biomass and waste by torrefaction
Research has shown that through a thermal treatment of biomass at approximately 250-300¢ªC without oxygen (torrefaction), several fundamental properties of the biomass are changed, such as:
The biomass becomes more crisp
The energy density of the biomass is elevated
The absorption of water is significantly lowered
The microbial degradation of the stored biomass is slowed down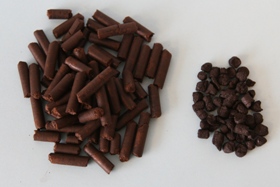 These new properties will hence facilitate:
Increased capacity and lower energy consumption of mills for pre-processing of biomass to co-firing in PF-fired power plants
Lower costs for transport and storage of biomass
Possible outdoor storage
A more homogeneous fuel from different biomass types
Increased pelletizing capacity and better pellet quality
The project will focus on the complex physio-chemical reactions which take place during torrefaction of biomass and also assess the potential this upgrading will have on the fuel chain from production site to transport, storage and treatment in a power plant.
Experiments will be carried out with different biomasses in lab and pilot scale. The experiments will focus on the thermal process but will also include processes like grinding, pelletizing and storage of the torrefied biomass.
Project objective
With the project we aim at investigating the possibilities and subsequent effects of pre-treating wood, straw and industrial biomass waste by thermal treatment without oxygen (torrefaction).
Specific goals for the project:
Can the process be optimized to obtain the required properties of the fuel?
How large is the potential gain from torrefaction with respect to storage and lower energy consumption in the power plant mills?
Project partners
Danish Technological Institute (project manager)
DONG Energy
Ris©ª DTU, Biosystems Division
University of Copenhagen, Forest and Landscape