TailorCrete Presentation and Tour de Force of Achievements
DESCRIPTION
TailorCrete is a four-year-long collaborative EU-funded research project aimed at integrating robotics and automation processes into the concrete construction industry. The mission is to enable the cost-effective construction of complex concrete forms.
Today, the development of emergent robotic technologies and digital design tools has situated the concrete construction industry at a critical juncture. As such, TailorCrete aims to transform the European construction sector from a material-driven industry to a knowledge-driven one. Led by the Danish Technology Institute, and funded by a multi-year grant from EU's Seventh Framework Program, TailorCrete draws from both the public and private sectors within the EU and neighboring states. TailorCrete's participants include: Bekaert, Chalmers, Czech Technical University, DesignToProduction, DTI, Dragados, MT Højgaard, ETH Zürich, Giben Scandinavia, Grace, Paschal, Superpool, Unicon, and Syddansk Universitet.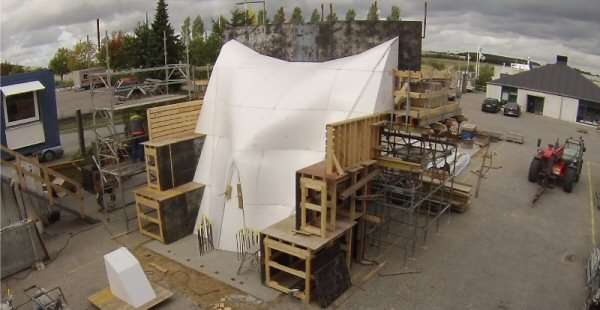 PROGRAM OF THE EVENT

Wednesday, January 22nd
11:00
Arrival at Danish Technological Institute.
Gregersensvej 1, DK-2630 Høje Taastrup**

11:30
"Pre-fabricated Formwork" - Short presentations of research by
Thomas Juul Andersen - Danish Technological Institute
Silvan Oesterle - ETH Zurich
Fabian Scheurer - Design To Production

12:30
Lunch

13:30
Demonstration of the production of milled formwork.

14:00
Transport to Gibotech.
Hollufgaardsvej 31, DK-5260 Odense S

16:00
"Reinforcement Systems" - Short presentations of research by
Jens Cortsen - Southern Danish University
Karin Lundgren - Chalmers

17:00
Demonstration of the production of robot processed reinforcement.

17:30
Transport to Aarhus and Hotel check-in.

20:00
Dinner in Aarhus.


Thursday, January 23rd

09:00
Arrival at Paschal Denmark.
Bredskiftevej 24-26, DK-8210 Århus V

09:15
Opening speech - Mette Glavind.
Director, Building and Construction, Danish Technological Institute

09:30
"On-site building and concrete technology"
Short presentations of research by
Michael Strøm - Danish Technological Institute
Carlos Barcena Martin - Dragados
Borek Patzak - Czech Technical University
Gregers Tang Thomsen - Superpool

10:15
Keynote by Kasper Guldager Jørgensen, Director GXN.
"Importance of innovation in material and construction methods"

11:00
Tour of the Full Scale Demonstrator.

11:30
End of event.
Bredskiftevej 24-26, DK-8210 Århus V **


** Regarding airport transfer we recommend train. Go to: www.dsb.dk.
If needed DTI will be helpfull. Contact: anc@teknologisk.dk

Participation for the first day will be 150 Euros per person.
Second day's event will be free of charge.

Participants shall sign up no later than Friday, January 10th, 2014 by contacting: Anita Rasmussen, anc@dti.dk