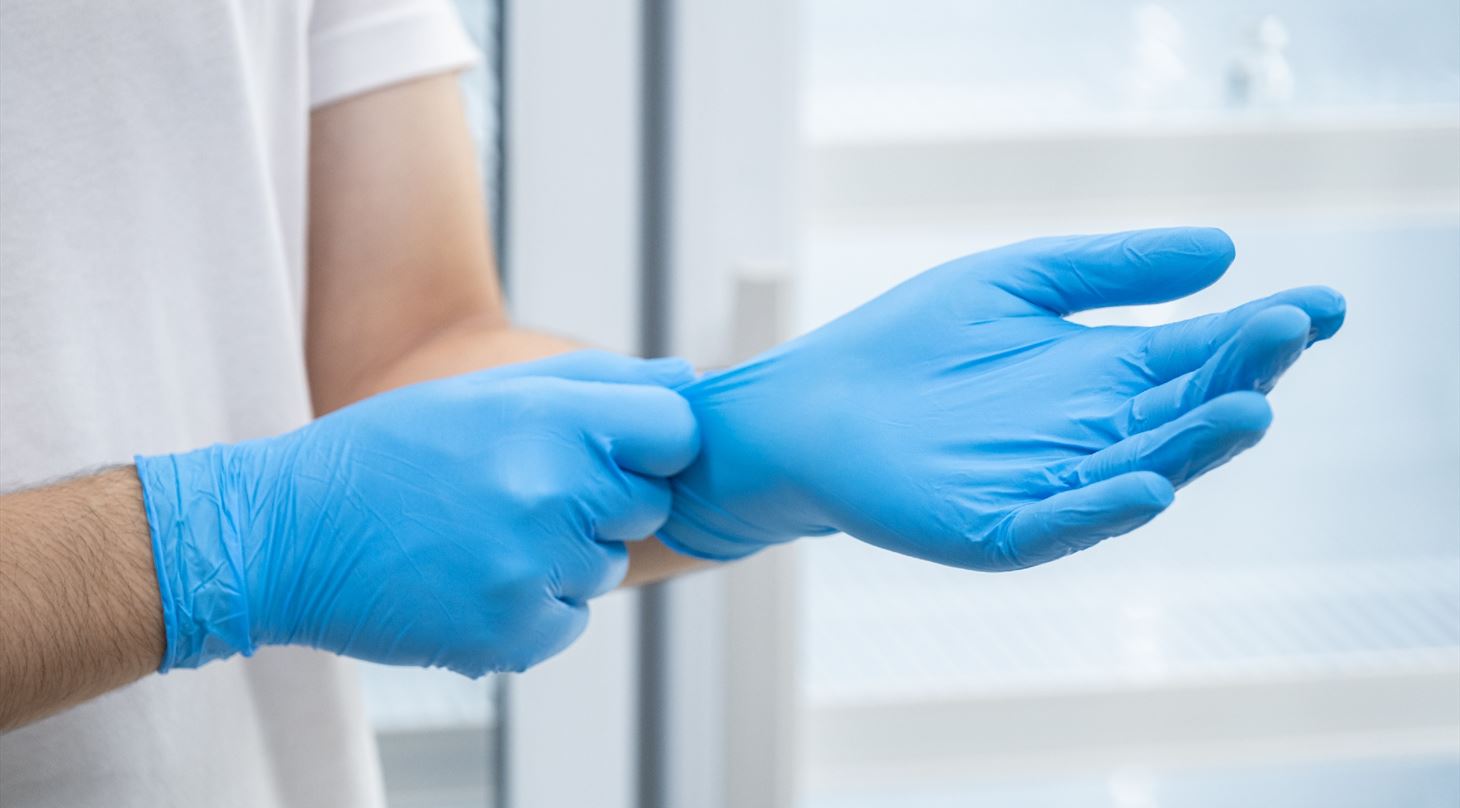 Reusable gloves are set to reduce the carbon footprint of hospitals
A Danish development project aims at creating a circular alternative to disposable blue nitrile gloves within two years, for the benefit of health sector sustainability and supply security of protective equipment.
In 2021, the health sector accounted for six percent of Denmark's CO2 emissions. A part of these emissions is due to the use of disposable protective equipment such as nitrile gloves. Now, a Danish consortium with support from the Ministry of the Environment is creating a new supply chain for reusable nitrile gloves that can be collected, sorted, washed, and distributed – the concept of its kind in the world.
"We already have a well-functioning infrastructure where gowns, sheets, cloths, and other textiles are collected, washed, and returned to health personnel. The idea of developing nitrile gloves and washing processes so they can be included in the same supply chain seemed obvious. This will reduce the carbon footprint from production and transport and benefit society when the supply security is challenged," says project manager Søren Haack from Danish Technological Institute.
Disposable protective equipment increases carbon footprint
Most people who have been hospitalized or treated by health personnel are familiar with the blue disposable gloves that doctors, nurses, and caretakers use to protect patients and themselves during close contact. During the coronavirus epidemic, the production and use of disposable gloves exploded globally. The gloves are typically used briefly and then discarded, leading to a large amount of waste. This inspired the company Bait to find a solution to this problem.
"We already supply disposable gloves to the health sector in Denmark, and during the coronavirus epidemic, we spoke with several health care representatives about a circular concept. The idea was very well received, so we moved forward with the idea to Danish Technological Institute and DFD," says CEO and partner Kent Pedersen from Bait.
Benefitting supply security and green transition
While Bait A/S will be responsible for producing the reusable nitrile gloves, DFD will be responsible for collecting, washing, and distributing the gloves. The goal is for the reusable gloves to be included in the existing circular systems at DFD, along with cloths, bedding, and hospital clothing.
"The coronavirus epidemic exposed a critical vulnerability when global lockdowns cause serious supply problems. By developing a comprehensive concept where the gloves are collected, washed, and distributed in Denmark, we create a flexible and more resilient supply chain, where we are less dependent on Asian producers. At the same time, the solution will strengthen both our and the healthcare system's green transition," says Division Director Axel Bonnevie at DFD.
Environmental criteria play an increasingly important role in procurement policy
The green transition of the hospital system also means that there are now requirements for environmental and climate impact in public procurement and tendering.
"The circularity of products is playing an increasing role in procurement policy both in the public and private sectors. As a company that sells, among other things, protective equipment that is typically disposable, we are therefore happy to have established and entered a collaboration with the goal of making disposable products circular. We would not be able to do this on our own," says Kent Pedersen from Bait A/S.
Full-scale solutions require the involvement of many stakeholders
Work on the development of reusable nitrile gloves has already begun at Danish Technological Institute, where the many stakeholders in the glove value chain are being uncovered and involved.
"This is a full-scale project, so the solution has to work fully, not just in a petri dish or pilot setup. This means that by the end of the project in the summer of 2024, we must have a finished concept that includes the entire supply chain. It is crucial to get off to a good start and coordinate with all stakeholders - from municipalities and authorities to hospitals and the medical industry," explains project manager Søren Haack from Danish Technological Institute.
In the first phase of the project, among other things, specifications and life cycle assessments will be developed, which is a total calculation of a product's climate impact throughout its lifetime. This is to document that the reusable glove is a more environmentally and climate-friendly solution than the disposable glove.
The ReGLOVE project (2022-2024) is supported by MUDP under the Ministry of the Environment as a so-called Beacon Project (full-scale project).
Press contact
Communications Consultant
René Wad Andersen
Danish Technological Institute
Mobile: +45 7220 1474
Email: rea@teknologisk.dk
Technical contact
Project manager Søren Haack
Danish Technological Institute
Mobile: +45 7220 2338
Email: sorh@teknologisk.dk
CEO and partner Kent Pedersen
Bait
Mobile: +45 4080 7880
Email: kp@bait.as
Facts
What are nitrile gloves?
Medical disposable gloves are typically made of latex, vinyl, or nitrile, the latter of which is the most widely used type. Nitrile is a synthetic rubber material that is distinguished by its durability, stretchability, and high puncture resistance. Nitrile gloves are primarily used by treatment and care personnel in hospitals and the care sector, but are also widely used in the food and cleaning industries.
Danish Technological Institute
Danish Technological Institute strengthens the competitiveness of businesses in the face of tomorrow's technological challenges and the green transition. This is done through both commercial collaborations and research and development projects, where highly specialized experts in plastic and materials, among other things, help companies create circularity for their products.
DFD
DFD was founded in 1958 and works with customized and scalable textile and service solutions through branch-specific washing and leasing solutions.
Bait
Bait A/S is a creative product development agency specializing in the development and production of merchandise, clothing, and protective equipment in Asia.