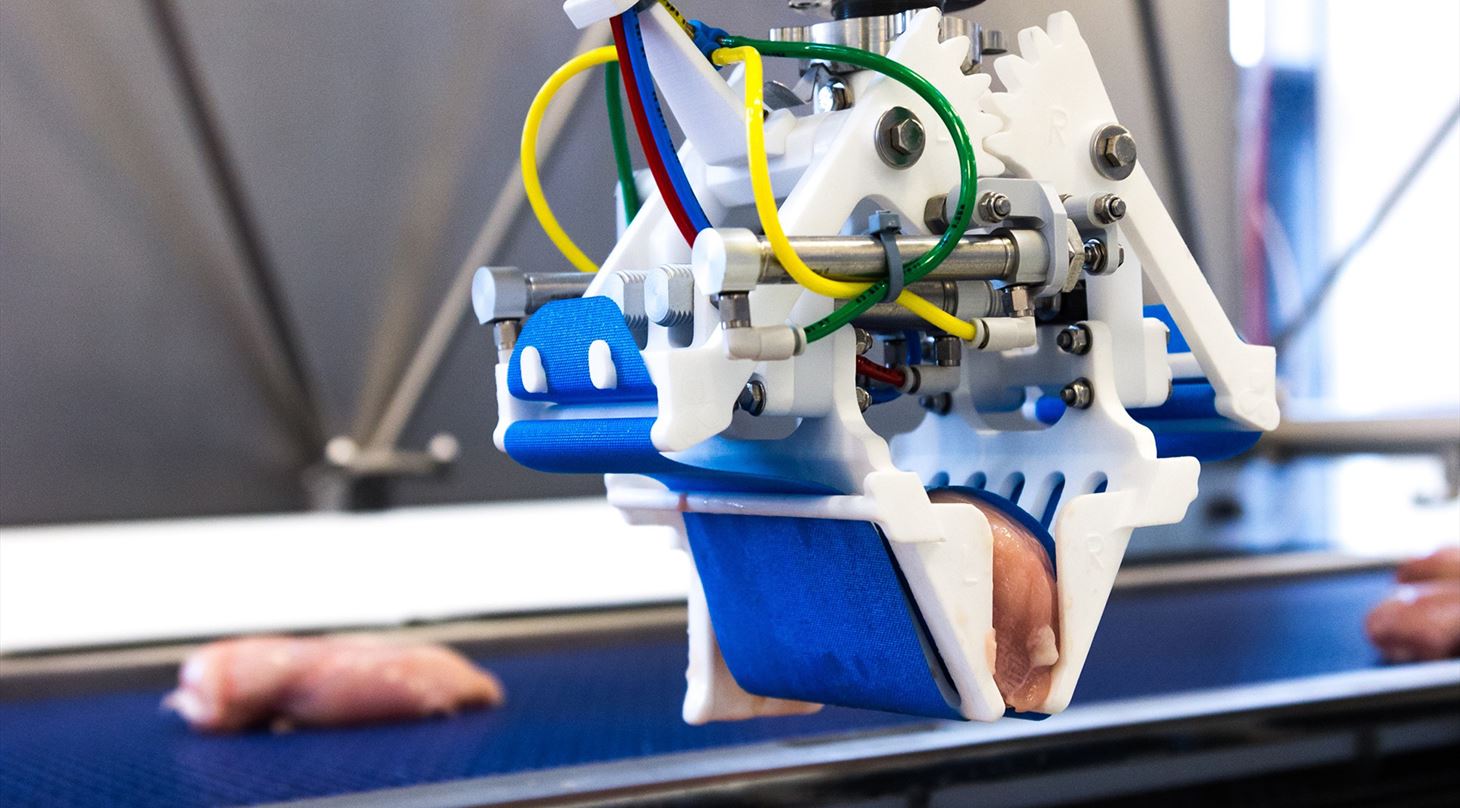 3D printing Production - 3D printing for the food industry
3D printing holds an enormous potential for the food industry. 3D printed materials such as titanium, stainless steel, aluminum, and nylon can already be used for food contact - and the Danish Technological Institute is ready to print your parts.
The Danish Technological Institute are the only ones in Denmark to have an Additive Manufacturing production that complies with food regulations for these materials - and our printed parts have full traceability. We are constantly working to develop new material properties and create improved surfaces on 3D printed parts for food contact. For instance, we have developed metal and X-ray detectable nylon, which can be detected by scanners in the production line.
Let us help you with AM production
The properties and geometries that can be obtained with Additive Manufacturing can be widely used in the food industry. The benefits include e.g. design freedom, production flexibility, fewer assemblies, simpler constructions, and rapid development. In addition, we have developed:
3S surface treatment- 3S stands for 'super smooth surface' and is a refinement of 3D printed nylon items which makes the surface extra smooth and thus easy to clean. It is a process where all surfaces of the 3D printed item are treated - including internal channels. Dimensions, strength and color of the item remain unchanged, and only the texture and shine changes.

Metal and X-ray detectable nylon - Metal and X-Ray detection is a requirement from several customers in the food industry. We achieve through a refining process where the nylon powder is mixed with metal in the right ratio, enabling the 3D printed nylon parts to be traced in metal or X-Ray scanners. Furthermore, metal and X-ray detectable nylon can be treated with 3S, giving it an extra smooth and easier-to-clean surface.
The following materials are approved as food contact material:
316L stainless steel

Ti6Al4V titanium grade 5

AlSi10Mg aluminium

PA12 nylon

Metal detectable nylon

Blue metal and X-ray detectable nylon

SEE EXAMPLES OF ADDITIVE MANUFACTURING IN THE FOOD INDUSTRY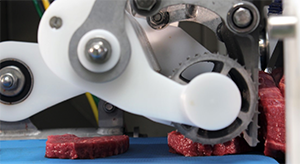 Marel - support element
Marel had an effective Additive Manufacturing development process with DTI concerning a support element for industrial cutting of meat. Where the product previously consisted of 40 loose parts, AM reduced this to one part - reducing bacteria and increasing food safety.
​ Read more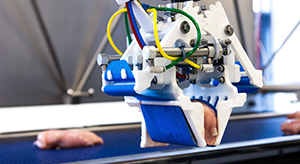 Marel - robotic gripper
To increase the efficiency and adaptability of their production, Marel collaborate with the Danish Technological Institute on 3D printing of a number of components - including their robotic grippers, which are printed in metal detectable nylon with a super smooth surface that significantly reduces the need for cleaning.
​ Read more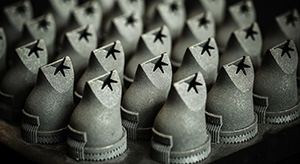 Bühler-Meincke - nozzles
Haas-Meincke's nozzles used to be welded together by several parts, and it was both complicated and time consuming. Now, they are 3D printed at DTI, resulting in freedom of design and simplified production, as the nozzles can be made in one piece with a smooth, beautiful surface.
​ Read more
See the control report for the Danish Technological Institute, Product Development