Drones as tools: Flying weed control can provide environmental and bottom-line savings
English subtitles are available in the YouTube player

Drone technologies are developing rapidly and radically. From being only used in universities and the defence industry, drones have now become the property of everyone. Until now, the drone's most important task has been to observe and report.
But a new generation of drones is a reality. The drone must be able to use tools to identify and perform work.
- We are working to make the drones into useful tools. Where a lot of energy has previously been spent just on collecting data, we would like to use the drone as a tool that responds to the data collected. That way we close the circle, says Mathias Flindt, who is a drone expert and consultant at the Danish Technological Institute (DTI).
Together with the University of Southern Denmark, Itelligence and Nygaard-AgroConsult, DTI has set out to develop a drone with a tool on it. The tool is an intelligent weeder - also called a 'weed wiper' - that can carry out site-specific weed control.

Giant hogweed is targeted
It is not just any kind of weed that the technology partners have initially chosen to put in the spotlight of flying technology.
Around Denmark, everything from excavation to grazing sheep has been tried to get rid of the invasive giant hogweed.
A drone with a tool mounted could be the way forward.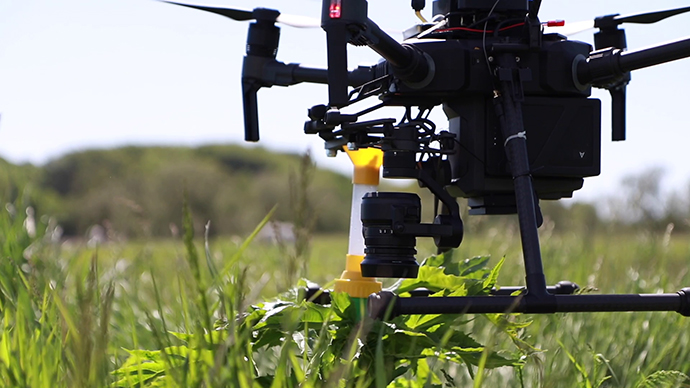 A drone equipped with camera technology and artificial intelligence can identify the hogweed and fly down to it, then use a precision sprayer to apply herbicide to kill the plant.
- In this way we attack only the giant hogweed. This species- and site-specific control allows us to avoid affecting the other fauna, some of which are the giant hogweed's natural enemies, says Morten Nygaard from Nygaard-AgroConsult.

A potential with less chemistry
Many current technological developments in agriculture focus on precision agriculture.
According to a new analysis carried out by DTI, there is potential for the drone from the air to contribute to the expansion of technology in agriculture. The tool drone with the weed sprayer can help not only agriculture but also the municipalities to keep certain weed species down without using large amounts of herbicide.
There is identified several factors that crucially affect the drone's potential -- notably the spread, number and height of the weeds.
- There are many different agricultural scenarios where people will be able to use this technology. Traditionally, you would treat the entire field, but with the help of this drone and weed recognition you can save between 60 and 95 percent of the chemicals. The prospects for this case and in precision agriculture in general are really great. There are both environmental savings and bottom-line savings, says professional leader and expert in precision agriculture Thomas Nitschke from DTI.

The weed control drone can be used to control more than giant hogweed. It will also be able to control thistles, parsnips and other weeds that the farmer struggles with. There will also be a large number of other use scenarios which can be found by using your imagination.
- We have tested this tool against giant hogweed, but we see great potential in the whole concept of being able to identify a place and go in to mark or press with a drone. For example, you could use it to clean windows on the eighth floor or solar cells on the roof of houses, says consultant and drone expert Mathias Flindt from DTI.

Well on the way
The tool drone has just been tested - but there is a long way to go.
- We are quite early in the development process. We have many ideas for what can be done and it looks promising on many points, but there are also some things that need to be adjusted, says Henrik Skov Midtiby, who is an associate professor at the University of Southern Denmark.
And Thomas Nitschke is in complete agreement about that:
- We are really well on our way, but we are not at the finish line yet.