Industry of the future: Vestas puts modular robot with inbuilt safety into production

Modular, flexible automation that can be used across industries and products can meet the challenge of switching robots from one need to another.
- There are many processes that place new demands for adaptability on companies' production equipment. And the reconfiguration of even adaptable robots can be an obstacle for small and medium-sized businesses, says Sune Lilliendal Loll, Project Manager at the Danish Technological Institute (DTI).
- It can often prove challenging to reconfigure a robot from one task to another. For this reason, many small and medium-sized companies have a hard time making it profitable to use a robot in their business, he adds.
Module-based robotics
To meet this challenge, robots can be made and integrated in modules. Module-based robot technology can be the way to help robot technology into especially small and medium-sized companies.
In a European project called RAMPup, DTI and a number of project partners have therefore looked at how to make it easier to automate processes that are manual, time-consuming and complicated to automate.
- In some production, 1,000 units of X must be made one week and 500 units of something completely different the next week. RAMPup has helped to test and attempt to define the flexibility that this needs, explains Sune Lilliendal Loll.



Vestas would avoid large safety fences
One of the end-user companies that have participated in the project is the wind turbine manufacturer Vestas.
- Traditional automation has a lot of safety fencing, which takes up a lot of space on a production floor. We would like to try to see if we could avoid this, says Nikolaj Wieland, Lead Production Engineer at Vestas.
To address the challenge of safety barriers, the system integrator Technicon has developed a flexible, collaborative robot cell for Vestas, which focuses on easy setup, safety and flexibility.
- Our focus has been that the cell should not require any safety barrier - people should be able to work right beside it. So, for example, if your hand gets under the screw, the robot stops, says Asbjørn Kjær Eliasen, Project Engineer at Technicon.
- The trend in industry is that we make smaller batches and more specialized products, so it no longer makes sense to create a dedicated solution for a specific product. You need a solution that is more flexible and that you can quickly switch to other products, adds Asbjørn Kjær Eliasen.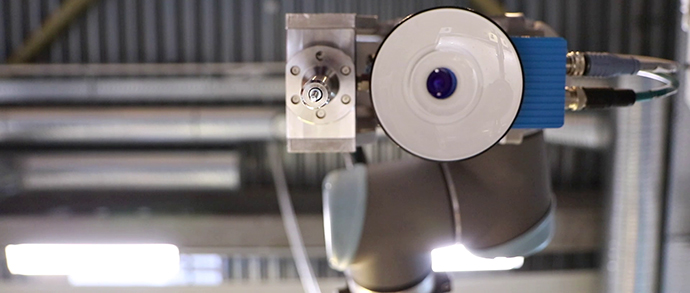 More productivity, less one-sided work
The knowledge that Vestas has been able to draw on in the project has, among other things, produced positive results for the company's employees.
- Participating in RAMPup has given us an opportunity to get some of the sharpest brains in collaborative robots to look at our production with us. And there we have received a lot of help in finding a really good solution to help our workers with heavy repetitive work and at the same time become more productive, concludes Nikolaj Wieland from Vestas.
What is RAMPup?
Ten Danish and European companies and research institutions have joined forces in the EU project RAMPup.
The project has developed a flexible automation platform equipped with reusable modules for processes used across industries and products. You can read more about RAMPup on the project website.
The RAMPup consortium comprises applied research organizations Danish Technological Institute (DK) and Fraunhofer Institute (DE), system integrator firms Technicon Aps (DK), Gibas (NL) and MRK Systeme (DE) and end-user companies Vestas Manufacturing A/S (DK), Elos Medtech Pinol A/S (DK), C-Mec (BE) and Roto Frank Gmbh (DE), and market experts KJV A/S.
RAMPup is funded by the EU's Horizon 2020 Research and Innovation Programme.