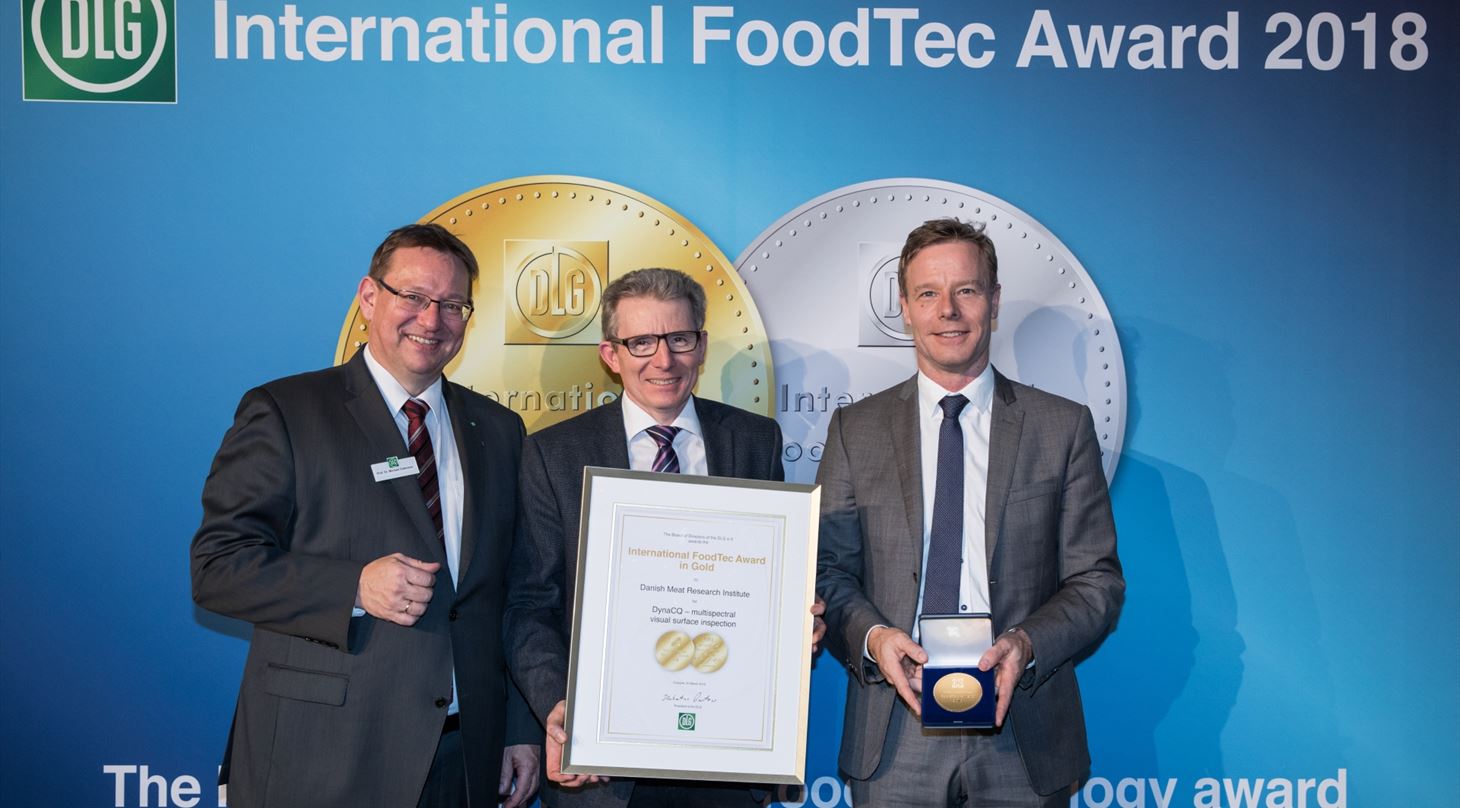 International FoodTec Award 2018 in Gold for Danish Meat Research Institute
The DLG, German Agricultural Society, has announced the winners of the 2018 International FoodTec Award. This year, the renowned prize was awarded to 17 innovations from the international food manufacturing and supply industry. Five innovations received the International FoodTec Award in gold, while a further 12 received the silver award.
Danish Meat Research Institute has been awarded an International FoodTec award in gold.
The recipients are selected every three years by the DLG. The award ceremony took place at Anuga FoodTec, the international supplier fair for the food and drink industry, on 20 March 2018.
International FoodTec Award in Gold - Danish Meat Research Institute - "DynaCQ - multispectral visual surface inspection"
Detecting foreign bodies of all kinds is an enormous challenge for the food industry, as the consumer expects products free of residues. So far there has been no method on the market that can detect low-density foreign bodies such as soft plastic in fresh meat and meat products. That is why many companies use visual inspections. The disadvantage of such visual inspections is that they are limited by factors such as fatigue of the human eye and interpersonal variations.
A highly flexible detection platform has now been created in the form of the DynaCQ developed by the Danish Meat Research Institute. The integrated camera is multispectral. It detects at specific wavelengths and at the same time contains wavelengths in the infrared range.
This makes it more precise than the human eye. DynaCQ detects elements/pieces up to 1.5*1.5 millimeters even at extremely high production speeds. Accordingly, high product safety is ensured and costly recalls can be minimized. The platform stores all images with markers so that the production process is optimally documented. In this way, clear evidence is available in the event of a customer complaint.
International FoodTec Award
The International FoodTec Awards are awarded by the DLG in cooperation with the following trade and media partners: the European Federation of Food Science and Technology (EFFoST); Anuga FoodTec; the specialist magazines "Fleischwirtschaft" (Meat Industry) and "Fleischwirtschaft International", published by dfv media group (Deutscher Fachverlag); the trade journals "European Dairy Magazine" and "Deutsche Milchwirtschaft" (German Dairy Farming) produced by German publisher Th. Mann; the journal "FOOD Lab – Qualitätsmanagement, Analytik und Nachhaltigkeit" (FOOD Lab – Quality Management, Analytics and Sustainability), published by Bücker-Fachverlag; the professional journal "DLG-Lebensmittel" (DLG-Foods), published by the DLG; and the magazine "Lebensmitteltechnik" (Food Technology), published by LT Food Medien-Verlag.
The International FoodTec Award from DLG and its partners recognizes ground-breaking developments in innovation, sustainability and efficiency in the food technology sector. An international panel of experts from research and academia as well as representatives from the field select the most innovative concepts.
International FoodTec Award gold medals are awarded to products with a new concept in which the function has significantly changed and the use of which gives rise to a new process or materially improves an existing process. Silver medals are awarded to existing products that have been developed to such an extent that a substantial improvement in their function and the process is achieved.
International expert jury
The winners were selected by an international jury consisting of the following renowned experts from various disciplines: Dr. Ir. C.D. (Kees) de Gooijer (Food & Nutrition Delta, Wageningen / The Netherlands); Prof. Dr. Antonio Delgado (Friedrich Alexander University, Erlangen-Nuremberg); Prof. Dr. Michael Doßmann (University Weihenstephan-Triesdorf, Weidenbach); Prof. Dr. Michael Gänzle (University of Alberta, Edmonton / Canada); Prof. Dr. Tilo Hühn (ZHAW Zurich University of Applied Sciences, Wädenswil / Switzerland); Prof. Dr. Henry Jäger (University of Natural Resources and Applied Life Sciences, Vienna / Austria); Prof. Dr. Alexander Kolesnov (People's Friendship University of Russia, Russia); Prof. Dr. Horst-Christian Langowski (Fraunhofer Institute for Packaging Technology and Packaging, Freising-Weihenstephan); Prof. Dr. Helmy T. Omran (Suez Canal University, Ismailia / Egypt); Prof. Dr. Achim Stiebing, i. R. (University of Applied Sciences Ostwestfalen-Lippe, Lemgo); and Prof. Dr. Jochen Weiss (University of Hohenheim, Stuttgart).
Anuga Foodtec 2018, organized by DLG in conjunction with Köln Messe, takes place at Cologne's Koelnmesse exhibition center from 20 to 23 March 2018. More information is available online at www.anugafoodtec.com.
Photo: Lars Hinrichsen, Managing Director at DMRI (to the right in the picture) and Niels T. Madsen, Product Manager DMRI (in the middel) are the happy recipients of the gold medal to DMRI. The gentleman to the left is Prof. Dr. Michael Dossmann, Vice President of the DLG