New Methods to break routes of infection in Danish poultry stalls
Danish poultry producers waste about 10% of production value because of microbial infections in poultry. The innovation consortium 'CHIP - Chicken and Hen Infection Protection' is now striving to break routes of infection in poultry stalls. This work will give Danish suppliers to the poultry producing sector an international competitive edge while also improving animal welfare in stalls.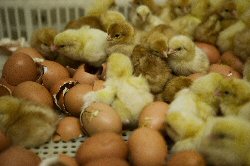 The project objective is to find new solutions that will reduce clinical and subclinical infections in the production of table chickens and eggs for consumption in Denmark. As an aspect of the project, various new cleaning and disinfectant agents are being tested.
Danish Technological Institute supplies fast microbiological test systems, advanced molecular-biological methods and technical knowledge and experience to the four-year project, which focuses on microbiological hot spots in stalls. Danish Technological Institute is working with TCnano and poultry producers to test new nanotechnological surfacing of stall equipment to reduce biofilm colonisation and ease cleaning processes.
- The strength of this project is its excellent mixture of research institutions, which guarantees the scientific aspects, and commercial stakeholders looking for practical solutions. Thus, the conditions exist for enabling the consortium to influence developments in Danish poultry production, explains Kenneth Frøslev, CEO of TCnano.
In addition to Danish Technological Institute and TCnano and DHI Water and Environment from the GTS-Advanced Technology Group network are partners in the project. Other participants are the University of Copenhagen Faculty of Life Sciences and companies Brenntag Nordic A/S, Triova ApS, Novartis Healthcare A/S, BornPoultry A/S, Danæg A/S, DLG, Bayer A/S, Danish Agricultural Advisory Service and the Danish Poultry Council.