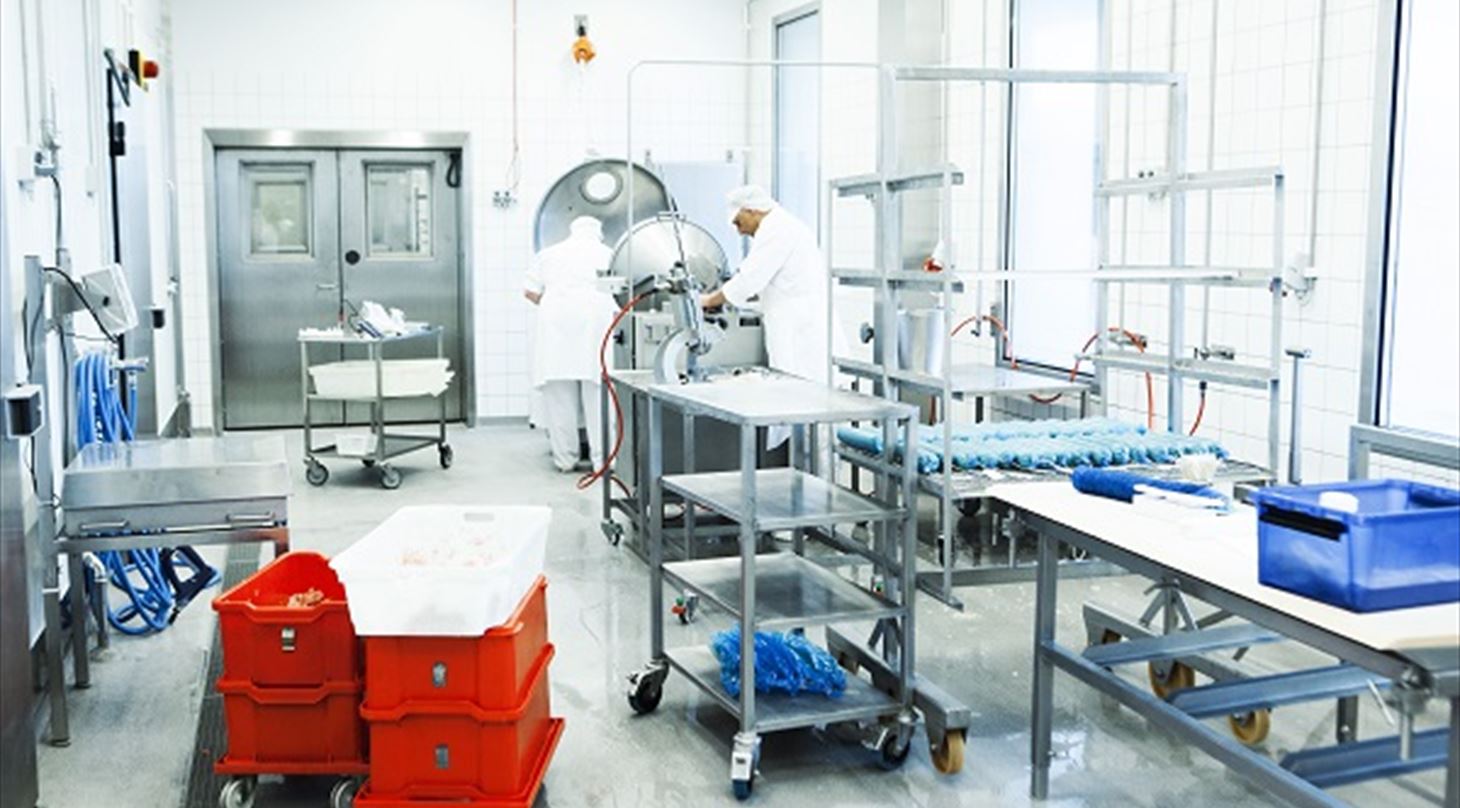 Thermal food processing
Heat treatment of foods is essential to achieve appropriate food safety, shelf life, texture, and taste. In an industrial production set-up, it is essential to choose a heat treatment method that will ensure a good quality at the lowest possible energy consumption, while taking production capacity, investment budget, and available space into account.
At the Danish Technological Institute, we can offer access to a wide range of process equipment that can be used for heat treatment of food. Our experimental facilities are available for testing and demonstration as well as making small-scale production series. Most products can be made in facilities authorized for food production, allowing the products to be shipped to customers domestically and abroad. All parameters can be monitored during the processes and the quality can be documented in our four specialized laboratories.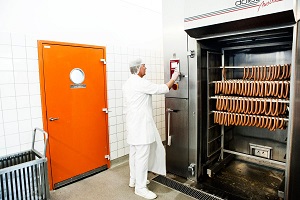 Cooking cabinets. Products are cooked using steam, ith the ability to control relative humidity, air velocity, and smoking intensity.
Temperature sensors may be placed in the products. All data is logged and saved in a data file.
The capacity ranges from a few kilos up to about 400 kg per batch.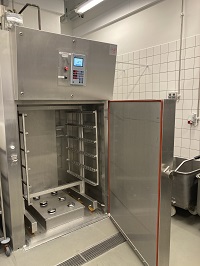 Climate Cabinet. The products can be heated to the desired temperature in the range from 5-35°C. Relative humidity and air velocity can be adjusted. The climate cabinet can be tightly controlled and thus may be used, for e.g., dry-cured ham. Temperature, relative humidity and air velocity is logged and saved in a data file. The capacity of the cabinet ranges from a few kilos to about 100 kg per batch.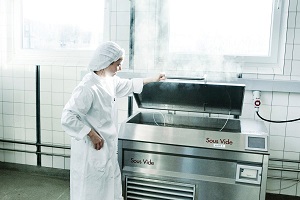 Sous vide. In sous vide-heat treatment, food is packaged in vacuum bags and heat treated by immersing in hot water until a predetermined core temperature as been achieved. There is an option for running multi-stage processes where the temperature is maintained for a shorter or longer time at a given temperature.
The result is a very accurate heat treatment without risk of drying out or re-contaminating the product. Sous vide-processing is a low-temperature heat treatment known for generating very tender, succulent and tasty products. The capacity of our equipment ranges from 1-40 kg per batch. We have extensive experience in combining treatment time and temperature to achieve good eating quality as well as a sufficient level of food safety. All data can be logged to document the course of the process.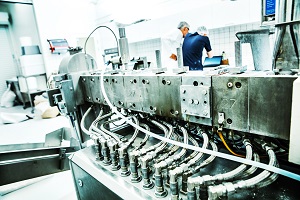 Extrusion. The Danish Technological Institute has a pilot plant scale extrusion facility. By applying high pressure and high temperatures, it is possible to manufacture both "popped" and dried products, and wet-extruded plant-based meat analogues. The equipment can handle up to 40 kg/hour, depending on the product type. All data from test runs is stored in data files as documentation of the process parameters used.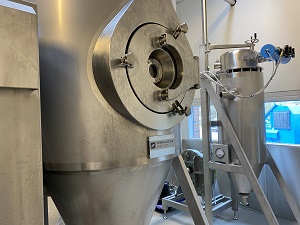 Spray drying. By atomizing liquids in a warm air stream, products can be dried quickly and efficiently. The Danish Technological Institute offers access
to pilot scale dryers; a smaller one with a capacity of 0.2 – 0.5 L/hr, and a larger one with a capacity of 7 – 10 L/hr. Process data is saved in a data file.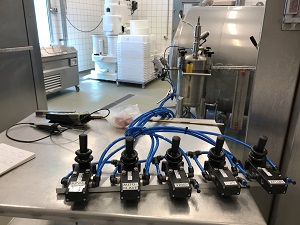 Thermal shock. The Danish Technological Institute has developed and patented a method for surface treatment of vacuum-packed food products. In the processing chamber, a high temperature/short time combination is applied, thereby reducing the number of microorganisms on the surface and significantly increasing the shelf life. The equipment is dimensioned to process 500 g per test drive.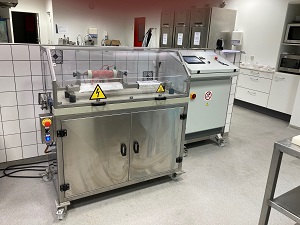 Ohmic heating. By sending an electric current through a product, enough heat may be generated to cook foods products. The process is independent of product
volume, extremely fast (minutes), and the product quality is largely unchanged. Only about 50% of the energy required for conventional heat treatment, is needed.
We offer a test facility with a capacity of 0.5-1 kg per run of approx. 2 min.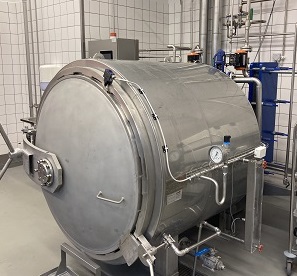 Commercial sterilization. When producing food products where bacterial spores must be eliminated (e.g., canned food), temperatures above 100°C are required. This is only possible under pressure in an autoclave. Our equipment has capacity to cook up to approx. 100 kg per batch. Process time, temperature and pressure can be logged to document the course of the process.


Close collaboration to suit your needs
The Danish Technological Institute offers access to testing on a wide range of thermal equipment. As consultants, we can advice on design of production lines, as well as energy- and sustainability calculations. Furthermore, we can offer assistance as your technical sparring partner when purchasing new equipment. Feel free to contact us for further information about our services.