Tomorrow's robot technology attracts a record number of attendees to The Danish Robot and Automation Expo 2018
More evidence for the growing interest in robots and automation could be found when more than 800 robot-interested people took part in the third Danish National Robot and Automation Expo, breaking previous attendance records.

Every corner of DTI's facilities in Odense was used to showcase the main attraction – the robots.
They were flying, intelligent and mobile, and while several of them are already available for purchase, attendees also got a preview of upcoming highlights that they will be able to buy soon, if they want to invest in futuristic robot technologies.
DTI was, as usual, host for the event in collaboration with DIRA – the Danish Robot Network – which for the first time co-located DIRA Business with The Danish Robot and Automation Expo. 40 exhibitors showcased modern robots to visitors.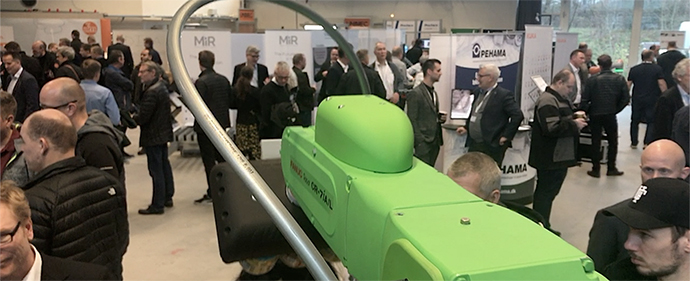 The head of DTI's robot technology centre, Kurt Nielsen, and Odense's mayor, Peter Rahbæk Juel, opened the event by each giving a short speech. The mayor's talk praised the cluster of robot-related businesses that has grown up in and around Odense.
- There is no doubt that our local robot cluster includes great talent and drive. We will be the champagne district of robot technology, said Peter Rahbæk Juel, before attendees started exploring amongst the various exhibits.
Get your route to automation sorted in five minutes
As something new this year, companies could visit a stand dedicated to solving the challenges or ideas the company has related to automation. Here they could get concrete guidance for the first or next steps on their automation journey.

This year, a burger bar supplied burgers so the participants did not have to look at robots on an empty stomach. If, on the other hand, they were hungry for more general knowledge about the different areas of robotics - including collaborative robots, artificial intelligence and digital twins - they had ample opportunity to learn at the two conference tracks taking place throughout the day.

Three gold nuggets for those who are in the process of automation
Did you miss The Danish Robot and Automation Expo 2018? Then here is a small selection of the golden nuggets that were shared during the day. DTI senior specialist Bo Genefke shares three things that many companies forget when they automate:
1. Collect references
Look at other companies and talk to people who have robot systems running which have been in operation for at least a year - then you are sure that they have tried the process on their own. Get out and talk to them about their challenges and how they solved them - and possibly show them the design you want to work with.
2. Things take time
Remember that things often take longer to get started than you expect. This is because many processes are currently carried out manually and the process must be moved from an experienced operator who knows how things should be done and can sense when things are running correctly, to an inexperienced digital system. And this takes longer than people think.
3. Design for manufacturing
People are often surprised at how difficult it can be to automate something. So look at the item you want to produce - is it designed for automated production?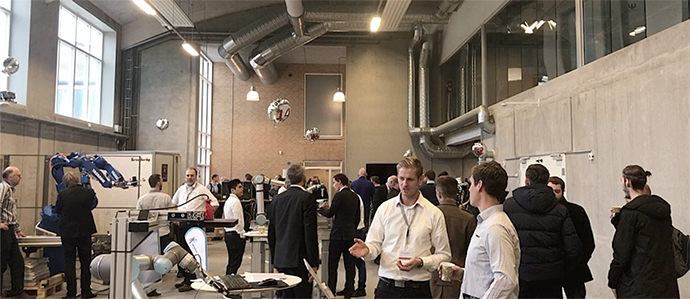 How can DTI help?
Our aim is to bring the latest technology into use for the benefit of Danish companies and citizens. If you saw something on November 22 at The Danish Robot and Automation Expo 2018 that aroused your interest or you are facing a concrete challenge - then we are ready to help you on your automation journey.

Read more about our robotics skills
Get some glimpses of the day by playing the video at the top of the article.