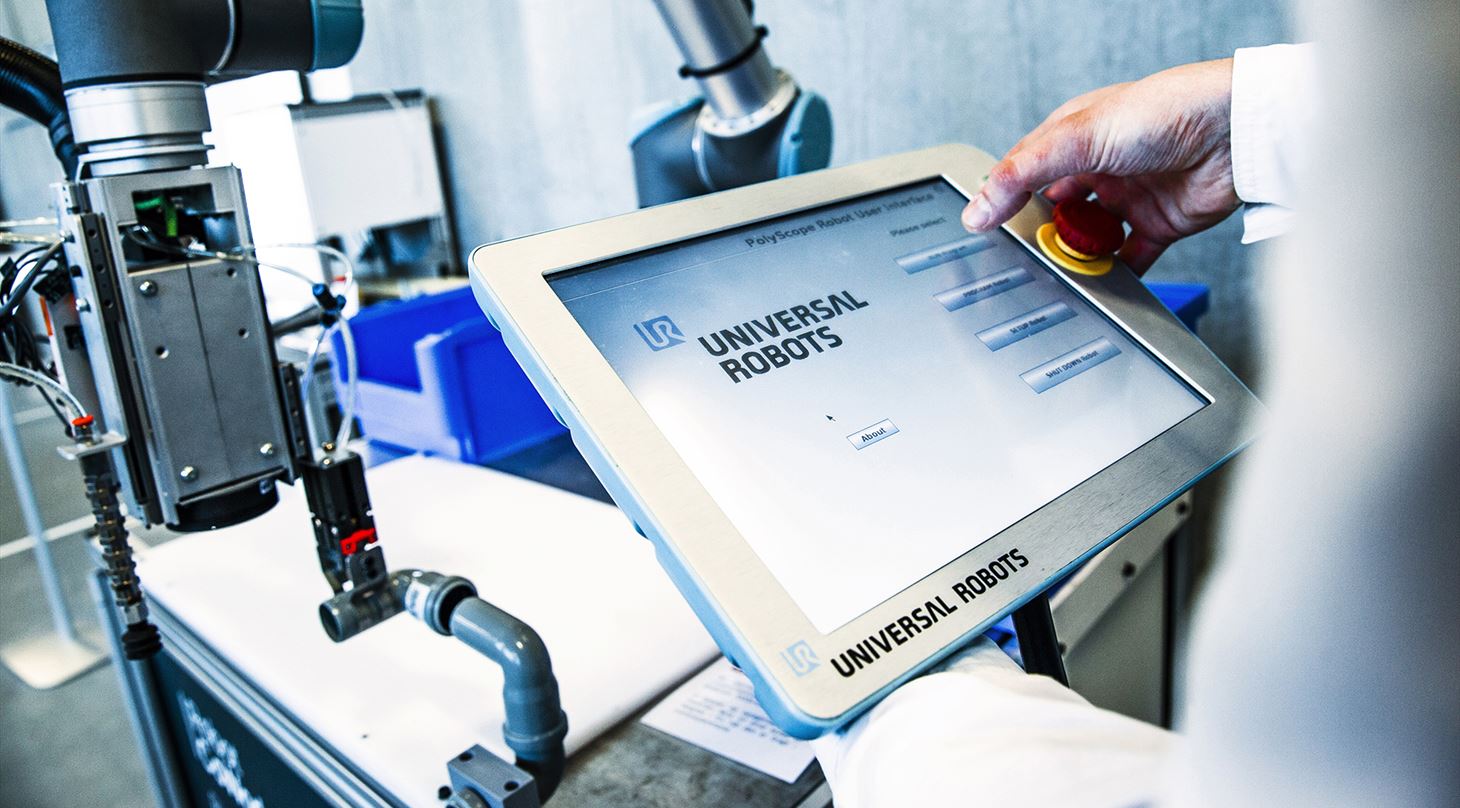 URCaps: Development of plugins for Universal Robots
URCaps are software applications that can be installed on the collaborative robots of Universal Robots, thus extending their capabilities.

Alongside the standard functionalities provided by the robots, it enables distributors, developers and integrators to connect new hardware and add new commands - for instance to trigger a camera acquisition, a feeder motion or a gripper action - directly from the robot controller. The user can then program complex automation processes, involving the use of third-party software and hardware, in an easy and straight-forward way.

And the Danish Technological Institute (DTI) can help you with the design, integration and implementation of URCaps.

For more than 100 years, DTI has helped customers convert the newest knowledge and technology into value. Today, our Robot Technology center - located in Odense, Denmark - develops, applies and deploys cutting-edge robotic technology to the industry.

Our highly skilled developers, our location five kilometres from Universal Robots, and our close collaboration with them makes us one of the best choices for your URCap development.

We can take on the responsibility of developing the URCap from the very beginning of defining and specifying the URCap until the very end of certification. We can also act as co-developer or even as consultants to help and support customers that handle the development process themselves.

The capability spectrum is endless
DTI has developed several certified URCaps. One dedicated to machine vision for the German smart camera manufacturer SensoPart. Another one for flexible feeding for the Swiss flexible feeder manufacturer Asyril. Also providing basic and advanced logging functionalities in the production-line of robots at Universal Robots in Odense.

Several URCaps have been implemented as well for internal use involving, among other functionalities, cloud access and communications and string manipulation.

What can DTI help you with?
Design and draft of the interfaces, including the newest URCap framework features
Implementation and integration
Test and validation during the whole development process
Guaranty of certification
In the video below, you can watch a short case story of ifm, for whom we used URCaps to create an integrated solution, minimizing the complexity and installation time for their robot system. (Subtitles available in the YouTube player.)