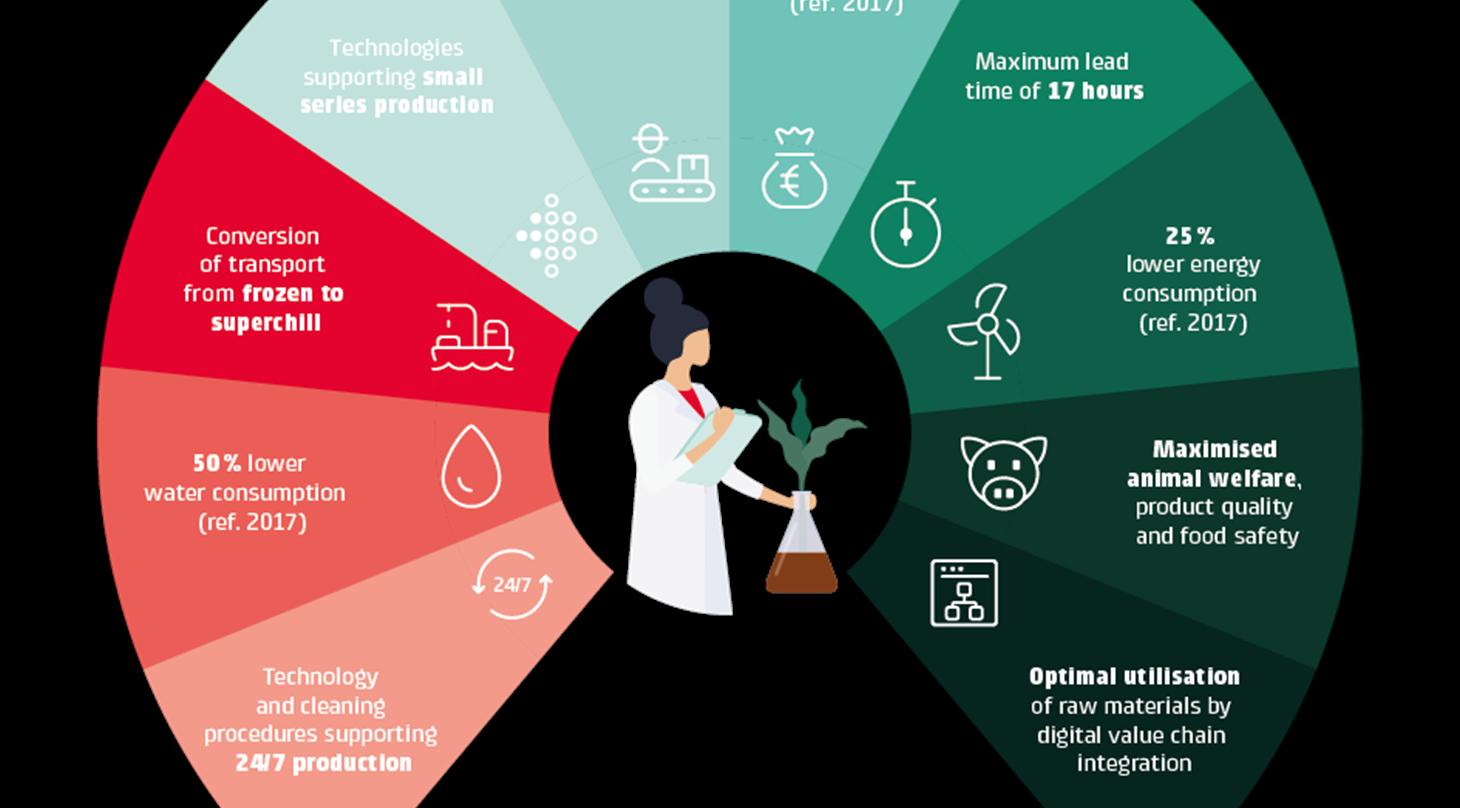 10 development goals towards 2030
The meat industry's raison d'être is challenged by consumers all over the world. Competition is fiercer than ever, and consumer demands in terms of e.g. working environment, animal welfare and traceability are increasing every day.
By launching these 10 development goals, we aim to help the industry to develop and implement the right solutions to overcome these challenges.
Technology and cleaning procedures support 24/7 production

Slaughterhouses' operation is based on a 24/7 philosophy.
A cleaning paradigm must be developed, adapted to simultaneous production and cleaning.
Process equipment must be able to be maintained during operation and the total cost of maintenance must be reduced in relation to the 2017 level.

50 pct. lower water consumption (ref. 2017)

Water consumption must be reduced by 50% compared to a 2017 benchmark.

Conversion of transport from frozen to superchill

The slaughterhouse must supply parts and freshly packaged cuts in accordance with customer specifications, including at the requested temperatures (-1-+5°C).

Production technologies support small series products

The slaughterhouse must be able to handle larger variations in both raw materials and product range than was the case in 2017.

The facility must be able to handle series of pigs of less than 200 animals. The slaughterhouse must utilize quality measurement technology and computer systems for optimized raw material utilization and quality documentation.

Elimination of stressful working operations

By means of automation and redesign of processes, it must be possible to remove all physically stressful functions in the production.The number of work injuries must be on a par with other Danish manufacturing industries.

Efficiency improvement of 30 pct. (ref. 2017)

The slaughterhouse costs for direct salaries must be reduced by 30% compared to a 2017 benchmark. The savings are to be obtained from cleaning, internal transport and packing facilities.

Maximum lead time of 17 hours

The slaughterhouse's logistics must be lean.
Just In Time principles ensure that the total holding time for a pig at the slaughterhouse is significantly reduced compared to 2017 and does not exceed 17 hours. Costs for special handling are reduced to 25% of the level in 2017.Intermediate storage such as equalization cooling, cooling at Christmas Trees, finished goods storage and intern transport is reduced.

25 pct. lower energy consumption (ref. 2017)

Energy consumption is to be reduced by 25% compared to a 2017 benchmark.

Maximized animal welfare, product quality and food safety

Production and process conditions must be "state of the art" in relation to ensuring good animal welfare, high product quality and food safety.

Drip loss must be max. 3.5% in loins with a deviation of max. 1.7%. Blood spots in top round max. 10% and tenderloin haemorrhage max. 5%.
Inline cleaning must be performed during production without compromising safety and aesthetics.

Optimal utilization of raw materials by digital value chain integration

There must be capitalized on the digital opportunities, and therefore practical solutions must be developed to utilize the digital information on raw materials and production equipment, for example by smart data, including by linking data from the primary production with slaughterhouse operations and sales for optimization purposes.