DTI seeks to bridge the gap between indoor and outdoor mobile robots
Technologies, sensors and software can make it possible to combine new outdoor techniques with traditional mobile robots. Hear how in the above video.

Mobile robots today have fairly well-defined work areas. Either the robot runs indoors on flat floors and is protected from wind and weather. Or it is an outdoor robot that can run on rough terrain, navigate by GPS and is not afraid of a small rain shower.
But it is rare that a mobile robot is capable of moving both indoors and outside, e.g. to cross a small outdoor area between two buildings.
This is partly due to the mechanical construction and physical properties of the robot, but also to the technologies used by the mobile robots to find out where they are (location) and how to get from A to B (navigation).
- The boundary between inside and outside work has its own challenges, says Kasper Camillus Jeppesen, Consultant at the Danish Technological Institute (DTI).

A rotating laser rule
DTI looked at how to unite indoor and outdoor mobile robot techniques by using special technologies including a laser scanner that functions as a kind of rotating laser measuring tape.
- We mounted a 3D lidar on the robot, which measures the distance to everything around the robot. It works by emitting laser light at a wavelength in the infrared range and measuring how long it takes for that light to return to the laser scanner, so it can calculate how far away everything is, Kasper says.
- Unlike a normal laser scanner, this laser scanner has many layers. That is, it can both look down at the ground but also quite high up into the air. So we get a really good idea of ​​what the surroundings look like, he says, adding that this type of laser scanner is also used for self-driving cars.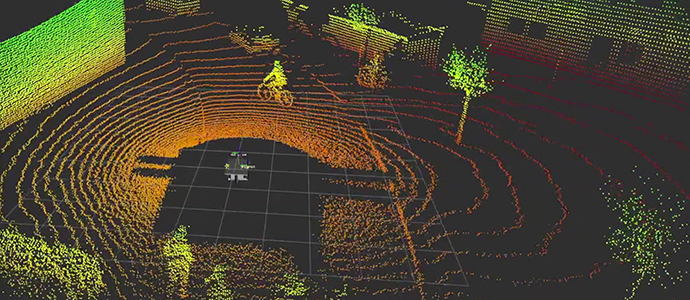 The outdoor mobile robots of the future must be safe
Two cameras are mounted at the front of the robot, also GPS antennas that talk to a GPS base system, so that the robot can self-locate.
- When we get outside there are many more challenges to take into account: uneven terrain, different weather conditions, many more obstacles and much greater distance to things around the robot. That's why we test this type of technology in outdoor environments with the latest sensors to ensure that future mobile robots for outdoor use are safe, says Kasper Camillus Jeppesen.
- The technologies you see on this robot have potential in 3D reconstruction and mapping, he elaborates.

The development is supported by the Danish Agency for Institutions and Educational Grants under the Ministry of Higher Education and Science.
You want to dive deeper? You can read more about the RoboCluster project "Inde-Ude-Inde" that has looked closer at the mobile robots and the borderland between indoor and outdoor driving.